Cayman Islands beaches
Grand Cayman has the most developed 'beach culture' of the three islands, especially around and along the magnificent stretch at the west of the island known as 'Seven Mile Beach'. This is the kind of Caribbean beach that many people dream of visiting once in a lifetime. As well as soft sand and crystal clear blue water, the beach is long enough to accommodate a good range of bars, cafés and restaurants (many of which are part of the hotels along the shoreline) of all descriptions, fronting onto a superb swimming beach where a number of operators offer snorkelling, water-skis, jet-skis and windsurfing hire or organised excursions.

Seven Mile Beach is nearer to five miles long, but it has justifiably become known as one of the best beaches in the Caribbean with fine white sand and generally calm conditions making it perfect for swimming. Several of the beachfront hotels have their own swimming areas with safety markers keeping bathers and watercraft in separate areas. There is also a large area of public beachfront with enough space that the sand never gets too crowded. Beach traders and hawkers are illegal throughout Cayman, so visitors are spared from the annoyance of being hassled.

Quieter beaches can be found if you head towards West Bay and around the hook towards Barker's where there is almost no development – and hence few facilities apart from what you take with you. Closer to George Town and heading eastwards you come to Smith's Cove, a picturesque area of sand leading to a natural cove in the ironshore. There is shade here, some picnic tables and lavatories.

Drive further east from George Town and there are several areas of accessible beach, notably at Spott's – which is very rarely busy, and at Coe Wood, close to the settlement at Bodden Town. There is also a public beach at the East End. Head northwards across the island to Rum Point and there is a lively beach offering swimming and snorkelling close to a popular beach restaurant and watersports operator. Not far away is another public beach, with sheltered shallow swimming at Kaibo facing the North Sound. There are cabanas and shady casuarina trees here, as well as a small yacht club.

The Sister Islands are less developed than Grand Cayman in every respect, and Cayman Brac has a wilder and more rugged coastline. On the south side of the island there is a public beach close to the road heading eastwards from the junction as you come from the airport. Further east on the same stretch of road – no more than five or six minutes drive is another stretch of sandy beach with toilet facilities and parking.

Little Cayman has beach access in front of the resorts and condominiums at the southwest end of the island, not far from Blossom Village and where the majority of the resorts and condominiums are located. Famously, Little Cayman is home to Point of Sand, a picture-perfect bay at the tip of the island which is rarely busy, and somewhere that every visitor to the island should visit at least once. Another beach worth visiting is at Owen Island, a few hundred yards offshore from South Hole Sound, and easily reached by kayak.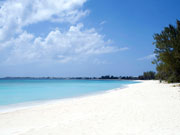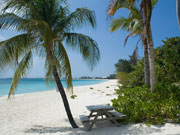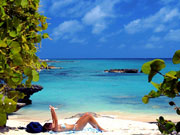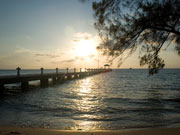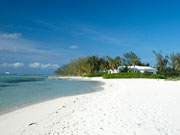 Responsible Travel would like to thank the Cayman Islands tourist board for their sponsorship of this guide