Cayman Islands family vacations
The Cayman Islands are an ideal destination for family vacations, with reliably warm weather and a wide range of activities suitable for children of all ages. Whether you want the amenities of a top class resort in the heart of Seven Mile Beach, a family run guest house 'out of town', the option of a serviced apartment or a sumptuous private villa facing the sparkling Caribbean - you'll find something to suit your needs in Cayman.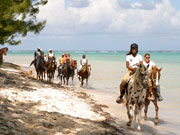 The Cayman Islands are acknowledged as a safe destination with low levels of crime, modern amenities, and a clean environment where nature, activities and culture offer a wide range of options for families to create the perfect vacation.
Take a pony ride along a deserted beach, send a postcard from 'Hell' or picnic under a palm tree next to the sea. Caymanian culture tends to be inclusive of families, and on excursions by land or by boat operators will make children feel part of the adventure.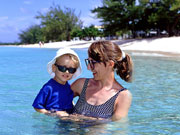 If hanging out at the beach or trying out watersports are what your family enjoys best, then Seven Mile Beach on Grand Cayman has the widest range of accommodation options to suit a range of budgets.
Kid's Clubs, baby-sitting and family activities are regularly included in resort-based schedules in this popular, lively area. Many of the facilities, restaurants and activities are within walking distance, a short taxi or even a bus ride away and most tour operators will arrange a pick-up and drop-off service if required.
Golf, shopping, galleries and museums (including the Cayman Motor Museum with the original Batmobile and Batbike), pirate caves, the turtle farm, supermarkets, pharmacies, drop-in medical care and of course a fantastic stretch of powder soft sand are all within minutes of your doorstep. Many families come to swim, snorkel and to scuba dive – and Cayman's warm clear waters make this an ideal spot to learn. Diving certifications can be undertaken with children from the age of ten upwards, and Grand Cayman has a wide selection of dive sites suitable for beginners as well as the more experienced. The 'sister islands' are quieter, with fewer organised activities on offer – but perfect for families who want to truly relax and spend quality time together.
Snorkelling is another discovery for many children and can be enjoyed at several locations on Seven Mile Beach and at Cayman Kai.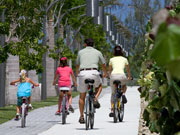 Active families will find there's windsurfing, jet-ski rides, kayaking safaris and hiking trails to be explored on Grand Cayman. There's a wave and skate park and even a go-karting track – suitable for anyone aged 14 or older, and the island is one of the few places in the world where it's possible to get a glimpse of the underwater world from a submarine. The new development at Camana Bay has a multi-screen cinema showing the latest popular movies with regular children's shows. The village also has regular children's events at the bookshop and an interactive fountain at Jasmine Court where kids of all ages can cool off.
On Grand Cayman the Queen Elizabeth II Botanic Park is a great place to learn a little about the native flora and fauna of the islands, and children and adults will enjoy the chance to get up close to the 'blue dragons'. These Blue Iguanas – Grand Cayman's highly endangered endemic species – are fascinating creatures and a visit to the Blue Iguana Recovery Programme is an educational excursion very suitable for families. On Little Cayman and Cayman Brac the pace of living is more laid back, but nature lovers will find that hiking along the trails, cycling and kayaking are activities easily enjoyed by families with slightly older children.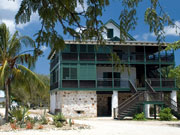 At Pedro St. James, to the east of George Town, a beautifully restored 'great plantation house' is set in landscaped grounds and has a shop, café and a multi-media display that shows visitors what life in the past was like in the islands. Cayman's link with the past is also celebrated during 'Pirates Week' usually held during the second week of November, a national festival featuring street parades and a mock pirate invasion. Other historic attractions include the Mission House near Bodden Town where youngsters can see what schooling was like for islanders a hundred years ago.
For a quirky look at some pirate artefacts and a collection of rescued animals that can be fed by hand, visit the caves at Bodden Town. It's hard to be bored in the Cayman Islands, and families will find that whether they want to buy their own supplies from the well stocked supermarkets and markets or choose from a varied range of international cuisine at the island's restaurants they'll be spoilt for choice. The majority of restaurants are family-friendly and the range of child-friendly options on the menus covers everything from burger and chips to sushi, pizza and Caribbean specialities. Many of the larger resorts operate 'kid's clubs' – providing supervised activities for younger children, and in some cases family excursions along environmental themes.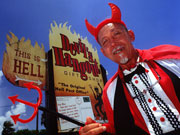 Driving around Grand Cayman is worth the effort with the East End, Cayman Kai and Rum Point, the west end, Seven Mile Beach and even the bizarre landscape of the hamlet at 'Hell' all presenting a different atmosphere and feel. With a few days to spare families may enjoy the mini-adventure of a flight across to the 'sister islands' by Twin-Otter for a change of scene.
Cayman is especially well set up for families who wish to self-cater. All three islands have a selection of apartments, townhouses, condominiums and villas available for rent.
There are also a number of resorts on Grand Cayman where guests can choose to use the hotel's facilities or to do a certain amount of cooking in the room – with cooker, fridge, kettle and cutlery provided. Condominiums are extensively kitted out for families almost always featuring an on-site swimming pool and some have kayaks, tennis courts and other leisure equipment included or available for a small extra charge. All such accommodation is inspected by the tourist board and is generally of a very high standard.

Things to see & do in the Cayman Islands