Cayman Islands vacation ideas
From self catering places to stay (below) and
luxury accommodation
to
family vacations
, there are plenty of options in the Cayman Islands.
Cayman Islands self catering accommodation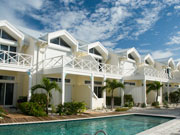 Self-catering in the Cayman Islands is easy – and a very popular form of vacation especially with families. In part because the islands lie so close to the USA (they're 480 miles from Miami) visitors will find a vast range of goods and services available locally.
Supermarkets are well-stocked, and filled with the range of supplies you might expect in a major city rather than on a small island. A very popular choice of accommodation is the condominiums – built and managed on the American model.
This apartment or town-house style accommodation is modern and equipped with everything you might need to be self-sufficient while away from home, and come with private washing and drying facilities and full kitchens. There is almost always a communal swimming pool for the complex and some have tennis courts or kayaks available for the guests' use. High speed internet Wi-Fi connections are becoming virtually standard on Grand Cayman in the condominiums.
For families and larger groups private villas of a very high standard are readily available on Grand Cayman, with a few properties also available on the 'sister islands'. The majority of private villas whether at the top end of the market or simpler cottage-style properties will be set either on their own private section of beachfront or close to shore, and again, the majority will come with private pools.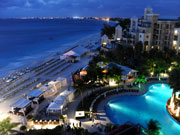 Many of the hotels and resorts also offer rooms which are built as apartment-style accommodation with kitchenette facilities – a small cooker, refrigerator and utensils to allow guests to do at least a proportion of their own catering.
Some of the larger luxury resort style properties will also offer these types of apartment – such as the Ritz-Carlton which has 'residences' available offering butler-service if required. Private villas will generally be very well appointed and will come with everything provided.
The villa rental agencies can also offer a concierge service that can arrange everything from airport transfers to hiring a boat for your use during your stay. It's common for guests to find a 'welcome pack' with some basic foodstuffs such as bread, milk, tea and coffee when you first arrive. Most villa agents or property owners can also arrange for groceries and supplies to be delivered in advance of arrival. There are numerous condominium developments along Seven Mile Beach offering a broadly similar standard of accommodation.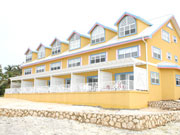 In many cases, where the condominiums are privately owned the main difference will be in matters of taste when it comes to the individual furnishings, but the amenities will be the same.
En-suite bathrooms are to be expected in the master bedrooms and often there will be a separate bathroom for each additional bedroom. Satellite TV is also commonly provided, as well as DVD players. Travelers with children should check if the additional bedrooms offer twin beds or in some cases bunk-beds which may not be suitable for very young children.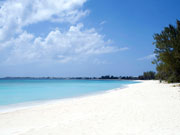 Most visitors choosing self-catering style accommodation will feel they need a hire-car during their stay. This is not so essential in the Seven Mile Beach area where restaurants and supermarkets will be a short walk or taxi journey from the accommodation but if you choose a villa or apartment at the East End or in Cayman Kai a car will be a necessity. Driving is on the left-hand side (the British system). Car rental agencies do not always supply left-hand drive cars – and if you prefer one it's advisable to request it at the time of booking.
Driving distances in Cayman are short, and the main roads are good – if you are staying in the centre of Grand Cayman on Seven Mile Beach then you can reach anywhere in the west end in less than half an hour, while Rum Point and the North Side are about an hour from town. The centre of George Town is no more than ten minutes from Seven Mile Beach and it's about the same distance to the airport depending on the traffic. The highest concentration of restaurants and shops is closest to Seven Mile Beach and George Town.
On Grand Cayman there are good quality self-catering options in all the main districts, though Seven Mile Beach has the highest concentration of condominiums and hotels (many of which have apartment style rooms with self-catering facilities available).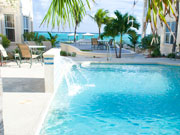 On the north side of Grand Cayman the largest range of villas is to be found at Cayman Kai and Rum Point, but you will also find accommodation at the west end, East End and in Bodden Town.
Cayman Brac and Little Cayman have a smaller range of self-catering options than Grand Cayman, but both have condominiums and some villa accommodation available. On Little Cayman nothing is very far from Blossom Village where the only supermarket is located, so it is possible to manage without a car.
Grand Cayman also offers companies who can provide 'personal chef' services; catering companies who can come to your villa or apartment and cook for you and your family. In addition, there is a 'Fine Dine-In' service which can bring you a take away from any of the numerous restaurants on the island any night of the week.

Cayman Islands luxury accommodation