Cayman Islands shopping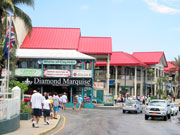 George Town has become well known internationally for its duty-free shopping experience, and remains a regular and popular port of call for Caribbean cruise ships. The capital is compact enough that exploring the duty-free shops can easily be done on foot. Luxury goods including perfumes, watches, designer accessories and jewellery can be found at up to 30% lower prices than normal. There is also an active local community of artists and craft makers whose work can be found at numerous outlets and studios around the islands. It's worth remembering that local products are not subject to duty.
Local products that make interesting gifts and souvenirs include rum cakes, natural sea-salt or jewellery made from the Cayman Islands' own unique gemstone – Caymanite – which is only found in the islands and makes attractive souvenirs. In spite of its relatively small size, Grand Cayman has a surprisingly varied number of shops, plenty of supermarkets and if you can't truly relax without a serious retail fix there's also the new development at Camana Bay. Here you'll find food, books, entertainment and designer items as well as plenty of cafés, restaurants and even a cinema on the same pedestrian friendly site.
Cameras are one of the items that can be found in George Town at a good discount from what you would expect to pay in the USA or in Europe. In town try Cayman Camera on Goring Avenue which stocks a good range of digital compact and SLRs as well as camera accessories, batteries and memory cards. Photographers with an eye for specialised equipment and underwater housings will be well served at Cathy Church's Grand Cayman Photo Centre located at the Sunset House hotel, one of Cayman's first diving resorts. Major brands including Nikon and Olympus are all available.
The Kirk Freeport Plaza houses Cayman's largest duty-free store and stocks not just watches and jewellery but also china and household gift pieces including internationally known brands such as Wedgewood, Lladro and Villeroy and Boch. The plaza also houses a Cartier boutique and jewellery pieces designed by leading houses such as Mikimoto, Bulgari, Swarovski and Carrera y Carrera. Fragrances and high-end perfumes are also on show here, with renowned brands including Vera Wang, Yves St. Laurent, Givenchy joining cosmetics from MAC, Clinique and Estée Lauder. All of the high quality timepiece names can be seen at the plaza – with men's and women's styles from Baume & Mercier. Breitling and Rolex alongside Blancpain, Raymond Weil and Mont Blanc to name just a few.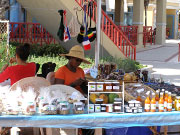 Local crafts and art are increasingly popular with visitors to Cayman who want to take home something that reminds them of their vacation experience, and which has a cultural connection with the islands.
Guy Harvey is a well known figure on the local art scene and his expert paintings and sketches of fish, sharks and turtles have become famous internationally. His shop on South Church Street stocks not just art but also books, films and giftware designed and produced by him to reflect his passion for the sea.
A little further down South Church Street you'll find Pure Art, the long established art and craft shop run by Debbie Chase, herself a painter. As well as a good selection of prints and original work by Cayman artists there are hand-painted ceramic bowls, quilts and wall hangings as well as a wide selection of souvenirs and gifts. Anyone with an appetite for fine art should also visit the art gallery at the Ritz Carlton resort in Seven Mile Beach, where original work is displayed on permanent exhibition.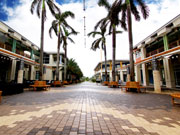 Close to the centre of George Town but facing the North Sound rather than the sea, is the newly built Camana Bay, an integrated residential development which incorporates retail, leisure and residential facilities on a 500 acre site. Camana Bay has been meticulously planned and landscaped to create a community which offers the best in modern urban design yet reflects the feel and amenities of island living. Climb to the top of the observation tower for a 360° view of Grand Cayman or browse the stalls selling local, often organic produce, farmed here on the island.
Camana Bay retailers provide everything from luxury home linens at Bedside Manor to the islands' largest bookshop Books and Books which also hosts regular readings and community events aimed at promoting authors and their works to a wider audience. There are also fashion outlets for kids, sunglass emporiums and designer fashions for men and women. You'll also find beauticians, hairdressers, a gym and medical practices at Camana Bay. Refreshments and dining – from sandwiches and smoothies to bistro-style dining are all to be found here too as well as Cayman's only cinema, a state-of-the-art six screen venue showing the latest international releases. And, twice a week – on Wednesdays and Saturdays – there's a farmer's market selling locally made hot and cold dishes, fresh fruit and vegetables and handmade crafts.
For another style of shopping it's worth visiting The Grounds just outside Bodden Town, east of George Town. As well as locally grown produce you can buy fish, souvenirs made with the national Silver Thatch Palm as well as Caymanite jewellery and jams, sauces and fresh juices.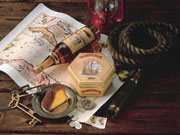 Although Cayman does not have the historic plantation culture of other destinations in the Caribbean there are some local rum merchants including Seven Fathoms who have a micro-distillery which produces some of its liquor by aging the barrels underwater. Another typical taste from Cayman is rum-cake. There are several brands available including Tortuga Rum - a locally owned company that sells flavoured coffee, chocolates, spicy Caribbean jerk sauces and of course the rum cakes which keep well, certainly long enough to bring home and serve as a tasty reminder of your island vacation.

Things to see & do in the Cayman Islands