Cayman Islands suggested itineraries
The Grand Cayman Tour
There's plenty to see and do on Grand Cayman and a week's vacation will pass very quickly. Start your tour in the Seven Mile Beach area for a couple of nights to get your bearings. This itinerary requires a hire-car for a few days to give you the flexibility to explore at your own pace. It's quite possible to sample all of the attractions on this tour from one base but a change of scene may give you the chance to appreciate the differing atmosphere of the resorts nearer to George Town compared to the central and eastern districts' gentler pace.
Day 1
After breakfast take a walk along the soft sands of Seven Mile Beach and have a refreshing swim Take lunch at any one of the cafés and restaurants around the Seven Mile Beach area where you'll be spoilt for choice – and then take a leisurely stroll around George Town the island's tiny capital.
George Town is easy to explore on foot – stop at the craft market near the waterfront then take a tour through the malls and duty free shops or visit one of the galleries or shops selling local products – toffee, rum cakes or hand-made glass. Visit the National Museum where you'll gain an insight into the Cayman Islands' geography and history as well as an understanding of the surrounding ocean and its coral reefs. There's also an art collection and you can have a cool drink at the Gaol House café.
Return to Seven Mile Beach and have a cocktail at a bar or restaurant overlooking the Caribbean at sunset before choosing dinner locally.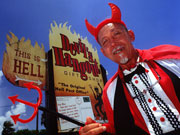 Day 2
Explore the West Bay area this morning and stop at 'Hell' – an area of limestone rock where you can send a postcard with an unusual post-mark.
The West End is also where the old turtle farm has been turned into a tourist attraction called Boatswain's Beach where green turtles can be seen at close quarters.
Not far away is the Cayman Motor Museum, an astonishing private collection of vintage and unusual cars including the original Batmobile from the 1960s TV show, an 1866 Benz – the first car ever produced, the original 'Yellow Rolls Royce' from movie fame, a limousine that belonged to Elton John and dozens of other immaculately restored and preserved classics.
Stop at Lighthouse Point eco-resort for a snack at 'Treats' café and perhaps a snorkel from the jetty. Then head towards the tip of the island to explore Barker's National Park. Explore the undeveloped beaches but bring plenty of water and a sun-hat as there are no facilities. For dinner head to Morgan's Harbour where there are several waterside restaurants.
Day 3
Begin the day with some beach time and then go the short distance to Camana Bay to explore the shops and café culture of this experimental piece of new urban design on the waterfront at North Sound. Then head east to see some of the island's nature and history.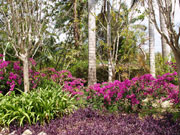 About forty minutes from George Town you'll find the Queen Elizabeth II Botanic Park which is well worth exploring for a couple of hours.
Covering seventy acres and home to dozens of native plant species, an orchid trail and palm forest the park is also home to the Blue Iguana Recovery Programme and you'll usually see several of these 'blue dragons' – a highly endangered unique species.
Stop at a roadside jerk shack for lunch and then head to Pedro St. James to explore the historic exhibits and beautifully restored plantation house filled with antique furniture. Overnight at the tranquil Retreat at Lookout Farm or at Turtle Nest Inn beside the sea.
Day 4
Explore Bodden Town – where Cayman's early settlers laid down the roots of self-governance. Bodden Town is also home to the restored Mission House and was once the capital of the island.
Take a slow drive along the south shore from Bodden Town towards the East End, stopping to see the natural blow-holes caused by waves pushing the sea through holes in the reef. Try a dive on the deep walls at the wilder East End of the island with Ocean Frontiers based at Compass Point, or try kite-boarding or a paddle boarding excursion out to the reef.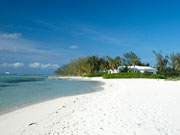 Overnight at Compass Point Resort or the Reef Resort and base yourself here for a couple of nights, or move on to the Rum Point area.
Day 5
Spend a relaxing morning at Rum Point where you can sample watersports and snorkelling followed by lunch at the Wreck Bar, one of the Caribbean's oldest beach bars. Hammocks and picnic tables in the shade are available here and there's easy snorkelling and swimming near the jetty.
In the afternoon take a kayak tour of the mangrove channels or sign up for an evening tour to see the amazing bio-luminescence created by micro-organisms in the water.
Cayman's Scuba Treasures
The Cayman Islands have justifiably earned a reputation as having some of the finest diving in the entire Caribbean. Wrecks, reefs, walls and prolific marine life are all on offer as well as reliably warm and spectacularly clear waters perfect for learning to dive. There are over forty diving operators on Grand Cayman and you may wish to base yourself at one resort and dive with the same company throughout your stay. It's worth considering however that on Grand Cayman you may see a variety of marine habitats by combining some diving at both the western and eastern ends of the island.
Bear in mind that 24 hours rest is needed between diving and flying, so allow time to decompress before traveling to the other islands. Base yourself at any of the resorts on Seven Mile Beach, at Compass Point Resort in the East End or at Cobalt Coast resort in Grand Cayman's West Bay (Northwest Point).
Dive Days 1-3 Grand Cayman
After a day's rest and relaxation following your international journey, begin your diving adventure off Seven Mile Beach with a shallow reef dive followed by an underwater tour of the Kittiwake – a former US Navy submarine rescue ship just over 250 feet long. Depending on conditions and experience levels, divers will then be able to explore some of the dozens of sites including the wreck of the Callie, and Devils Grotto close to George Town, Neptune's Wall off Seven Mile Beach or head around Northwest Point to explore Bonnie's Arch or Cemetery Wall. At the East End of Grand Cayman there are a further sixty dive sites and a wall with a very deep drop off. Well known sites here include The Maze, Snapper Hole and Cinderella's Castle.
Days 4-7 The 'sister islands'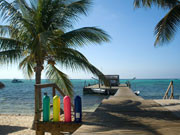 Both Little Cayman and Cayman Brac offer good, varied diving. It's not usually possible to transfer between the islands by boat – so choose one island as a base for diving. If the weather is calm then dive operators on either island will usually arrange excursions to the other so that you get to experience the underwater world of both. Most dive operators offer 2-tank morning excursions and a single tank afternoon dive. As well as healthy reefs and prolific marine life, Cayman Brac has its own famous shipwreck – the MV Keith Tibbetts, a 100 metre long former Russian frigate sunk in 1996 as an artificial reef.
Stay at the full service Brac Reef Beach Resort. Little Cayman has the dramatic vertical reef at Bloody Bay Marine Park and dozens of sites all along it offering a variety of swim-throughs, sand chutes and groove and spur formations to explore. Take a day off before you fly back to Grand Cayman and take the time to explore whichever of these charming islands you have chosen. They're special places for nature lovers above water as well as below.
Cayman Trio
With two weeks in the Cayman Islands you'll have the chance to spend a full six days exploring Grand Cayman and three nights on each of the Sister Islands allowing for a day's rest and recuperation from your travels at either end of the vacation on Grand Cayman. All three islands have their own distinctive character, and visitors who take the time to explore them will be rewarded with a real insight into these sights, sounds and flavours of these three tranquil islands.
Days 1-6 Grand Cayman from east to west
Begin your vacation at one of the resorts or condominiums in the Seven Mile Beach area. After a day acclimatising and settling in to your accommodation set out to explore the amenities and dining options of George Town, the West Bay area and of course the attractions at Seven Mile Beach.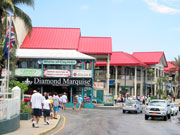 In this area you can choose a different style of cuisine for every night of the stay – from Asian fusion, Cuban, Italian, Greek or Chinese to contemporary dishes served with Caribbean flair on a beachside boardwalk or sophisticated clubhouse style formal dining.
George Town is well worth an entire morning or afternoon – and a great place to pick up duty-free items ranging from cigars and jewellery to fine watches and photographic equipment.
If more retail therapy is required, then spend a few hours at Camana Bay – the new 'village' where there's always something going on. You don't have to shop – climb the observation tower for a view of the island and see the amazing mural depicting the marine life of Bloody Bay Wall or relax by taking in a movie at the multi-screen cinema.
You'll have time to feel the sand between your toes on the island's numerous beaches, take a half day excursion to the Queen Elizabeth II Botanic Park and visit the 'blue dragons' (Cayman's unique endemic iguanas), or catch a glimpse of the past at the magnificently preserved 'grand house' at Pedro St. James.
There'll be time for pony-trekking on the beach, a jet-ski ride or a visit to see the hundreds of green turtles at Boatswain's Beach at the West End.
Most people will want to experience the stingrays or dive the magnificent reefs and walls around the island – or perhaps even learn to dive while you're here. On Grand Cayman you can even play a round of golf, take a spa treatment or go kayaking by moonlight through the mangroves to see fluorescent plankton light up the bay. Or, take a tour of the Cayman Motor Museum to see one of the world's best collections of rare vintage cars – including early models by Rolls Royce, Bentley and Benz, and the original Batmobile.
You may wish to base yourself in one place, although many visitors are now splitting their time between resorts or hotels and locally run guest houses to get a feel for Caymanian culture. Consider booking at least one night at a guest house during your stay – try the Retreat at Lookout Farm near Bodden Town or the Shangri-La in West Bay– perhaps for your final night on the island.
Day 7-12 The 'sister islands'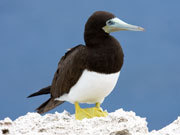 Take a Twin-Otter flight ninety miles northwards to the 'sister islands'. The flights go to both islands in turn so you can choose which to visit first. On Cayman Brac you'll meet the 'Brackers' the tight-knit local community who call the island home. Visit the dramatic limestone bluff where the Brown Booby birds nest or take a hike through the Parrot Reserve to spot the elusive endemic green birds that survive only here in the wild. Visit the Brac's numerous caves, eat conch chowder and ribs at Aunt Sha's diner or relax by the pool and soak up the sun.
Stay at the Brac Reef Resort, cosy Walton's Mango Manor B&B on the north side or at the boutique-style Alexander Hotel.
On Little Cayman you can sample a truly unique and peaceful environment where a bicycle is as good – or better - for getting around than a car. See the frigate birds squabble with the red-footed boobies and watch the West Indian Whistling Ducks forage on the pond at sunset. Stay in a luxury condominium at the Conch Club, self-cater in an original Cayman cottage at Blossom Village or learn more about the natural attractions of this wonderful island at Gladys Howard's family friendly resort at Pirate's Point, known for its gourmet dining. Honeymooners will love the Southern Cross Club, while the Little Cayman Beach Resort suits both couples and families.
There are several flights every day between the sister islands – a ten minute hop – so it's quite possible to experience both of the 'sister islands' on one vacation.

Things to see & do in the Cayman Islands