Cayman Islands travel information
Where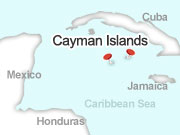 The three Cayman Islands, Grand Cayman,
Cayman Brac
and
Little Cayman
, are located in the western Caribbean about 150 miles south of Cuba, 460 miles south of Miami, Florida, and 167 miles northwest of Jamaica. George Town, the capital, is on the western shore of Grand Cayman.
Grand Cayman, the largest of the three islands, has an area of about 76 square miles and is approximately 22 miles long with an average width of four miles.
Its most striking feature is the shallow, reef-protected lagoon, the North Sound, which has an area of about 35 square miles. The island is low-lying, with the highest point about 60 feet above sea level.
Cayman Brac lies about 89 miles northeast of Grand Cayman. It is about 12 miles long with an average width of 1.25 miles and has an area of about 15 square miles. Its terrain is the most spectacular of the three islands. The Bluff, a massive central limestone outcrop, rises steadily along the length of the island up to 140 ft. above the sea at the eastern end. Little Cayman lies five miles west of Cayman Brac and is approximately ten miles long with an average width of just over a mile. It has an area of about 11 square miles. The island is low-lying with a few areas on the north shore rising to 40 ft. above sea level.
Getting there
British Airways offers a direct service four times weekly using Boeing 767s from London (Heathrow) to Grand Cayman on Tuesdays, Wednesdays, Fridays and Saturdays with an intermediate stop in Nassau, Bahamas. There are more than 55 weekly flights into the Cayman Islands, from major US gateways, including 28 flights each week between Miami and Grand Cayman, Canada, Cuba and Jamaica with daily connections to Cayman Brac and Little Cayman from Grand Cayman.
Getting around
There is a daily bus service on Grand Cayman which runs from 6 am until midnight depending on the route and the day of travel. This service covers major towns and tourist areas. For the more remote areas on the island, and for getting around on the two sister islands, taxis are in abundance. Alternatively, there are numerous car hire companies which can be rented from the hotels and driving is on the left.
Public Vacations 2012
2 January - New Years Day
23 January - National Hero's Day
22 February - Ash Wednesday
6 April - Good Friday
9 April - Easter Monday
21 May - Discovery Day
18 June - Queen's Birthday
2 July - Constitution Day
12 November - Remembrance Day
25 December - Christmas Day
26 December - Boxing Day
Read about more
events
.
Weather
The weather is divided into two seasons, the summer or "rainy" season, generally from mid-May through October, moving into the winter or "dry" season, from November to April. March and April are the driest months and May and October are traditionally the highest rainfall months. The average temperature in the winter is 24 degrees and 30 degrees centigrade in the summer. Winter or summer, the temperature generally stays within the range of 20-32 degrees. During the summer it can be quite humid so the cool sea breezes are a welcome addition to the climate. Sea temperatures average about 26 degrees centigrade year round. Read more about
Cayman Islands weather
Time Zone
The Cayman Islands are -5hrs GMT & -6hrs BST.
Dialling code
+345
Electricity
Cayman runs on a 110v electricity system with three-pin plugs.

Read about
responsible travel
and
things to see & do
in the Cayman Islands.