Cayman Islands weather & climate
The Cayman Islands have a pleasant and warm climate all year round, with winter (November-March) averaging daytime temperatures of 24°C (72-80°F). Summer is considered to be from May through to October and sees the temperature rising to a daytime average of 28°C (80-88°F). The islands can be subject to tropical cyclones and the hurricane season, which officially runs from June 1st to the end of November. Grand Cayman last suffered considerable damage during Hurricane Ivan which struck during September 2004 causing almost $3 billion of damage and indirectly resulting in the deaths of two people. Hurricane plans are well practised and in the event of a major hurricane threat evacuation plans to take tourists to the USA are generally made.
Summertime is more humid than winter, with July and August bringing the highest temperatures. January and February are the coolest months, and daytime temperatures may dip to around 23° (73°F). Humidity averages approximately 77% for the year. From May to October the prevailing winds are from east to south, and from December to April they shift to northeast to northwest.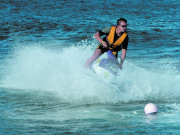 Watersports, especially swimming and scuba-diving are a key part of the tourism experience in Cayman and the waters are generally extremely clear and warm.
The extremely good visibility – up to sixty metres – is a result of the island's lack of soil and a total absence of rivers which might otherwise carry silt and debris into the coastal waters. Divers and snorkelers appreciate these factors which make for ideal conditions throughout much of the year.
In recent years kite-surfing and wind-surfing have become increasingly popular on Grand Cayman especially at Barkers beach at the western end of the island where winter gusts of 15 knots or so make for good surfing conditions. The average sea temperature is 29°C, with a maximum low of 26°C.