Scuba Diving in Cayman Brac
An enlightened marine conservation attitude has resulted in the Cayman Islands maintaining a healthy network of coral reefs, marine reserves and replenishment zones.
Almost all of the regular diving sites are marked by buoys allowing the dive boats to moor without dropping anchor and damaging the corals. Cayman Brac, like its near neighbour Little Cayman, receives far fewer visitors than Grand Cayman and its diving sites are therefore less busy.
Cayman Brac has around fifty regularly dived sites and marine life includes the popular Nassau Groupers, Eagle Rays, Southern Stingrays, Barracuda, Tarpon, turtles and Caribbean Reef Sharks.
Not far from Cayman Brac's western end lies one of the underwater world's most famous shipwrecks. The MV Keith Tibbetts, (a former Russian frigate purchased from Cuba) was deliberately sunk in 1996 as an artificial reef. Sitting on a sandy bottom at around 30 metres deep the conning tower of the wreck rises to within about ten metres of the surface. Intact at first, the 95 metre long wreck has now broken up (thanks to storm damage), with the bows of the ship now hanging at an angle and the midships section considerably tangled. The mangled superstructure provides plenty of nooks and crannies for marine life and divers to explore.
More than a hundred different species have been recorded living on and around the wreck including Green Moray Eels and large groupers. Lying close to the drop off this is always an interesting site, and most divers will be happy to dive the wreck more than once during their stay.
Cayman Brac has numerous shallow reefs around its shores and well known dives include Cemetery Wall, West Chute, Inside Out and Snapper Reef.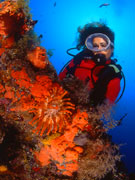 Both the north side of the island and the south side can be dived, but as with Little Cayman the north eastern tip tends to be more exposed to prevailing winds and therefore less frequently visited.
The deepest walls are to be found on the northern and southern sides of the Brac, and with Little Cayman only a few miles away it's quite possible to schedule a trip over to Bloody Bay Marine Park to dive the famous vertical wall. The Brac has a good variety of wall and reef dives, and there are a number of shore dives possible too.
Not far from the south shore is a site known as 'Anchor Wall'. At a depth of around twenty metres divers swim through a coral alleyway and look up to discover an old anchor wedged into the reef, encrusted with coral growth. The southern diving sites of Cayman Brac are broadly similar to the underwater topography on Grand Cayman. Although there is a deep wall, the seabed drops away on a gradual slope rather than vertically. There are also tongue and groove coral channels in the reef to explore. The reef top has numerous areas of flat sandy floor where rays gather, and where the stealthy diver can get close to hundreds of Garden Eels as they poke their heads cautiously from their lairs, waving in the current like so many living umbrella handles. Caribbean lobsters also inhabit the ledges and reef holes here in high numbers, waving their spines at anyone who approaches too close.
At Cemetery Wall the reef is a maze of channels and outcroppings where Angelfish, Snappers and Trumpetfish hide among a forest of Vase Sponges.
Wilderness Wall is a typically intriguing dive site which begins with a swim over the horizontal reef top and then allows divers to follow a sand chute down through a tunnel and emerge onto the wall at around twenty five metres deep.
Nurse sharks typically shelter under the overhangs here. Looking outwards you face the deep blue expanse of the abyss stretching into infinite space. Clusters of bright fluorescent Green Tube Sponges and dark brown Barrel Sponges grow along the channels and gullies of the reef edge.
Kissimee is a nice wreck dive on the north shore, at Stake Bay. The Kissimee is an old tug boat deliberately sunk in 1982 as an artificial reef. Like most wrecks the old boat attracts copious fish life and there are usually Squirrelfish taking shelter under the superstructure and schools of Schoolmaster Snappers hanging idly in the current nearby. On shallower sites such as Treehouse Reef there are schools of large tarpon, and lurking among the delicately waving fronds of the sea fans there will be the small but dramatically coloured bright indigo hamlets. The reefs around the Brac are a good place to spot Green Turtles.
Cayman Brac is a good destination for photographers with excellent underwater visibility – with thirty to forty metres quite common. The only scuba diving facility on Cayman Brac is now
Reef Divers
at the Brac Beach Reef Resort. The resort operates several custom built dive boats and offers full PADI and SSI instruction courses.

Little Cayman scuba diving

Cayman Islands snorkelling
Responsible Travel would like to thank the Cayman Islands tourist board for their sponsorship of this guide