Scuba diving in the Cayman Islands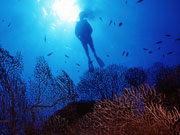 In the Cayman Islands they say you can dive on a different site every day of the year. And with more than forty diving centres catering to all levels of divers on all three islands Cayman has become world famous as the perfect place to learn the sport. A lack of strong currents, some of the healthiest coral reefs in the whole Caribbean, and spectacularly good visibility contribute to making the conditions close to ideal much of the time. Novices and technical divers, dive clubs and individuals all return to the islands time and again to enjoy these waters which are reliably between 26° and 28° C all year round.
Grand Cayman is well served with dive operators and schools where SCUBA certification can be done in just a few days with all levels of internationally recognised certification available. The latest open water diving courses include lessons in theory that can be taken at home before the new diver even gets into the pool, cutting down the class room time on vacation. The well established PADI (Professional Association of Diving Instructors) system is the most widely taught certification system in Cayman, and allows divers as young as eight years old to experience the underwater world. There are also some BSAC (British Sub Aqua Club) operators in Cayman. All prospective diving students will be expected to complete a medical questionnaire aimed at ensuring that they are fit to dive. The Cayman Islands Watersports Operators Association sets high standards for its members, ensuring that safety standards are met by dive schools, instructors and boat crews. In the event of an emergency there is a decompression chamber on Grand Cayman and another on Cayman Brac.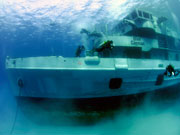 Grand Cayman's diving attractions were expanded in 2011 with the sinking of the Kittiwake, a former U.S. Navy vessel now sitting on a clear sandy bottom in about twenty metres of water at the northern end of Seven Mile Beach.
Scuba divers can explore the wreck of this former submarine rescue ship built in 1945, over 250 feet long and with five decks. Other wreck dives on Grand Cayman include the shallow wrecks Callie and Doc Poulson and the deeper Oro Verde.
Cayman Brac boasts one of the most famous wreck dives in the world – the Captain Keith Tibbetts, a three hundred foot former Soviet frigate sunk as an artificial reef in 1996 and home to a healthy population of Stingrays, Eagle Rays and frequently seen large Grouper as well as colourful shoaling Snappers.
From shallow reefs and mini walls, Grand Cayman also offers the dramatic underwater landscapes of its North & East deep walls where the seabed plummets to over 2,000 meters. Here the reef wall is enriched by spurs and grooves which are home to rays, turtles, soldier fish, spiny lobsters, parrotfish and dozens of other Caribbean species including the occasional Caribbean Reef Shark. Soft and hard corals grow on Cayman's reefs and many divers relish what has become known as the 'world's greatest twelve foot dive'. Here, at a site called The Sandbar scuba-divers get very close to dozens of Southern Stingrays – some of them almost five feet wide – that gather round in the hope that the dive leaders will give them a morsel of squid.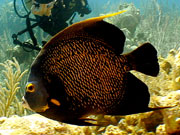 On Cayman Brac there is an excellent variety of dive sites too, more than fifty to choose from and, weather permitting, the dive boats will also make excursions over to Little Cayman to visit the Marine Park at Bloody Bay. Justifiably famous for the sheer vertical undersea cliffs at Bloody Bay and Jackson Reef which are covered in sponges and corals, the marine park offers some of the most dramatic diving in the Caribbean. On all three islands Nassau Grouper, French Angelfish, Spotted Eagle Rays, Horse-Eye Jacks and turtles are frequently seen.
Marine Parks, Replenishment Zones, Environmental Zones and Animal Sanctuaries have been set up on the Islands to ensure that Cayman's treasures will be in pristine condition for generations of visitors to enjoy.
On Grand Cayman the highest concentration of dive centres is around West Bay and Seven Mile Beach with many operators scheduling regular daily dives first thing in the morning. Typically these will be two-tank dives. Divers will visit one of the deeper sites first then take their safety stop on board the boat before making a second, usually shallower dive before returning to shore. In the afternoons it is more common to make a single dive. Other, usually less busy dive sites are located along the south shore and at the East End.
Although both Cayman Brac and Little Cayman; affectionately known as the 'sister islands'; are considerably less busy with tourism than Grand Cayman it's probably fair to assume that a very high percentage of vacationmakers on the 'sister islands' will have travelled there especially to go diving. Most of the accommodation on Little Cayman is designed specifically for divers, and the largest resort on the Brac caters also mainly for divers.
Shore diving is also exceptional over all three Islands, and is very popular with visitors as it is convenient and free.
North wall shore diving in West Bay, Grand Cayman, 3 miles north of Seven Mile Beach you'll find yourself in 6 feet of crystal clear blue water with Elkhorn corals in the shallows and thousands of sea fans. You'll find pristine reefs that are abundant with large schools of fish including snappers, schoolmasters, barracuda, grunts, tangs, sergeant majors and more to entertain you. It's like swimming through a veritable aquarium of marine life. "Sea Fan Reef" is an easy shore dive starting from the dock and just minutes off shore is "Cobalt Coast Ridge" deep wall. Cut and groove formations make navigation easy along with underwater markers from the ladder to deep wall. Guided mini-wall, deep wall and night dives are also available from shore with experienced Instructors. So, if you're not up for the boat ride, go for an amazing shore dive day or night at your own schedule.
Shore diving Lighthouse Point located on the NW tip of Grand Cayman, one mile north of Seven Mile Beach, you'll experience an awesome shore dive on the mini wall or deep wall that is rated amongst the top in the Caribbean. You'll have easy access to a 35' vertical mini-wall that runs from 25' to 60' where an abundance of corals, sponges and marine life will be seen, all just 50 yards offshore from the Lighthouse Point dock.
The dive site is pristine and unspoiled with turtles & more turtles, eagle rays, Jacks, tangs, octopus, scorpion fish, brittle stars, crabs, anemones, eels, tarpons and an abundance of reef fish from juveniles to old timers seen on a daily basis. The deep wall has twin pinnacles, canyons, swim throughs and enormous barrel sponges to visit.

Little Cayman scuba diving

Cayman Brac scuba diving

Cayman Islands snorkelling