Things to see & do in the Cayman Islands
1. Queen Elizabeth II Botanic Park & Blue Iguana Recovery Programme
Stretching over almost seventy acres, the botanical park is a nature reserve filled with orchids, elegant palms and vibrantly coloured tropical flowers. Native plants and healing herbs scent the air, and this is where the 'blue dragons' (Cayman's iguanas) roam the forest.
Combine a tour of the stunning gardens and lakeside walkways with a visit to the Blue Iguana Recovery Programme to learn about these six foot long lizards – one of the most endangered reptiles in the world, and visible to visitors only in one small area of Grand Cayman. Here you will also see the endemic Silver Thatch Palms, the country's national tree, a crucial building material for the islanders over the years, and watch rare West Indian Whistling Ducks on the beautiful two acre lake.
2. Visit the Sister Islands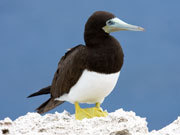 Cayman Brac and Little Cayman are less than an hour's flight from Grand Cayman, making it possible to explore either island on a day trip, or to break your stay on Grand Cayman with a night or two away. On the Brac explore the island's caves, or walk along the dramatic sea cliffs to see the nesting Booby birds, and take a trail through the National Trust Reserve to spot the rare Brac Parrot. Little Cayman, home to just a handful of hotels around charming Blossom Village has a tiny population, an idyllic beach, its own community of iguanas, and is the perfect place to totally forget the modern world, or take a dive on the Caribbean's deepest reef wall.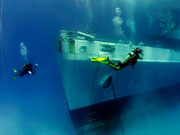 3. Go Snorkelling on the Kittiwake
Just off Seven Mile Beach in around sixty feet of water lies one of the Caribbean's newest shipwrecks, a former U.S. submarine rescue ship called Kittiwake. At 251 feet long this 1800 tonne vessel is a dramatic underwater site, with her top superstructure just a few feet below the surface. Sunk deliberately for diving and snorkelling, the Kittiwake is now one of Cayman's most popular attractions. In 2011 the wreck was towed to Cayman from Florida, and very soon became a new underwater home for hundreds of fish.
4. Night kayaking tour to experience the Bioluminescence from Rum Point
Head for the North Side of Grand Cayman for an evening kayak tour of the bay and the chance to see luminous plankton glowing in the water. Best seen on darker nights, the sea shines and froths like a magician's brew whenever a paddle or a hand ruffles the surface as up to a million tiny creatures in every gallon of sea-water send out their light. Kayaking around the mangroves of Rum Point is a special experience even in the daytime, and is a chance to learn more about the ecosystem that protects the shoreline and serves as a nursery for many of the creatures that go on to live in the open sea.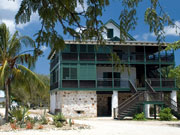 5. Explore the heritage of the Cayman Islands at Pedro St. James & Mission House
Several historic buildings with important links to the Cayman Islands' past have been preserved with help from the National Trust. The grandest example is Pedro St. James, an 18th century plantation house set in large gardens at Savannah east of George Town. Cayman's first 'parliament' was held here in 1831, and it's the site where the announcement abolishing slavery was made in 1835. The building is now filled with antique furniture and artefacts from the period.
Not far away in Bodden Town is the carefully restored wooden 'Mission House' originally used as a Presbyterian school for local children and run now as a museum.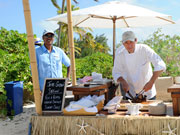 6. Eat traditional food at a local restaurant
Roadside 'jerk shack', take-away cafés and small locally run restaurants are dotted around all three islands. Stop by and sample local favourites like oxtail and beans, curried shrimp or a simple dish of jerk spiced chicken and fries for a truly Caribbean island experience. Eating at a local restaurant is also a good way to meet some Caymanians, who have their own brand of humour and a wry take on the world.
7. Go Diving
Cayman has some of the clearest cleanest seas in the world, unpolluted and unaffected by any run-off from rivers (because the islands don't have any), and home to a colourful range of tropical fish, turtles and rays. There are dozens of dive schools in Cayman, and each island has its own kinds of diving experiences, but all three are great places to learn – a process that can be completed in as little as three days if you sign up for an e-learning programme before you leave home.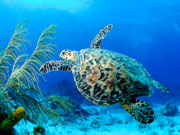 Children as young as ten can be certified, and the islands benefit from a lack of strong currents making it an ideal place for beginners to practise their skills. Grand Cayman has dozens of dive sites ranging from reefs to walls, wrecks and canyons. Cayman Brac also has excellent reef diving and is home to the wreck of the MV Keith Tibbetts – a former Soviet era frigate sunk as an artificial reef in 1996. Little Cayman has the spectacular deep reef walls of Bloody Bay and Jackson's Reef which descend straight into the big blue at one of the Caribbean's very deepest points.
8. Walk the Mastic Trail to explore the subtropical forest of the Mastic Reserve
The Mastic Trail threads through the central untouched forest of Grand Cayman and gives visitors an unrivalled view of how the island looked before human settlement began.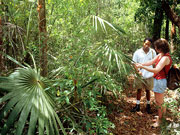 Named after the rare yellow and black hardwood species of the Mastic Tree that grow here, walking the trail (in stout footwear) gives a privileged glimpse of nature in the raw on a Caribbean limestone island.
The thick vegetation covers a thousand acres and is home to indigenous parrots, Caribbean doves and a fine selection of Cayman's many species of butterfly.

Cayman Islands events