Beaches in Menorca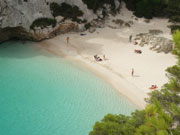 Out of its total coastline of 216 kilometres, Menorca has an incredible more than 80 beaches, each with its own distinct character and with enough variety to satisfy the most ardent of beach fanatic. Most are completely undeveloped and have an idyllic setting in pretty small rocky coves backed by woodlands or high cliffs.
On the south coast which is sheltered from the strong northerly prevailing wind called the Tramuntana, the beaches have fine white sand and towards the east there are some of the longest sandy beaches on the entire island.
On the north coast, which has the highest cliffs the beaches tend to be smaller, with red sand, and many are more difficult to access which means that even in summer there are always empty secluded places to stretch out in the sun.
Beaches with facilities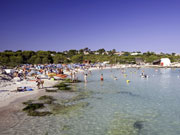 The larger resort beaches are on the southern coast and have easy access, even for those with limited mobility and there are restaurants and bars close by. There is usually plenty of parking, and with many hotels, self catering apartments and villas close at hand many visitors simply walk down to their favourite beach. The largest beach is at Son Bou, with nearly three miles of tempting white sand stretching along a shallow bay beneath small dunes. The town is at the eastern end of the beach and here in summer it can be very crowded but the western end of the beach, even at the height of the season always has far fewer people.
As always in Menorca, a short walk around the headland will take you to far more secluded stretches of sand where you can spread your towel in peace. Some of these quieter smaller beaches are popular with nudists. Most of the larger beaches will have life guards in attendance during the summer months with flags indicating safe areas for swimmers. The major resorts will have sun beds and umbrellas which can be hired by the day.
Find out more about
beaches with facilities in Menorca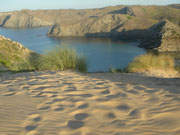 Wild beaches
The smaller beaches away from the large resorts usually have limited parking areas and car parks which are a 10 or 20 minute walk from the sea, a wise move intended to decrease impact on the stunning coastline.
More often than not the car parks are at the end of country lanes bordered by the distinctive dry stone walls of the island. In order to avoid traffic chaos in these narrow lanes electronic signs on the major road closest to the turn off to the beach will indicate the number of parking spaces which remain.
Many of the smallest beaches are practically inaccessible by land, and in summer kayaks, yachts and motor boats visit these lovely hidden gems which are completely pristine and undeveloped. Wild camping is prohibited on the island, but those traveling by kayak have the right to make bivouacs from dusk until dawn, providing they leave no trace of their visits.
Find out more about
wild beaches in Menorca

Read our top 10 tips for
things to see and do in Menorca