"Five person stone built villa near Majella National Park in Abruzzo, central-east Italy. Ideal for couples and small groups of friends looking for year-round options and plenty of peace and quiet."
Highlights
Award-winning riverside mountain retreat | The only villa in Italy to have wild swimming from the garden | Olive and grape harvesting in autumn | Solar panels and wood burning stoves - no air-con | Uses local grid for electricity | Stone walls for cool summers and warm winters | Close to Majella National Park, Cavallone Caves, beaches and ski slopes | Optional activities include: mountain biking, horse riding, river rafting, yacht cruising, guided painting and hiking |
Responsible tourism
Italy villa near Majella National Park, Abruzzo
Carbon reduction
Your vacation will help support local people and conservation. We must also reduce CO2. Learn about the CO2 emissions of this vacation and how to reduce them.
1. We can help you to source locally grown or produced foods since we know many local suppliers thereby reducing food miles; includes our own organic fruit and eggs (zero miles). We do not eat meat so we know local suppliers better than most. All street markets in our area have local growers selling fruit and vegetables that were picked the night before.
2. The next village has a number of electric power points to recharge hybrid or electric vehicles. We can organise electric bike hire for guests.
3. We generate renewable energy through the solar panels on our roof.
4. Casa del Fiume has walls 2 foot thick made of stone from the Majella mountains we do not have air conditioning nor central heating; heating is using wood burning stoves using renewable coppiced wood sourced from our own woods and felled by us by hand. We use low energy lighting throughout and in the height of summer we do the bulk of laundry by hand in tubs that are heated by the sun
5. We do not waste water and electricity by having a pool; instead we have the river Aventino to cool us down and to enjoy wild river swimming.
6. We are your local guides.
Environment
1. Wildlife.
The river Aventino, at the bottom of our garden, is an unpolluted mountain river containing trout and some shrimps. It's environment also supports the protected otter. This stretch of the river is a "No Kill Zone" that is policed regularly by the Forestale (Forest Police). Much of our 5 acre land is left as a wildflower meadow to encourage all forms of wildlife from bees to ladybirds and butterflies, from mice to snakes, from starling to falcon and golden eagle, from fox to wild boar. We have seen all of these in our garden and even a doe and a stag watering in the river. In June 2011 some conservationists identified 26 species of butterfly in one morning of which two were rare.
2. Waste
We recycle as much as possible. Our local mayor was one of the first in this area to introduce recycling and now, with our encouragement to do more, has introduced recycling of TetraPak. We compost our own organic waste and use on our land. We burn paper, card and wood and use on our land. We use products made from recycled items. We have our own cesspit waste system, so we provide our guests with ECO friendly washing and cleaning products. We even have rugs made from recycled plastic bottle caps. All our sheets are vintage linen, as are many of our blankets - made locally in the wool mills before they shut down.
3. Water
We divert rainwater into a system of wells to water the plants on our allotments and the fruit trees in our orchards. The water delivered to our tap comes from deep within the Majella mountain and as such is soft and so reduces the amount of soap type products required; it is also sweet and clear to drink with a much better taste than bottled drinking water.
We use dual-flushing lavatory cisterns to conserve water.
4. Energy
We have solar panels on our roof that create electricity that is fed into the local grid. We burn wood coppiced from our own forest. The river Aventino is harnessed down-stream by a very large hydro-electric dam, that was built some 50 years ago to provide the local community area with electric power.
Unfortunately in order to do this this a valley was flooded to make a lake and engulfing a village - destroying a community. We disagree with the cementing of rivers for hydro-electric power, that destroys communities or wildlife or ecosystems.
5. Buildings
Our house and the adjacent 'Casa del Fiume' is over 200 years old, made of local Majella stone and locally mined gypson. It was rebuilt after the earthquake of 1933 by a wealthy family from Chieti who split the country residence into two units. After many years of neglect, we have restored it using locally sourced materials and locally sourced labour skills.
6. Transport
Whilst many people may choose to arrive here by air (to Pescara or Rome) and then hire a car, Italy does have a good transport system. It is possible to arrive here by public transport. We are on a main road that is served by buses to Lanciano, where it is possible to get a bus to Rome or a train to Pescara.
The local community also provide a bus service to Casoli on market-day (Friday).
7.Suppliers
Many local suppliers deliver to the door bread, fruit, vegetables, fish, meat etc.
Community
1. Friends and Neighbours
We provide recommendations of all local suppliers including:
restaurants; pizzerias; bakery; fruit and vegetable stores; supermarkets; organic mushroom farm; organic produce suppliers of honey, truffles, beer, vino cotto; salami; raw and cooked hams.
We have arranged guided tours of the region with a local (english-speaking) guide. We have arranged guided walks in the area with a local (english-speaking) mountain guide.
We provide details of the best activities and sights in the area.
We provide details of the best Festa's to go to and the best beaches too.
We even take our guests to an organic vineyard for wine-tasting.
2. Campaigning for change
In 2012 we campaigned with our neighbours and the mayor against the proposed building of yet another dam on the river Aventino. This project will destroy:
the livelihood of the few remaining people who still use the river;
the natural beauty of the Aventino valley;
the balance of ecosystem in the area;
the habitat for the wildlife (including the otter and shrimp).
We helped organise an "Aventino Day", to help spread information about the problem. This involved WWF, since the Majella national Park is the only WWF Protected Area Network (PAN) park in western europe. We were interviewed on TV and by the press at press conferences called by either the mayor or WWF. We got the campaign blogged about by both english and italian bloggers and we helped set up a FaceBook page (Amici d'Aventino).
We contacted the European Rivers Network (ERN) and the President (Roberto Epple) visited us and promised to help us in our campaign. This resulted in our participation in Big Jump Day 2012 in July. So every year we will continue to jump in the river Aventino en-masse at 3pm on the second Sunday in July, to celebrate a living river. And thousands of other will do the same across Europe.
3. Volunteering and Charity
We help in anything that benefits the local community and that we agree with (see point 2).
5. We buy almost everything locally and encourage our guests to do likewise. We take our guests to local markets and cultural fairs. We recommend local attractions to visit such as museums. theatres, folk music concerts, the famous "Grotto di Cavallone" and ruins of monastery San Martino at the "Gola" in the Majella National Park.
6. Traveling with respect
We provide our guests with maps of the local area, walking route maps, guide books and brochures of all the attractions and sights. We also provide our own information manual with local etiquette and our recommended attractions and things to do and visit, where to eat, where to shop, how to get things delivered to the door. And not leaving anything to chance because of language difficulties, we offer to book anything for them too.
3 Reviews of Italy villa near Majella National Park, Abruzzo
---
Reviewed on 28 Aug 2019 by
Tristan Brodie
1. What was the most memorable or exciting part of your vacation?

Spending time at the beautiful (and chilly!) river at the end of the garden - paddling, skimming stones, taking a dip and especially the rafting trip. The latter
(much like the majority of our activities) was arranged by Stew and left from a base just 1km from the house.


2. What tips would you give other travelers booking this vacation?

Listen to Stew and Ruth's advice regarding trips out and place to eat. They are hugely knowledgable and thanks to them we were really able to make the most
of our stay; we all left knowing a lot more about Italian culture.
If you have young children be aware that most of the restaurants don't open for the evening until 8pm so for the little ones (we travelled with our 3 children
aged 10, 9 and 2.5 yrs) we felt it best to either shift to a Mediterranean lifestyle (with a siesta) or plan to eat out at lunch time.


3. Did you feel that your vacation benefited local people, reduced environmental impacts or supported conservation?

One of the fantastic things about this vacation was that its was a little off the usual tourist trail so the nearby places to visit or dine were run by local people;
Stew helped us to support these by giving us directions and making bookings by phone in his excellent Italian. It was easy to find local fresh produce to eat
from the shops so a lot of the food we ate had travelled a small number of food-miles.


4. Finally, how would you rate your vacation overall?

Wonderful! Stew and Ruth were the perfect hosts. They were always happy to answer our questions and make suggestions for how we might like to spend our
time. The children loved joining Ruth on the daily egg collection from the chicken house and we really appreciated all their knowledge regarding the local
area - culture, wildlife, places of interest and restaurants.
We enjoyed great food, spent times at some beautiful beaches, whiled away hours at the river, experienced rafting for the first time and came home feeling as if we had had one of the best family vacations we've ever had.
---
Reviewed on 09 Sep 2018 by
Joanne Triffitt
1. What was the most memorable or exciting part of your vacation?

We all enjoyed exploring somewhere we hadn't been before. The location was stunning and the accommodation was perfect for us as a family.


2. What tips would you give other travelers booking this vacation?

Each traveler need is different....our hosts had been very helpful beforehand so we were well prepared for all eventualities. Anything we didn't have was easy to resource when we were there.


3. Did you feel that your vacation benefited local people, reduced environmental impacts or supported conservation?

Yes


4. Finally, how would you rate your vacation overall?

We had a great family vacation; walking, relaxing, exploring and tasting the delights of Italy.
---
Reviewed on 21 Aug 2017 by
Emma Wakefield
1. What was the most memorable or exciting part of your vacation?

Hard to find one single thing; the place is lovely, the river a wonderful place for swimming and relaxing by - and rafting down, the scenery is gorgeous, the walking brilliant, the people welcoming and friendly.


2. What tips would you give other travelers booking this vacation?

Stewart and Ruth are a great asset; really helping with advice on where to go and what to do - worth taking note of their tips before you come.


3. Did you feel that your vacation benefited local people, reduced environmental impacts or supported conservation?

There are few tourists in this undiscovered part of Italy - so hopefully it was helpful to local people. The accommodation is a very environmentally conscious place, and the river at the bottom of the garden is threatened so any awareness of that is a good thing.


4. Finally, how would you rate your vacation overall?

We had a wonderful vacation in a place that is full of beauty, with lovely people, amazing food, and everything you could wish for if you enjoy gorgeous countryside, warm seas, and friendly faces!
---
Popular similar vacations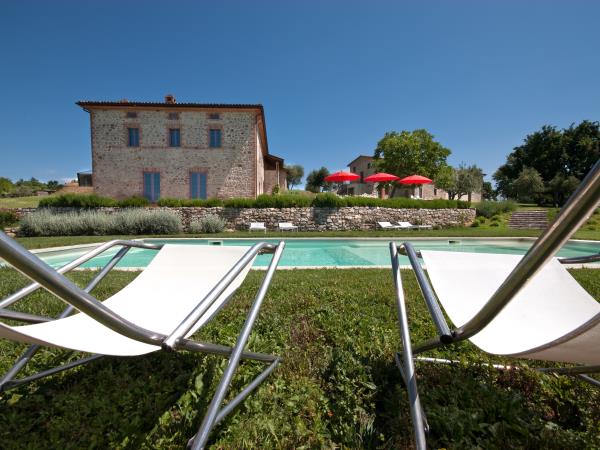 Accommodation in an Umbrian farmhouse
From €69 - €90 per double room per night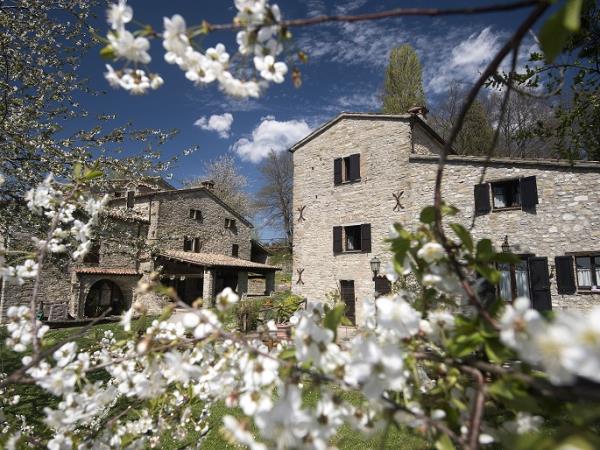 Organic farmstay accomodation in Pietralunga Forest, Italy
From €70 - €110 per accommodation per night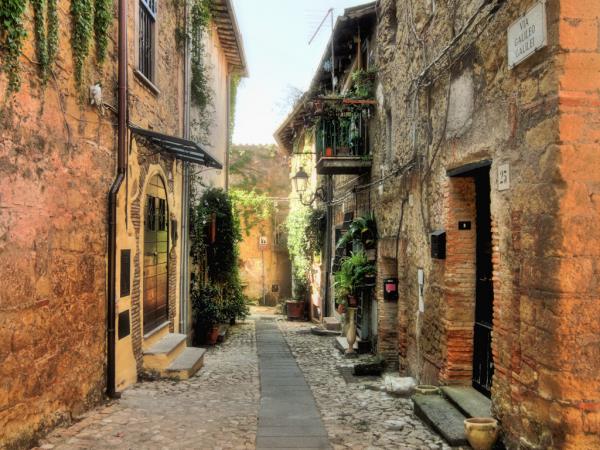 16th-c monastery apartment with wi-fi
From €550 - €595 per week (sleeps 8)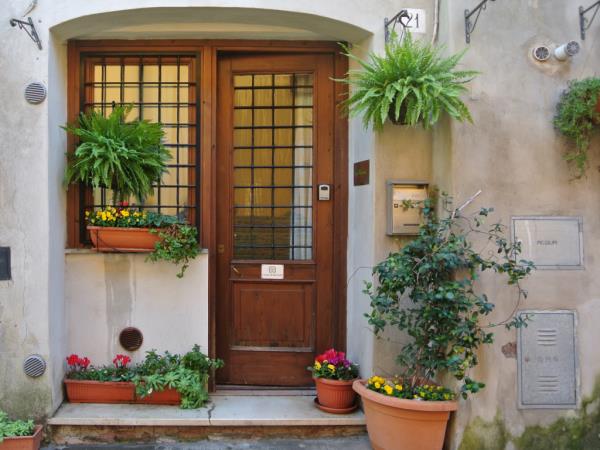 Comfortable house in historical center with wi-fi
From €295 - €325 per accommodation per week (sleeps 4)