Responsible tourism
Responsible tourism: Algarve self catering eco retreat, Portugal
Environment
The apartments are part of the eco retreat and inspiration land. As well as staying in accommodation full of natural materials, you will get to enjoy a 100% ecological vacation experience. Not only does the retreat harness its energy from sun and wind, but we also source our own water, treat our own drainage and produce a lot of our own food.
The retreat features a bio-dynamic farm which creates great natural produce for you to enjoy, if you so wish, and we have lots of delicious, home-made products available to you. The farm contains various animals; we have chickens, ducks, cats, dogs and donkeys, that all play their part in helping us sustain this rewarding lifestyle – both as committed co-workers and as domestic companions.
We recycle our glass, plastic, paper, metal and food and, because we produce our own renewable energy, we operate with a very low carbon output and minimal waste. Consequently, you can relax, safe in the knowledge that your vacation is putting no additional strain on the planet. Of course, we ask our workers, visitors and guests to help us adhere to this low-impact ethos.
Since we acquire most of our energy from the sun, our supply is limited to what nature gives us. As such, we must ask everyone to be kind to our system; heavy electricity usage and the use of high-consumption appliances – such as irons, hair dryers, etc. – will quickly drain our power supply. If you require the use of such items, we have special, low energy appliances we can provide on request. Of course, this doesn't mean to say you'll be sat in the dark if the sun isn't out; we will always provide energy, but it's part of the experience to be conscious of your usage. The same goes for water.
Since you are staying at a retreat we provide more than just the apartment; you can come and see, first-hand, what eco living means. We give tours, host workshops and organise excursions, all related to ecology, relaxation, creativity, and connecting with nature.
Both professionally and personally, we live ecologically and ethically as pure as possible. This is how we live our life.
Community
In creating this project we have hired only local people and companies to support the local community. We try to buy as much possible from local suppliers and all products from the season and avoid larger chain supermarkets.
The building materials are selected on basis of their embedded energy. We have used many renewable materials such as cork and straw which are evident when wondering through the buildings. Further have built a lot with lime, hemp, clay, clay paints, and so on that are 100% sourced locally.
Recently, we have realized that self-sustainability is not necessarily about doing everything yourself. For us it means to focus your energy at what you're good at and trade with the local community with goods or services that they are good at. For example, we are very successful with tomatoes, strawberries and salads and have found many locals that are happy to trade goods such as their honey, potatoes, etc in return. We hope to continue these transactions in the future.
We further receive help from volunteers that, whilst staying with us, are being exposed to ecological values. Involving this community provides education on sustainability while helping us maintain this project. So although not all volunteers are local, our volunteers will transmit this ecological message all over the planet as well as helping to support local businesses as they explore the area.
Last but not least, this project is humanitarian in nature, and profits are put toward , humanitarian projects. We aim to support local and global projects – both financially and with hands-on help. In this way we can do our bit to help those who devote their lives to aiding others: humans or animals in need.
3 Reviews of Algarve self catering eco retreat, Portugal
4.5 out of 5 stars
---
Reviewed on 05 Mar 2017 by Susan Hall
1. What was the most memorable or exciting part of your vacation?

There are many memorable parts to this vacation but a couple stand out for both my husband and myself. First was the night sky, sitting on the deck after sunset, listening to the crickets and frogs , while viewing the most beautiful night sky, full of stars...incredible. Second was the smells in the air......the smell of
the eucalyptus trees was simply amazing and I wish I could have brought the forest home to the UK....the smells of wood fires burning...lovely. We also found
the owners of this wonderful retreat and their volunteers and helpers, all to be fantastic people, helpful, knowledgable, kind and generous to a fault.


2. What tips would you give other travelers booking this vacation?

Bring solid hiking boots and a walking stick..very useful for long hikes in the forests.


3. Did you feel that your vacation benefited local people, reduced environmental impacts or supported conservation?

The accommodation recycles, reuses, reduces...if the world as we know it ended tomorrow, this retreat would survive. It is a slice of heaven, peaceful and self sustaining. We did our best to contribute to the local economy by buying local as much as possible and supporting local restaurants. We supported the green theme of the accommodation as best we could.


4. Finally, how would you rate your vacation overall?

We were not quite prepared for what we encountered when we arrived at the accommodation, the tranquility, the one with nature feeling...it was almost too relaxing. One could get very lethargic and slothful very easily.Although we are not practitioners of yoga, we love peace and quiet and when we left the retreat we felt very relaxed and "chilled".
---
Reviewed on 16 Sep 2016 by Fflur Rees
1. What was the most memorable or exciting part of your vacation?

The atmosphere at the accommodation was incredible. A beautiful place with
beautiful people who felt like they really cared about what they were
doing which made all the difference. For my daughter the donkeys; ducks;
and dogs were the most exciting part! For myself it was the daily yoga
classes on the tranquil yoga platform looking out over the most incredible
and calm view. For my husband it was seeing the stars from our balcony at
night and being in a quiet undisturbed place whilst also being only 10minutes
away from amazing surf beaches! It suited everyone perfectly!


2. What tips would you give other travelers booking this vacation?

Book for as long as you can! Book the breakfast as its lovely to eat with everyone on the terrace. get involved in the yoga classes even if you are a beginner.


3. Did you feel that your vacation benefited local people, reduced environmental impacts or supported conservation?

Yes as there was a real effort to reduce environmental impact through the
way the whole place was set up and it made me be more conscious of
water/energy use /recycling.


4. Finally, how would you rate your vacation overall?

It was really special place that we'll never forget and it exceeded all our
expectations and we'd love to go back. Definitely rate it 10/10! Thank you.
---
Reviewed on 05 Aug 2016 by Rachel Cavanagh
1. What was the most memorable or exciting part of your vacation?

Our vacation at this accommodation surpassed all our expectations. We found ourselves tucked away in the Portuguese countryside, "far from the madding crowd" with tranquil surroundings, peace and quiet, a place where our children could connect with nature, be outside all the time, feel welcome, and roam safely around the land. Our apartment was cool and spacious, and it was almost
entirely made from recycled or re-used objects in such a unique way (the Vida Pura crew are a talented and creative bunch), and so much care had been taken and attention to detail. Despite being tucked away from the world, the accommodation is only a short drive from some of the most beautiful beaches we have ever been to. Some of our lasting memories will be having our delicious breakfast looking down on the valley while our children fed the donkeys, ducks and dogs. We could not have asked for anything more.


2. What tips would you give other travelers booking this vacation?

Be prepared to totally slow down, relax, be close to nature, re-use and recyle, and take life as it comes. The accommodation is the antidote to built-up resorts and excessive consumerism.


3. Did you feel that your vacation benefited local people, reduced environmental impacts or supported conservation?

Yes, they really do this well. Many places claim to be "eco-friendly" but it comes down to some half-hearted recycling and less towel washing whereas the way they do things at Vida Pura is truly inspiring and it seems no corners are cut. The whole place is solar and wind-powered, they have a bio-dynamic farm from which you can buy fruit and veg, and they make recycling very easy for you such that you become super-conscious of any waste that you might be creating yourselves. Hats off to them in this regard and they all work really hard to make sure this happens to a really high standard. They even provide a list of recommended shops and markets where you can buy local produce and support local farmers, etc, and a note to avoid the multinational stores.


4. Finally, how would you rate your vacation overall?

This accommodation is good for the soul and the people there are doing something really special. I have given them 5 stars as it is right up there with the best, it deserves the highest rating and yes, we feel reborn and we hope to return one day.
---
Popular similar vacations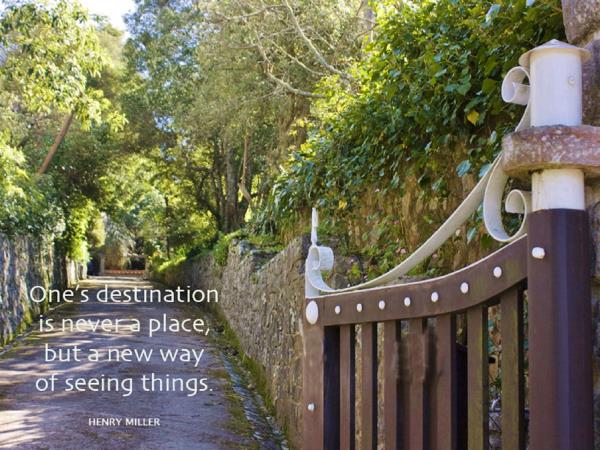 Eco-friendly B&B, in Sintra Natural Park near lovely beaches
From €80 - €110 per room per night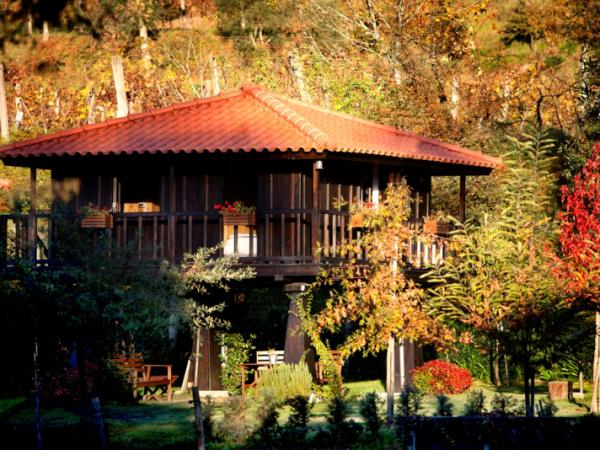 In the middle of the Geres National Park in North Portugal
From €80 - €95 per accommodation per night (sleeps 2)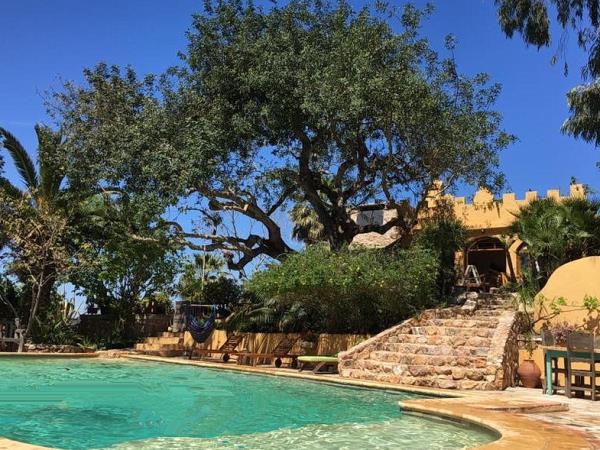 Enchanting agrotourism on 6 ha rural estate close to beach
From €55 - €225 per accommodation per night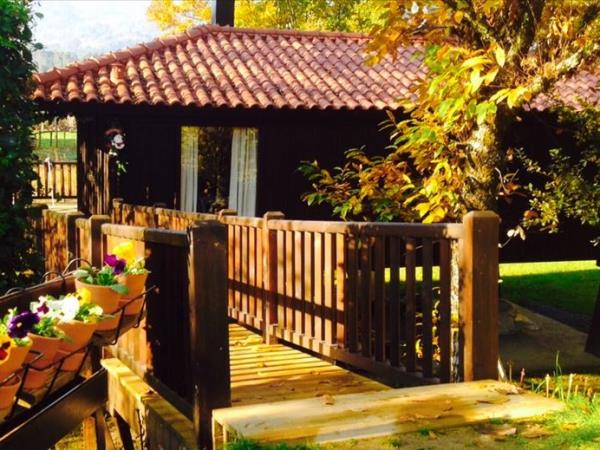 Treehouse in National Park Peneda Geres, Northern Portugal
From €110 - €160 per accommodation per night