Morocco ecolodge nr Agadir
Responsible tourism
Responsible tourism: Morocco ecolodge nr Agadir
Environment
The Atlas Kasbah ecolodge is committed to a sustainable operations approach through a series of measures that minimize the impact on the environment.
Our team of the ecolodge is committed to:
• Follow a daily policy that respect the environment, particularly in terms of water and energy conservation and non-recyclable waste reduction;
• Provide regular training sessions for staff and management ;
• Enhance the local cultural and natural heritage;
• Respect all environmental legislation and international best practices and take proactive steps to improve our standards;
• Respect the environment as part of the decision making process and communicate this attitude staff and visitors;
• Undertake regular monitoring programs including energy and water consumption audits, waste recycling,and review the environmental targets and identify possible improvements;
• Establish partnerships with locals suppliers for purchases and ensure that they share the same respect for the environment;
• Track comments and suggestions from the guests about our environmental policy
• Support local associations projects.
Some measures have been implemented to combine sustainability, innovation and awareness. These include:
1. Wildlife
- Protection of the argan trees of the Unesco biosphere Reserve through different projects with the community.
- 1st permaculture project of Southern Morocco
- Use of plants native to the area
2. Waste
- Use of alternatives for individually packaged or disposable items
- Recycling of certain materials with a local company that use it for local farmers.
- On-site compost bin
- No smoking in common areas and all rooms
3. Water
- Adequate information cards in the guestrooms on how to save water
- Awareness of water consumption and staff effort to reduce it
- Regular checks of the leaks and appropriate action is taken as necessary
- Housekeeping rules to avoid unnecessary water usage towel and linen change re-use program
- Water-saving devices : Aerators on Taps, Dual Flush-toilets
- Use of xeric gardens minimizing water usage
- advanced horticultural practices (permaculture)
- Waste water recycling
- Chemical-free cleaning of the Kasbah and the pool
- Phytoepuration & Purification System with solar UV & Bamboos to irrigate the garden.
4. Energy
- Rigorous energy saving schemes including automatic light extinguishing, simple checks, energy saving appliances and lighting, energy efficient equipment in the kitchen
- Electricity from renewable solar panels
- All water heating from renewable energy sources
- Bioclimatic architecture
- Staff and Guests awareness programs
5. Building
- Traditional construction materials and architectural motif of the building
- Building made by local craftmen.
6. Transport
- Mountain bike rental
- Local transportation company for daytrips or airport transfers
7. Suppliers
- Cooperation with local businesses and suppliers
- Use of local seasonal produce
- Buying Eco-friendly products and eco-friendly amenities in the bathrooms produced locally
- Promotion of local heritage, crafts and argane products and sale craftwork from local cooperatives
- Eco-activities (lime-plaster courses, hikes guided by inhabitants and revenue directly driven to them)
Community
We have stressed local sourcing and sustainability at every stage of the planning, development, and running of Atlas Kasbah. Our commitment to local sourcing is evident in our philosophy, in the everyday running of the hotel, and in our attempts to expand the local.
We have a highly innovative and quite distinctive approach to local sourcing. This has two key dimensions. First we place a great emphasis than do most hotels and ecolodges on local sourcing across multiple areas. We simultaneously think about local sourcing in relation to food, drink, building materials, environmental projects, and staffing. This joined-up approach means not only drawing from 'the local' but also changing the local to emphasize social equity and environmental sustainability.
Second, we are trying to expand what 'the local' means by pushing forward projects that focus not only on the immediate surrounding villages but the Argan Biosphere Reserve more broadly. Through our educational programs and food basket scheme we are tying together different localities and engaging in innovative forms of public outreach.
We are concerned not only to have a positive impact on the immediate area but also make Atlas Kasbah a hub for ethical tourism in the wider region. This represents a way of practically and imaginatively stretching 'the local'. For example, we have created an educational program with local inhabitants in nearby villages and further afield, on such subjects as water conservation, composting and recycling. We have also started an organic food basket scheme and deliver to Agadir as well as neighboring villages. Courses are also available for our guests to discover the traditional rug making techniques.
We are also working with the German cooperation GIZ, the association IbnAlbaytar and the Argan Tree Association to create a ecotourist route in the region to promote the local products, handicrafts and culture. This would connect together different localities and thereby have a much wider, regional impact.
Popular similar vacations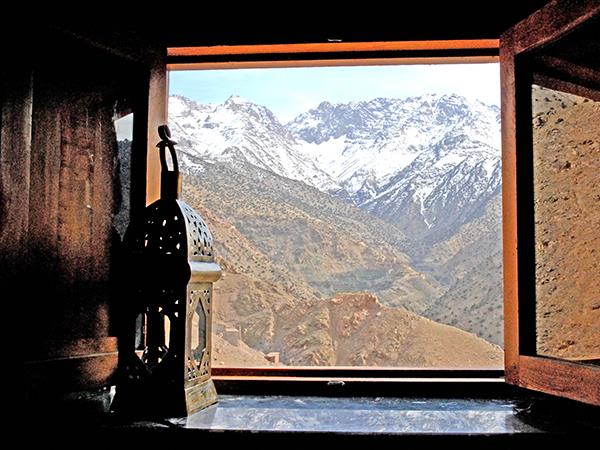 High Atlas Trekking Lodge in the beautiful Azzaden Valley
From €200 per room per night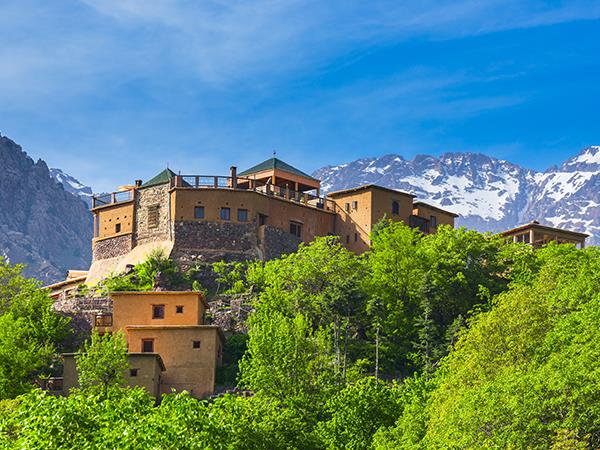 Peace and quiet only 40 miles from Marrakech
From €70 - €225 per person per night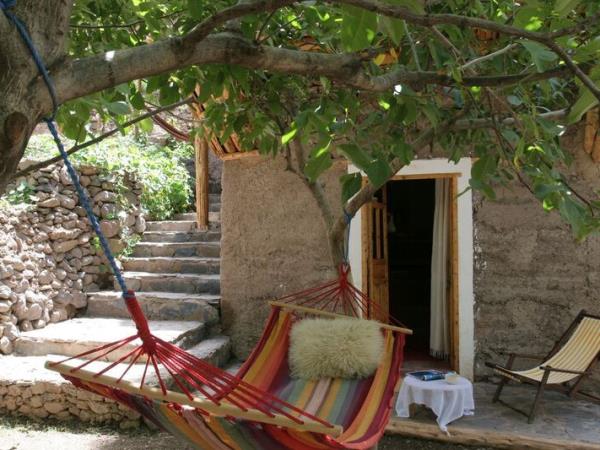 Berber guesthouse in the mountains
From £30 - £40 per person per night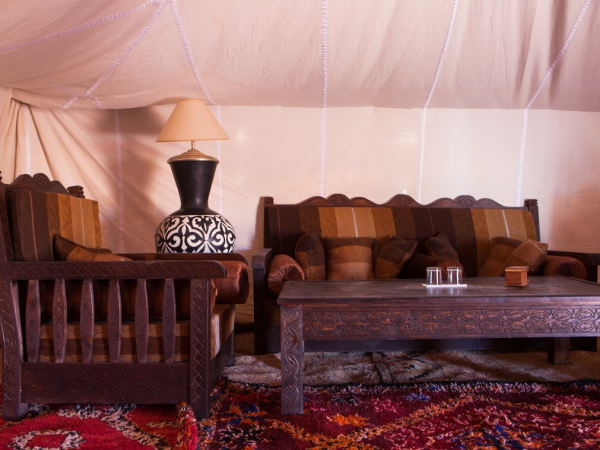 Glamping in Moroccan desert king tents suited for sultans
From Dirham 4000 - Dirham 5000 per accommodation per night