Denmark campsite by the beach
Responsible tourism
Responsible tourism: Denmark campsite by the beach
Environment
Water consumption:
The campsite and the marina buy water from Stouby waterworks. We use around 1350m2 a year. We have solar heating in our new toilet building that supplies us with hot water from a 3500 liter water tank, heated by solar panels. When it is not sunshine, the water is heated with ordinary oil. We have water savers on all of our shower heads and taps, excluding water collection taps.
We use environmentally friendly, fully biodegradable toilet liquid in your camping toilets, and tell our guests to do the same.
We clean with Swan-labelled cleaning products and use eco-labelled paper.
Our waste is separated into the following 6 categories: batteries, glass, cardboard and paper, kitchen waste, hedge clippings, and grass.
We only purchase Green Power at Horsens Energy and avoid street lighting, to preserve the experience of the night sky, the moonlight and the sunsets that color the sky and sea in beautiful pastel colors.
We have a total consumption of approx. 80,000 kWh per year. Bring a good flashlight or purchase one at the kiosk.
We use energy saving light bulbs wherever possible, and have low energy refrigerators in our cabins. We encourage you to use energy saving light bulbs and low energy appliances.
We tell our guests to avoid unnecessary driving on the site and keep speed below 15 km/h.
The forests grow blue anemones and the rare giant orchid, orchid and yellow primroses. Guests are allowed to walk on the trails in the woods and along the beach as per the bulletin at the entrance to the forest. There are opportunities to fish in the fjord, but only with the compulsory statutory license.
Furthermore, Rosenvold Camping has been awarded with the worldwide eco-label, Green Key. By obtaining the Green Key we show a sense of responsibility for our surroundings and society. In order to obtain The Green Key a company has to fulfill a list of environmental requirements. These requirements are contained in a number of criteria which are listed below:
• The campsite much have an environmental policy and formulate objectives and an action plan for their constant improvement.
• The campsite must comply with national environmental legislation.
• The staff and cleaning personnel must regularly check for dripping taps and leaky toilets.
• Paper towels and toilet paper must be made of non-chlorine bleached paper or must be awarded with an eco-label.
• The establishment must separate waste into the categories that can be handled separately by the local or national waste management facilities.
• At least 50% of the light bulbs must be energy efficient.
• Chemical pesticides and fertilizers cannot be used more than once a year, unless there is no organic or natural equivalent.
• Flowers and gardens must be watered in the early morning or after sunset.
Community
• The campsite must be able to inform its guest about local public transportation systems and other alternatives.
• If the local waste management authorities do not collect waste at or near the establishment, then the establishment must ensure safe transportation of its waste to the nearest appropriate site for waste treatment.
• When it is possible the establishment must purchase and register the amount of labeled (organic or other acknowledged eco-label) foods and focus on buying locally produced product, when they have less impact on the environment than non-local products.
• The campsite must keep guests involved and informed about its environmental policy and goals and always encourage guests and the local community to participate in environmental initiatives.
• At Rosenvold Camping we work with and recommend several other businesses around us.
It is our hope that by making these commitments, we can give our guests, customers and other stakeholders full confidence in the service and products we provide, and that they are based on solid principles of social, environmental and economic responsibility
Popular similar vacations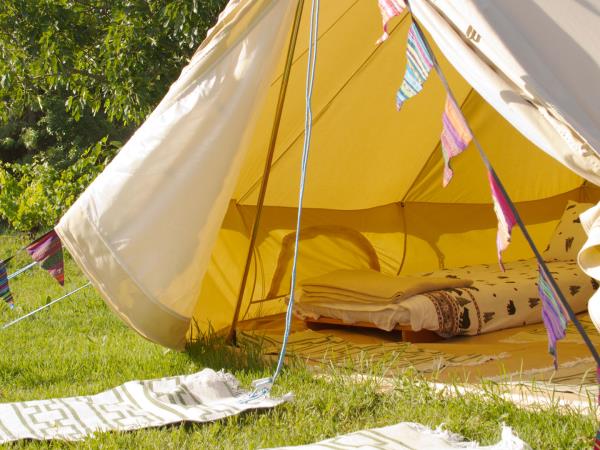 Enjoy carefree camping in the Portuguese countryside
From €60 per accommodation per night (sleeps 2-4)