Camping in the Lofoten Islands with a Tesla
15th July 2019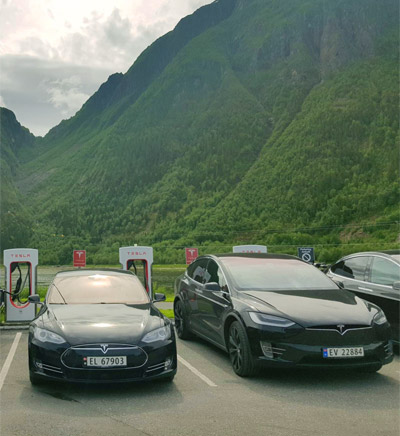 Camping. In the Arctic circle. With a Tesla electric car. At first, our friends' proposal to go on a road trip through the
Lofoten Islands
seemed... improbable. I wanted to see more of Norway. I'd visited Oslo last year and fallen in love with the wholesome lifestyle to be had around the fjords. But I had questions.
"Isn't Norway expensive?" I asked my partner, recalling last year's trip. "The Arctic Circle is cold for camping... isn't it?"
"And how do two PhD students have a Tesla?"
My questions were quickly answered: despite their Alaska-level latitude, the Lofoten Islands have a weirdly warm microclimate.
Traveling in late June
, the forecast was for a manageable daytime average of 8°C. As for the eye-watering expense of it all... the cost of camping there would average about 220 krone (£20) a night, split between four.
But what about the Tesla?
It turned out our two Oslo-based friends were very keen to try out their newly acquired electric car, which had been heavily subsidised by their government. We were joining them for only a portion of their carefully mapped trip. They planned to pick us up from Harstad Airport and drive down through the Lofoten Islands. Then we'd all take the ferry across from Moskenes to Bodø, before a long drive down through northern Norway.
Being the wholesome Norwegian bods they were, our friends' plans were bursting with eco-friendly credentials. They weren't
even taking any flights
. As for the overcrowding oft-reported in the Lofoten Islands – June was just out of season, and proved to be relatively quiet (though there was some scrambling for parking in the more photographed fishing towns). From a
responsible tourism angle
, this Tesla camping vacation might have been improbable, but it was also pretty kind to the environment.
But I can claim no credit for it – and my research was abysmal.
"Will you see the Northern Lights?" everyone asked. "I don't know..." I replied, and purchased a head torch.
I fully realised my mistake as we hiked to our first sleeping spot: a cabin high above Harstad. We'd landed at 10:30pm. It was now 12:30am. It was still light (and we were still hiking). In the Lofoten Islands in June, the sun simply doesn't set. I became very attached to my eye mask.
And as we zipped, smoothly and silently, down the island chain, from Harstad to a little campsite outside Svolvær, this trip became all about the light. Because the energising 24/7 light in the Lofoten Islands really is utterly fantastic. It shone on some of the prettiest scenery I'd ever seen: on mountains that shot straight out of the water; on swathes of buttercups and butter-yellow beaches. But it also rained a lot. Our friend had a membership in a Norwegian hiking association, so we were able to shelter from the worst of it in simple hikers' cabins. Natural springs provided drinking water, there were marshmallow-toasting forks in the drawers, and there were exciting incinerator toilets that combusted our waste.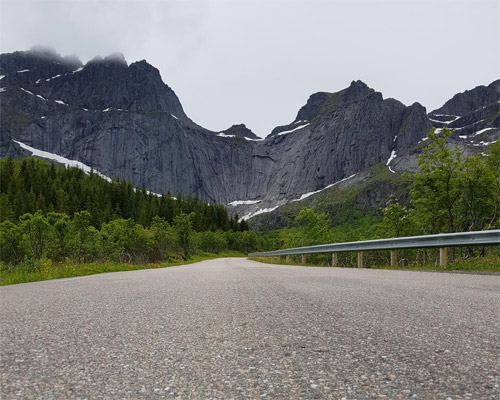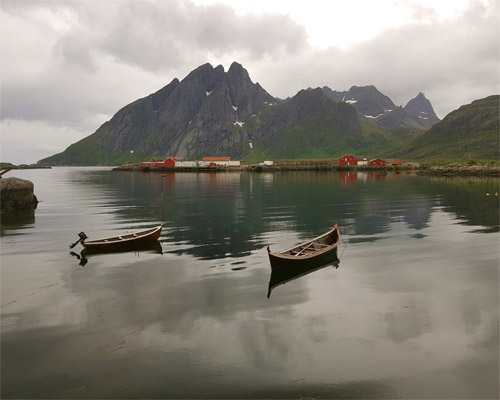 We ventured down the islands in four days, and we didn't see another Tesla. Part of the reason could have been the problem of charging up, which we needed to do daily. Whilst the mainland had Tesla-branded charging points at regular intervals, there were none here. The charging points that were available were few and far between, and rarely fast-charging, even when they said they'd be. It made for careful planning – and we were forced to slow down and relax as the charge crept up. Our Tesla wasn't as popular here as we'd hoped. A campsite owner chastised us when we plugged in our car on site, and made up a rate on the spot.
Despite these difficulties, the islands were quaint and well-serviced, rather than wild. They get a lot of visitors after all – and some villages, like tiny Nusfjord, are restricting tour bus access to cope. The famous Reinebringen – a mountain above the popular town of Reine – was closed for maintenance, but there were so many other great places to hike that this was inconsequential. The only sea eagle we saw was stuffed and suspended in the Haarstadt airport arrivals lounge, though I did spot one wet elk on the roadside.
As we drove further south, things felt more and more remote. On the car's iPad-sized navigation screen, we watched the land literally dissolving into ever-greater bodies of water. 'It's just... disintegrating in front of us' my partner said. We looked out of the windows as the sun gleamed on the sea, and we drove onwards towards windswept Flakstaad. We got used to seeing racks upon racks of cod drying above blooming roadside lupins. We tried cod tongue in Henningsvær – though we steered clear of whale meat, which we often saw on menus.
On the third day, having optimistically pitched our tent on a white beach at Ramberg, we finally saw the midnight sun. We weren't alone. A reverent crowd gathered on the shore and unpacked their tripods. To celebrate we played a game of midnight boules on the beach, squinting in the odd light as the rain closed in. The sun reappeared two days later, as our ferry pulled away from Moskenes to Bodø. We looked back and realised how beautiful the Lofoten mountains were all over again. I soaked through my only pair of dry socks, having rushed out onto the stern to take photos.

Mainland Norway felt like solid ground. The mountains were still mighty, but the towns didn't look like they were clinging to the edge of the world. We stopped in a cabin near to the Kjemåforsen waterfall as the temperature dropped to 3 degrees – a reminder that we were still in the north. 150km south of Bodø, we finally crossed over the Arctic Circle. 500km later we refreshed at Mosjøen, a fjordside town where every other building was a café or an art gallery, and there were suddenly queues for the charging points.
Trondheim – quiet and elegant, with pretty wooden houses, lots of river frontage and a massive cathedral – felt like a return to the familiar. On the edge of a fjord, in a campsite outside the city, the sun finally set. It was 10:30pm.
I never used the head torch.
Responsible Travel's hybrid and electric self-drive vacations