Hands off Kenyas children
Thousands of children in Kenya are being subjected to sexual exploitation at the hands of foreign tourists. In an effort to escape poverty, children are being lured into the illegal sex trade and the consequences can be devastating for them. Kenya's coastal towns are prime targets and many children are being trafficked across the country to these areas. It is believed that many tourists are purposefully heading to these destinations to prey on these vulnerable victims.

Walk Free's Hands Off Kenya's Children campaign aims to combat this exploitation through its petition which calls on the Kenyan government to declare zero tolerance of commercial sexual exploitation of children. It also wants to see greater collaboration between the police, the government and the local tourism industry.
We talk to Eugenia Afonso from Walk Free's Advocacy team to find out more.
What's your role?
WalkFree.org's
role is to bring together a mass movement of committed global citizens, and uniting a community of millions into a single voice, calling for change and amplifying the efforts of anti-slavery organisations.
What's the name of the campaign?
The campaign is called Hands off Kenya's Children.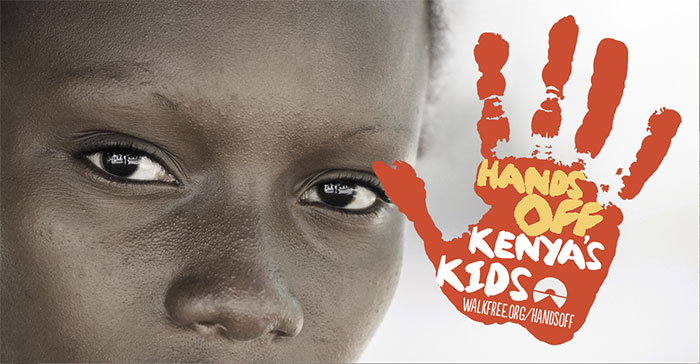 When did it launch?
It launched last year (2015) just before the summer tourist season.
Tell us about your campaign in a nutshell?
This campaign addresses the issue of commercial sexual exploitation of children (CSEC) along the coasts of Kenya, where tourism is a large driver of this type of abuse. Children are doubly vulnerable owing to their age and often to their economic background. Alongside local Kenyan partners, we believe that the tourism industry can play a part in helping to combat the commercial sexual exploitation of children.
What inspired this campaign?
This campaign was inspired by our partners Child Aid Organisation Kenya and ECPAT UK and the work they tirelessly engage in on the ground with child survivors. In particular, the specific involvement of tourists in this crime made us think about how we could use our collective voice to make a difference and help put a stop to it.
Share with us a story about a person / place / animal that's currently getting a rough ride because of these issues?
The coastal town of Malindi is an attractive tourist town in Kenya - where many Kenyan and international tourists visit to make the most of the idyllic surroundings and take time out to relax in the sun and at the sea. However, unfortunately, it also attracts many who visit in the knowledge that their crimes against children can go largely unnoticed and unpunished. Reports estimate that almost 50,000 children in Kenya are subjected to different types of commercial sexual exploitation, some of whom are trafficked from across the country and even from abroad to the coastal towns in particular, that are popular with tourists.
What change needs to happen to make things better?
Although Kenya's government and national police have been active on the issue of commercial child sexual exploitation, just this year the Kenyan National Police have set up a Child Sexual Abuse unit dedicated to training specialist officers to handle cases in Kenya with the help of the UK government. There needs to be greater collaboration between the police, the government and the private tourism industry in Kenya to ensure that these children are not vulnerable to abuse and that sex offenders are not able to freely commit offences but are charged, prosecuted and intelligence is shared between countries.
The government also needs to take a stronger stance with smaller tourism service providers, and be vocal about the need and importance of implementing the tourism industry standard against commercial sexual exploitation of children, known as the Code.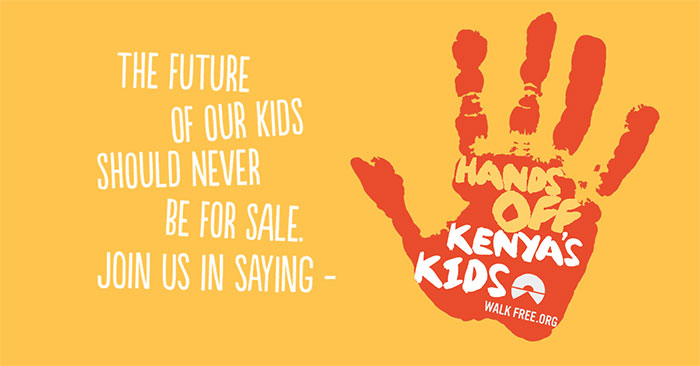 How will the world be a better place if and when you succeed?
Thousands of young girls and boys in Kenya will have the added security and knowledge that the community they live in helps protect them from sexual predators. These children will no longer have to fear the threat of sexual exploitation but know that the authorities and community is working together to stop those predators and protect children from harm.
If you had a mega-phone for 10 seconds on a rooftop to get your message out, what would you shout?
Kenyan children must be protected from sexual predators, and justice must be ensured for child victims of abuse.
If you had a 10 second slot on TV which image would you show to get your message out?
The image that we would show to get the message out is of the average young Kenyan child who has been given the opportunity to live without the fear of commercial sexual exploitation: living a happy life.
Is there one person who figureheads this campaign? Tell us about them and their inspiration and aspirations.
Walk Free and Child Aid Organization Kenya work jointly in partnership on this campaign, Tom Omwenga the Director of CAOK has worked tirelessly for the rights of children in Kenya for many years and this particular campaign is fundamental to both of our organisations' work. We aspire to helping create an environment in Kenya and elsewhere, where it is impossible to perpetrate commercial sexual exploitation of children.
What three things can we all do to help?
Sign the petition, encourage your friends and family to sign the petition and talk to everyone you meet about the issue - don't let it be forgotten!
What's the campaign website?
The campaign page is
https://www.walkfree.org/help-end-sexual-exploitation-of-children-in-kenya/
Do you have a target end date for this campaign?
We will only end it when we achieve the asks of the campaign and start to see a real change on the ground!
Take action!


Responsible Travel's view
"
Kenya is a beautiful country with so much to offer tourists. However, some tourists head to the coastal towns in order to seek out children for exploitative purposes. We need to raise awareness of these issues among travelers and urge each other to act as the eyes and ears in order to help protect these innocent and vulnerable children from sexual predators.
"
Back to the top
Convert currencies