Tour leader interview with Wi Ord - Family tour to Thailand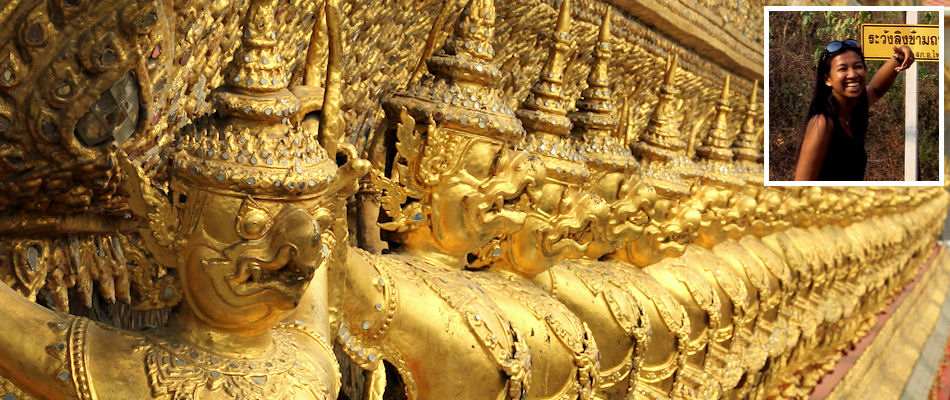 Leader interview: Wi Ord - Family tour to Thailand
Originally from Bangkok, Wi Ord splits her time between doing "boring office stuff" and leading tours in Thailand and Burma. "I have been doing these trips for about three years now and I love them," she says. "I am a mum myself, so I specialise in family trips."
We devised our Thailand jungles and island tour to show people the real Thailand, away from all the resorts. It's an adventure.
A more off-the-beaten-track experience shouldn't put families off though - we think this tour is suited to all ages from small children to grandparents and activities can be tailored to suit all ages, or swapped out for a different option if some members of the family want to do something else.
The souvenir that everyone takes home with them from this trip is silk.
The women in all of the villages we pass through hand-weave silk scarves in brilliant colours and are happy for visitors to stop and watch them at work. The housewives in the village all contribute silk products to a communal shop and then share the profits at the end of the month; so buying from them you can be sure you're contributing directly to the local community.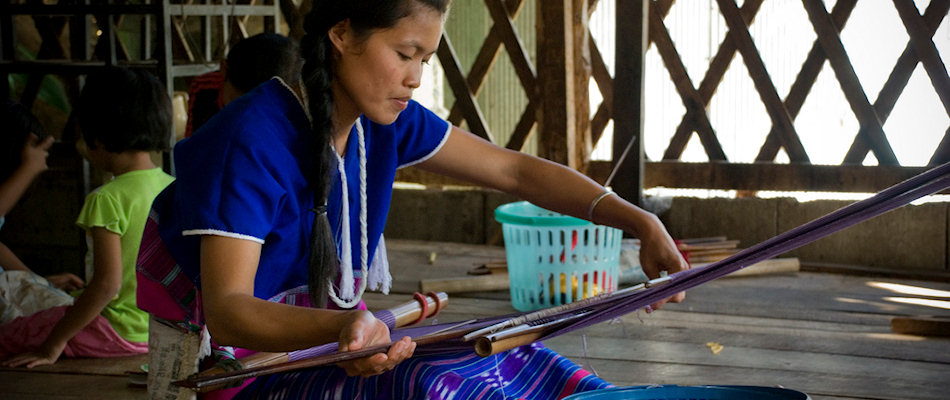 Hand-weaving silk scarves (Photo by
Dane Low
)
My favourite views in the country are found across Khao Sok National Park in Southern Thailand; it is covered by the oldest evergreen rainforest in the world and has huge limestone mountains jutting up around it.
Traveling by boat through the National Park is a very atmospheric experience. There used to be a valley there that was flooded by the placement of a dam, so drifting through you can see sheer limestone pillars and peaks shooting up from the former village that now lies underwater. They had to relocate the villagers when they placed the dam there, but it has protected the area from damaging agricultural practice and hunting, so actually it's been a good thing.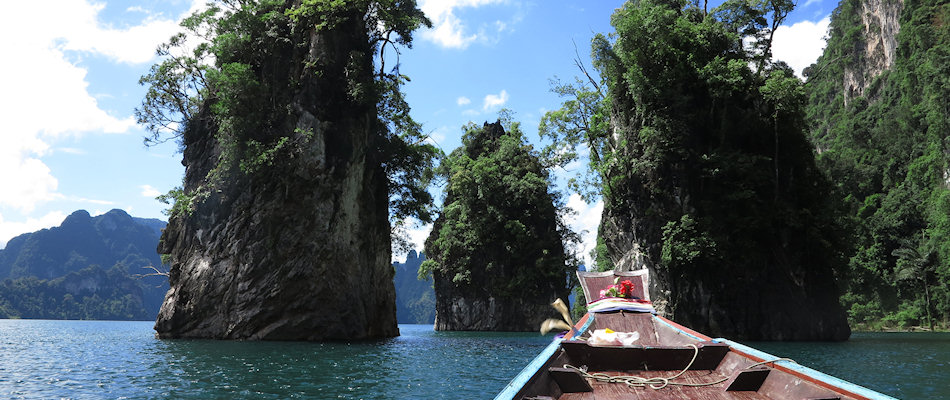 The 'Death Railway' in Kanchanaburi is a historic and quite haunting itinerary highlight.
You reach it by crossing the infamous River Kwai, and it is called the 'death railway' because of the numbers of local workers and British and Australian Allied Prisoners of War who died during its construction by the Japanese army. Something like 150 people per kilometre of track died during its construction, so it's a powerful sight with great historic relevance.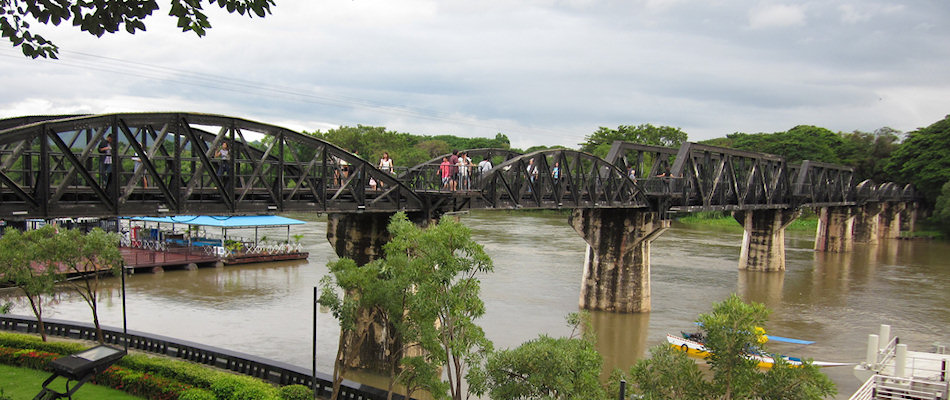 There are so many etiquette points that Westerners get wrong, or get confused with visiting Thailand, but the locals take it all in their stride and are happy to forgive the mistakes of polite tourists.
The Thais are very finickety about their eating rituals, for instance it's considered extremely rude to put your fork in your mouth. We explain this to everyone on our tours of course because it's interesting to learn about local culture, but it takes a while for Brits to adapt to not putting a fork in their mouths because they're brought up not to eat with their hands! Visitors soon get used to Thailand's cultural differences though and I'm here to explain all the dos and don'ts of behaviour, so you don't have to study them before you come.
Thai food is so delicious and flavoursome and it's spicy too - tom yum soup is a classic Thai recipe and is a hot and sour broth made with lemongrass, kaffir lime leaves, galangal, lime juice, fish sauce and crushed chili.
The three key tastes are hot, sour and sweet, so you will find a combination of those in most Thai dishes, even desert. In Chiang Mai it's not unusual to be given strawberries dipped in salt and chili - I think it's safe to say that's an acquired taste! Red and green curries can be quite sweet in Thailand because of the coconut milk they're made with, but they have a hot kick from bird's eye chilies too.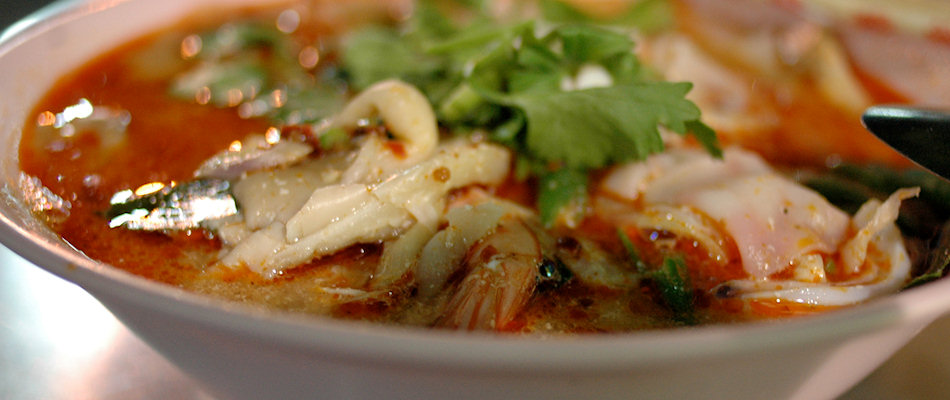 Tom yum soup (Photo by
Bopuc
)
I give people on our tours the chance to try the different regional cuisines of Bangkok, Kanchanaburi and southern Thailand in street stalls, markets, jungle picnics and local restaurants where the Thais themselves eat, which is always a good sign.
By the time they leave, they're requesting chili with their pineapple and are happy that their fruit salad has a salty, spicy kick!
The sound of the jungle is instantly recognisable by the buzzing of cicadas and the calls of all the different animals and bird life.
In the early morning, the first jungle call you hear in the Khao Sok National Park in is the call of the gibbon, which is a high-pitched 'wheeee' sound, followed by what sounds a bit like a small bird chirping. It's the first sound that everyone on tour starts to recognise and is what becomes your alarm clock when we're staying in the park.
Apart from insect repellent and sun cream, the only other things it's important to bring on this tour are a comfy pair of walking shoes and a pair of sandals.
Leeches are a common problem in the jungle during Thailand's rainy season and some people get a bit frightened if I tell them that, but there's nothing to be afraid of and if you're wearing good shoes then your feet and ankles are protected, and you won't slip. Most of the time on this tour, you'll be happy and comfortable in sandals, which you can also wear while walking, but it's best to bring both.
If you're scared of nature and of being in a wild environment, then this vacation isn't for you.
There is nothing to be afraid of and I talk people on our tours through every aspect of what we'll be doing and seeing, but part of appreciating Thailand's jungle and rainforest is to explore it up close, which does mean seeing animals and being in situations that you've probably never been in. Also, our tours are very active; not strenuous, but active on a daily basis, so if you're someone who wants to wake up late and relax on the beach all day then this isn't the right vacation for you either.
What I do to relax depends on where I am at the time, but if I have a free day in Thailand, I'll try and go scuba diving.
A great place to dive or snorkel is Koh Thalu on the Gulf Coast, which is a privately owned island, but somewhere we are able to stay during our tours. The reef is quite shallow, but you can get a get a good look at the marine life and it's also a place where sea turtles nest - if you are lucky, you can watch the baby turtles hatch from their eggs and head out to sea.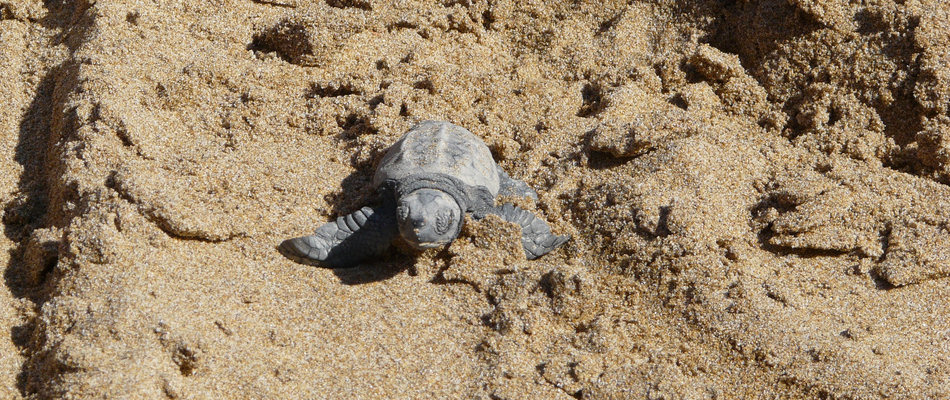 Find out more about this trip
Continue reading about this
family vacation to Thailand