Tour leader interview with Amir Aganovic - Sea kayaking in Croatia
See / go back to this sea kayaking vacation in Croatia
PRODUCTNAME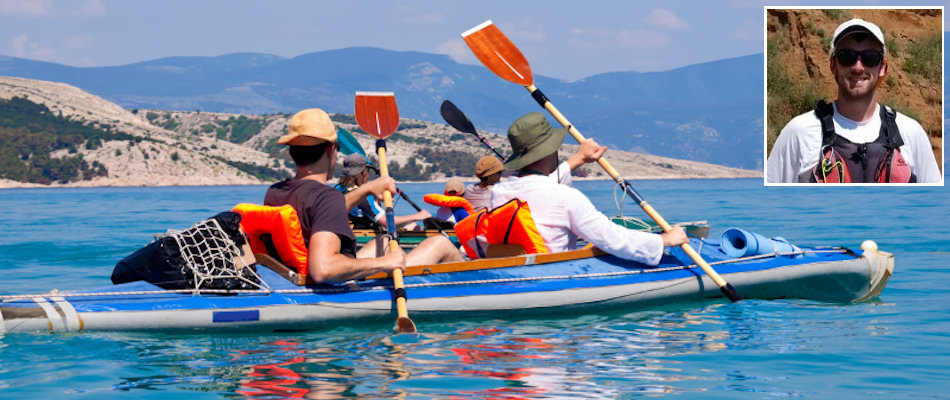 Beautiful Croatia and (inset) Amir Aganovic
Leader interview: Amir Aganovic - Sea kayaking vacation in Croatia
Amir Aganovic is an expert white water kayaker, having been on the Croatian national team for ten years. Although a city boy, born and raised in Zagreb, with the mountains just an hour away it is not surprising that white water kayaking became a passion for him early on. He has excelled in that field, and was on the Croatian national kayaking team for ten years. Now, he is busy working as a sea kayaking guide in summer, and completing his sports science degree in Zagreb in the winter.
Before the trip we give our guests a map of the coast and the islands where they will be traveling.
It is a normal map, with all the nautical things that need to be on there, and we make lines where they will travel during that week, and then they like to keep these as souvenirs. On the back of the map, they put contact details of other guests and signatures and so on, so they all love this as a souvenir of their kayaking trip.
One of my favourite viewpoints is actually on Lopud Island. You can walk up to a castle on top of a hill and you can see amazing views of the Elaphite Islands.
You can see the whole of the Dubrovnik area, the old town, as well as the islands. It is a short walk, just about 20 minutes to half an hour. But it is wonderful.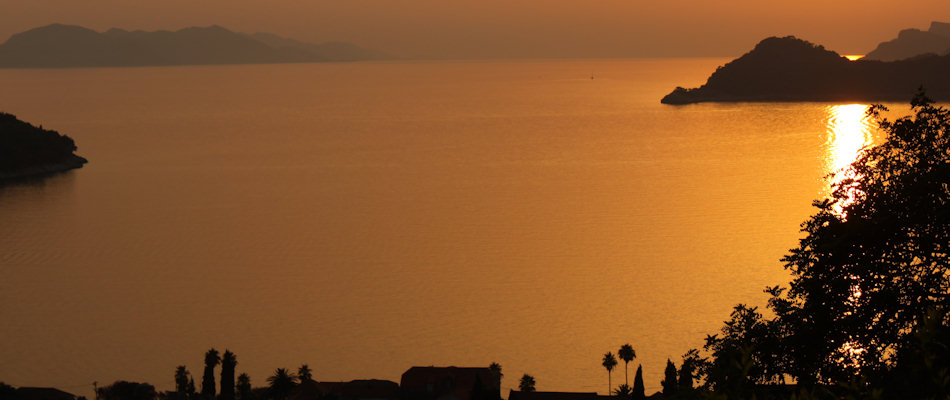 Most of our guests are absolute beginners, about 90 percent of them actually.
So the first day is like a warm up, a shorter day, learning how to work with the paddle, the kayak, and the equipment and kayaking generally. People are very good at listening to me, really. I always tell them that for safety it is very important to stay in a group, because if something happened, and they were away from me, I need more time to give them a hand and help them.
The highlight of our trip is paddling out to the caves. We kayak out there and then we go into the water.
Some people jump directly from the kayaks and then we swim into the cave. There is a small hole to get in there, so you don't need to dive under the water to get in. But when you enter into the cave, the colours inside are really amazing. On the bottom there is sand, so if you come at the right moment, and the sand is still on the good side, the water reflects on the sand under the water, and in the cave everything is bright, and the water is all green and blue and turquoise colours. There are two caves, on Kolacep Island on the second day of the trip, and on the fourth day of the trip there is one on Sipan Island. They are both lovely and light inside, and not scary at all. They are really beautiful.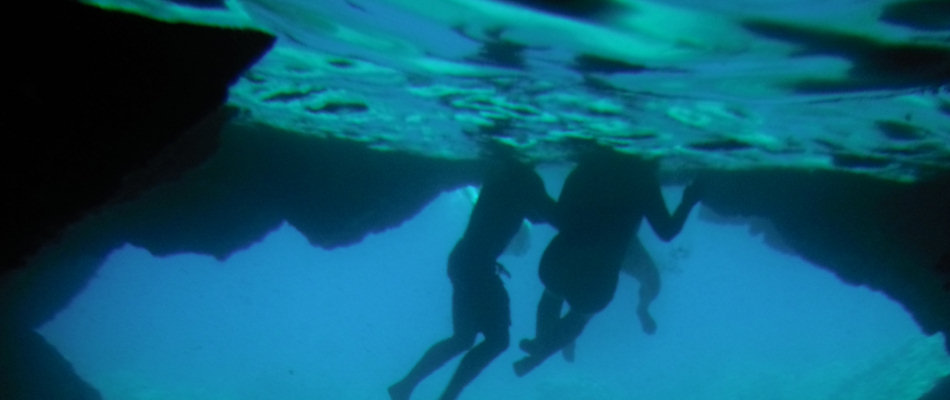 Croatians like to make jokes, and we always joke about each other's islands. There is a healthy competition about that.
With people saying 'our island is better than your island, or 'we are the posh islanders and you are the cheap ones'. It is all a good joke really. Although personally I grew up in Zagreb, and so I am a city boy. I live on Lopud Island all the time in summer, so it is probably my favourite of the islands, but Sipan and Kolocep Islands also have a lot of charm. Sipan is quieter than Lopud and is more of a fisherman's island, but of course, it depends what you like.
One of the cultural differences happens in restaurants when guests order fish. And they don't expect to see a whole fish.
It is so strange for some of them, as they are just used to seeing fish fillets or something like that, and they don't usually see the whole fish with the head. Also, some people are shocked when all drinks are included in some menus. They don't understand how alcohol can be included. Especially when there are lots of different liquors, and they want to try all of them at the same time. And I have to just say, 'No, guys'.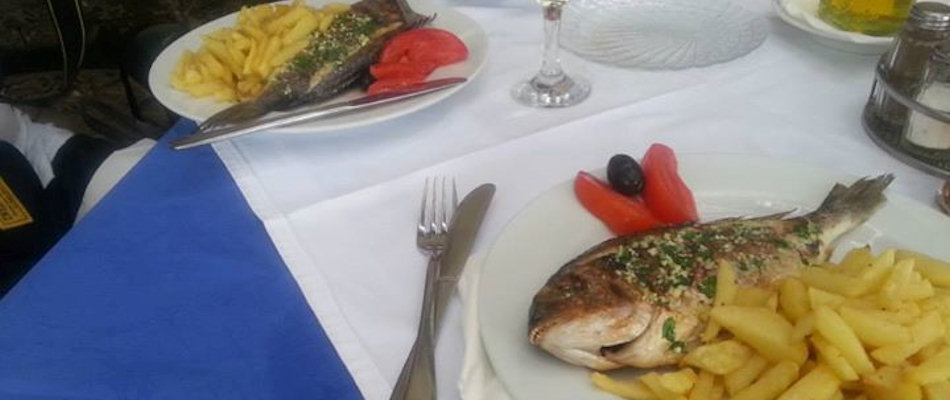 On one trip we had a group of eight kayakers, three couples and two single people - a man and a girl.
During the trip they start to chat with each other more and more, and he was kind to her, helping her with the kayak every time and so on, and at the end they send me a message to say that they are now a couple, and they sent me a picture in the post, with a letter saying 'Thanks Amir, you connected us', but of course I didn't do nothing, I was just doing my job!
One of my favourite drinks is walnut liquor with a couple of shots of milk. Really.
You can try it - it is a special taste. It doesn't really have a name in Croatian, because even Croatians think it is strange. Not many people know it. I was told about it by a local man, and I didn't believe him and thought he was joking with me, but I tried it and it is really tasty. And all guests who try it, they say 'Oh My God, it is good'. You drink it after a meal, but if you want just the walnut liquor on its own, you would drink it before a meal.
Octopus cooked under the bell, with potatoes, cooked under the fire for a couple of hours, is an amazing meal that we have on this kayaking trip.
Octopus cooked under the bell, with potatoes, cooked under the fire for a couple of hours, is an amazing meal that we have on this kayaking trip.
Sea sickness can happen when kayaking. It is not usual, but you can take special tablets just in case.
It is more usual if you have a huge meal before paddling. You can eat normally, but maybe not too much just before you paddle. Eating one hour before you go out paddling is fine, but really the big meal of the day should be in the evening. But I plan all my trips very carefully, checking the weather forecast, the wind speeds and so on, and I never take any risks with the guests. If I see that the weather will be bad, I do a hiking or wine tasting trip that day and still give guests something nice.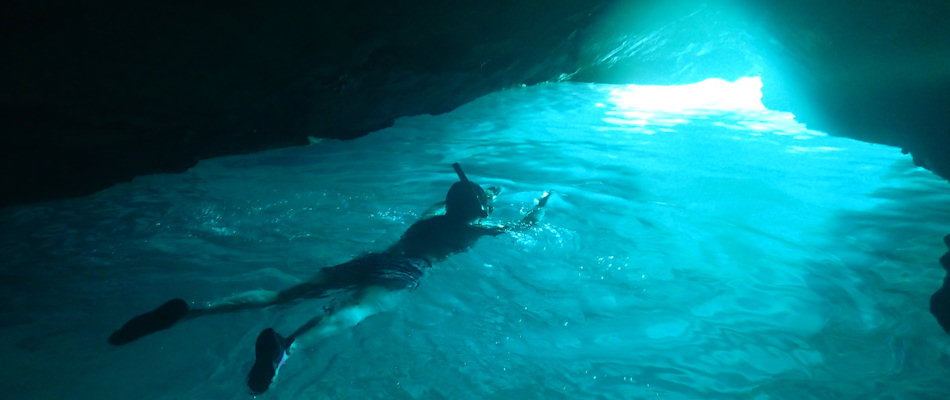 This kayaking trip is full of wonderful smells.
As well as the sea and the smell of the pine trees, on Kolocep Island you can smell the fish being cooked on a restaurant's barbecue, with rosemary too, as you arrive paddling into the bay. A lot of food is cooked outdoors here, so that is a common smell.
When I am not working I relax like every Croatian. I am being lazy, drink a coffee in front of a local restaurant on the terrace, and enjoying the view of the sea and the islands. I am a coffee man, so definitely this is my best way to relax.
On the last day of this trip, I prepare some real Croatian style coffee for our guests when we stop on one bay on the island of Sipan, where there are no restaurants or coffee bars.
It is like traditional Turkish coffee that I make on a camping stove. I boil the water in one pot, and roast the coffee in another empty pot, just dry, so that it gets a special smell, and when I have done that I add the boiling water. It is very strong, but it depends on how the guests like it, so I can adjust that.
I did go kayaking with one man who wanted to do this kayaking trip alone, and so we spent a week together, just the two of us.
He was from the USA and an older man, maybe in his seventies. However, age is just a number. I also kayaked with a couple in their seventies, from the UK, and they paddled for a really long time every day, much more than usual, and they were the fastest in the group. They were in really good shape and really healthy.
One of the difficulties on this trip can be that you really do need to be able to swim.
Sometimes, this is a problem with some of our Asian visitors, many of whom don't know how to swim, I don't know why. And I don't like to take non swimmers kayaking, because although they have a buoyancy aid, it is still not good, because they are scared for the trip.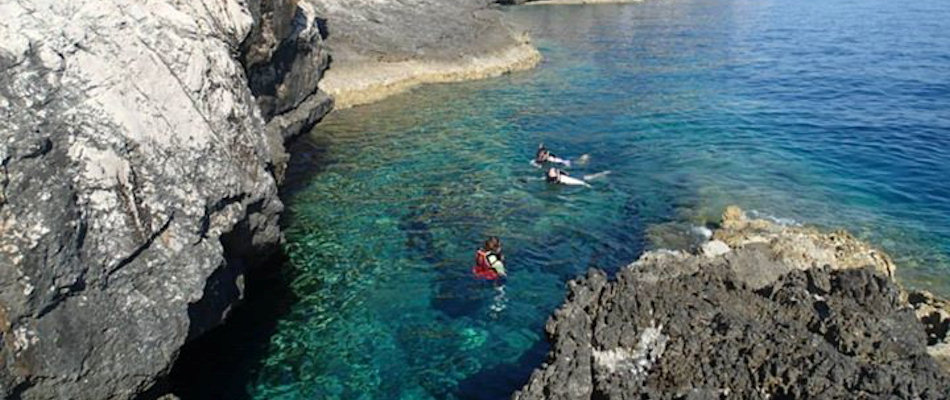 One thing that drives me mad about tourists is when they try out eighteen types of liquor in the restaurants at the same time.
I say 'No!' because I need to bring them home. And also paddling with someone with a hangover is not good, especially when it is sunny and hot.
A good tourist for me is when they try to play water polo, and especially when they score a goal.
It is very popular local sport in Croatia as we have so much water, and many people prefer it to soccer. So the locals will often give the people a ball, and they try to play, and I love to be a judge of that.
Find out more about this trip
Continue reading about this
sea kayaking vacation in Croatia