Tour leader interview with Wayne Mwango - Small group Botswana safari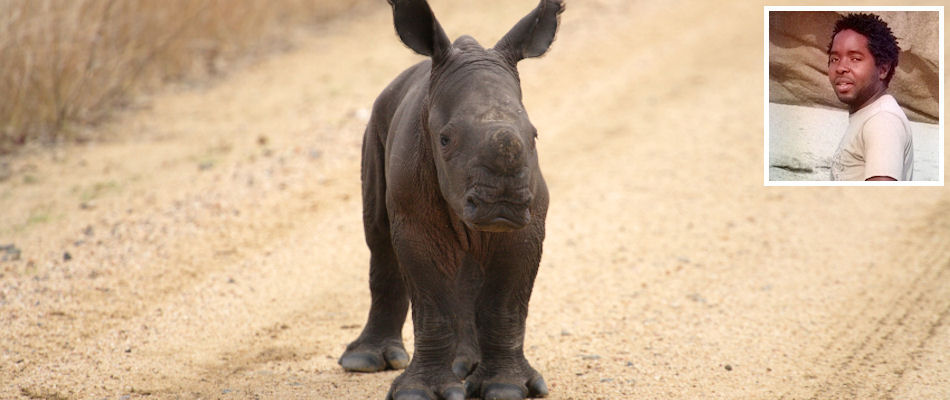 Rhino baby and (inset) Wayne Mwango
Leader interview: Wayne Mwango - Small group Botswana safari
Born in Zambia, Wayne has always had a passion for wildlife, volunteering on animal programmes from a young age with Youth Alive Zambia. He undertook a guiding course in South Africa, and his knowledge of the bush, the country's history and also his general African knowledge is equal to none. Except perhaps his knowledge of football and, in particular, of Manchester United. You must get him singing too. Traditional Botswanan songs rather than football chants though.
My personal favourite viewpoint on this trip is at Nata Mkgadikgadi Saltpans. It is a vast open space and we go there for sunsets with our guests.
During the dry season, you have lots of open space to see animals. And during the rainy season, which is from December to March/ April, there is water in it, and that is where the biggest breeding space for flamingos happens. So, when you see the pinkish colour of the flamingos and the changing colours of the sky, that is really amazing. Especially if you are sipping on Champagne at the same time.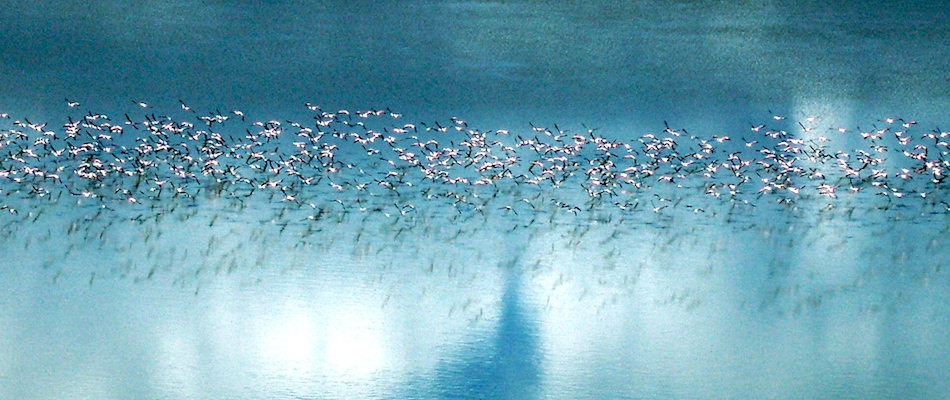 The polers who push the local dugout canoes in the Okavango Delta sing a song as they push their way through the water.
They perform quite a number of traditional songs which are indigenous to Botswana. They are amazing people, and if you see them you can't believe they are the ones producing that amazing sound. And they go a bit like this. (Thanks Wayne for your wonderful rendition.)
Poler in dugout canoe in the Okavango Delta (Photo by
Kate
)
As well as singing, the polers in the dugout canoes in the Okavango Delta always ask everyone to dance or to perform a certain song.
Then if the tourist is trying to imitate the polers, but dances in the wrong way, then the polers like to have a bit of fun, laughing at them. But in a good way. And they love doing that.
One of the most interesting people I have met was a tourist called Peter from Manchester in 2009. He supports Man City, and I support United, so we talked a lot about football. But he also listens to the same music that I do. Which is roots. Reggae.
My favourite reggae artist is Anthony B and Vybz Kartel. If I was sitting at the saltpans, not working, and had a chance to put my headphones on, I think I would play one of the Vybz Kartel tunes.
It is unusual to have storms in Botswana out of the rainy season, but I do think the climate is changing a bit.
I find that October used to be the hottest month, but now it's getting to be November. The season is pushing it slowly slowly. The coldest month is meant to be June, but I find that June is not getting cold the way it used to be. Usually the rainy season starts January, February, March, but I remember having a really big thunderstorm here in early October once, which was very unusual.
We always cook mopane worms for our guests so that they can try our local, indigenous meals. When tourists see them they say 'Oh no, are you serious? Is it the Fear Factor, or what? And I say, no it's for dinner tonight!
Mopane worms are a type of caterpillar- we collect them when they are at the lava stage, dry them in a bit on the sun, soak them in warm water for about ten minutes and then fry them in olive oil. And put in a pinch of salt. Just a pinch of salt. And then they come crispy and you'll love them. They go well with pap, our local meal, which is made of maize.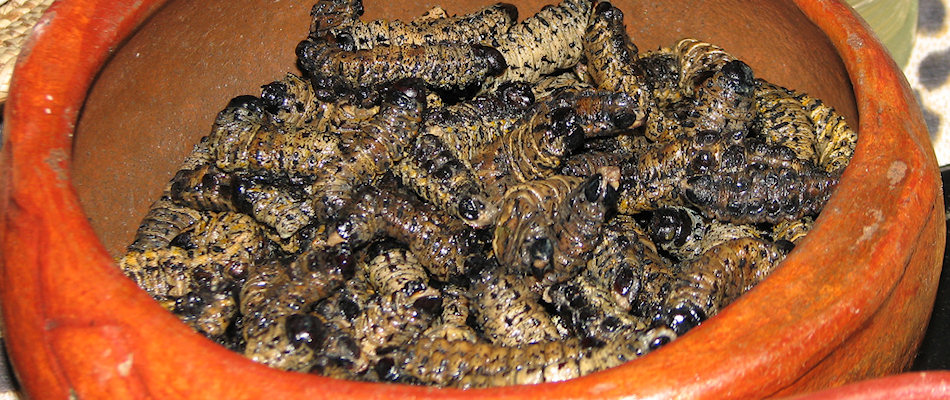 Mopane worms (Photo by
NH53
)
Everyone comes to Botswana wanting to see the Big Five -So when they get to see the Big Five that is the best bit of the trip for me.
But sometimes we get to show them the Small Five too, and the best bit is when guests say 'Wow, we never thought we would see all this. The pangolin, and all those other animals too'. And that is the best bit for me, when that makes them really happy too.
When you come to Botswana, you must learn to say 'dumela' which just means hello in Tswana (the national language).
Everywhere in Botswana they greet each other with this, if you go in a shop, on a bus or on a train, you say dumela, even if you don't know anything else. When you are leaving you can say 'Ke a leboga' which is thank you.
When we walk in Okavango Delta you can really smell the wild sage everywhere. That and elephant dung, and even the elephants themselves. You can smell them from a distance too.
People tell me, 'I can smell something I have never smelt before' and it is usually elephant dung. Because, when we are walking, we get closer to nature. And you can start to smell all the small plants. And people tell me it is like smelling Africa. We also use wild sage as a mosquito repellent too, rubbing it on your skin, or put some of it in your tent. It is the sun drying it out that makes it smell, and when the sun is intense you can really smell it everywhere.
When we go walking in the Okavango Delta, and we see lions, my best survival tip for people is always, 'Do not run'.
They must listen first, walk in a single group, and then when we see something, we come together as a group and make ourselves bigger. People do wonder why we don't have guns, but that is why we give them such important survival tips. If you behave they won't attack you. If you don't run, it isn't going to chase you because with predators, food runs. So if you walk back slowly, it will just stare at you and you will be safe. We don't carry guns because in the past, in other parks, when people carried guns, even if the animals weren't charging, if they had got too close to the animal and got scared, they sometimes ended up shooting an innocent animal. So that is why we don't carry guns anymore.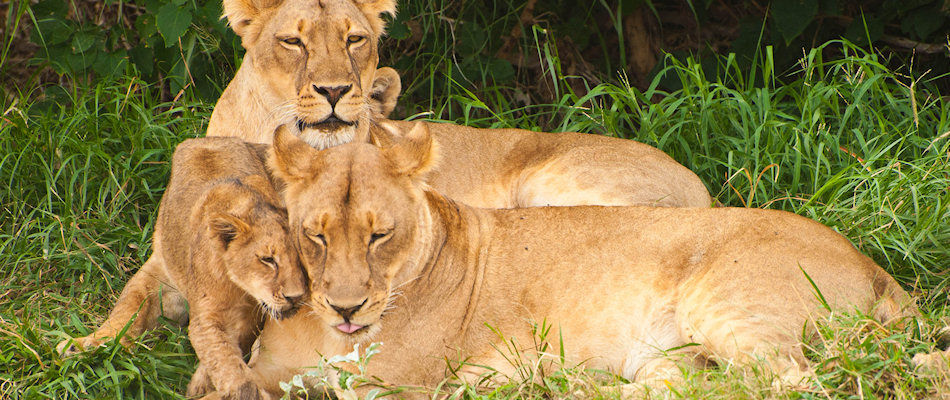 This trip isn't really for someone who doesn't want to participate in the walks that we do.
If they just want to be at the swimming pool, having a suntan, then this might be a problem. If someone is willing to be adventurous, then they will enjoy the rest of the trip. Sometimes you get a person who says, "No way, you really going to see the Delta like that? No way, I am staying in Maun". And I say, but you are missing the best part of the trip, but some people are just not in the mind set to go for the exciting bits.
The most special time I have with my guests is always when we are stargazing at night.
We can identify Orion's Belt and the Southern Cross. It is always amazing to look at them, always so clear with the darkness. There is no light pollution in most places. It is a lovely time just talking about stars, or not talking a lot and just looking at them.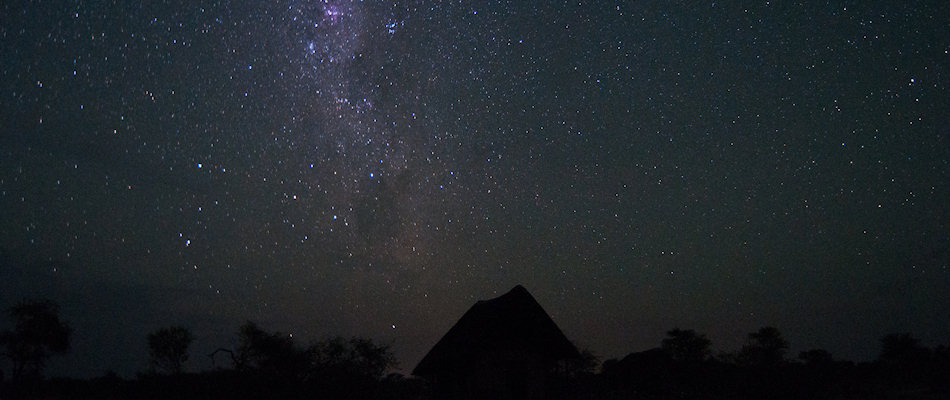 It rarely happens, but I did get afraid once, when we had lions come into the camp at Moremi.
We were about to go to our tents to sleep and the lions came through. There were about ten of them, and so we didn't go to our rooms for about two or three hours. I wasn't sure how many there were, as there might have been more in the bush. But they just went away, after roaring loudly. They usually roar because they are communicating with the other lions in the group. If it is a male, he is advertising his territory to the other males, and telling them this is his place and he doesn't want the other ones to be in the area. You can hear that roar even up to 8 kms away. But it is amazing to hear when they are right there, next to you.
When I am not working, I like to play some social soccer, but also I have a new baby boy now, so I play with him too. He is just ten weeks old now, and he is our first baby.
The one thing that really makes me want to shout NO! at tourists is when they are not following the rules when they are on a game drive.
Someone tried to jump out of the jeep once on a game drive. Also, at night, when we are in the Okavango Delta, I tell guests 'Please, if you hear noises, trees breaking down, don't come out to try and take your best picture, because it might be your last picture. So I have to shout at them, no! don't come out! One thing that makes me say yes, is when they want to drink more water, and have plenty of pee stops, because that means they are drinking lots and not getting dehydrated.
Find out more about this trip
Continue reading about this
Small group Botswana safari