Tour leader interview with Matthew Starr - Vienna to Budapest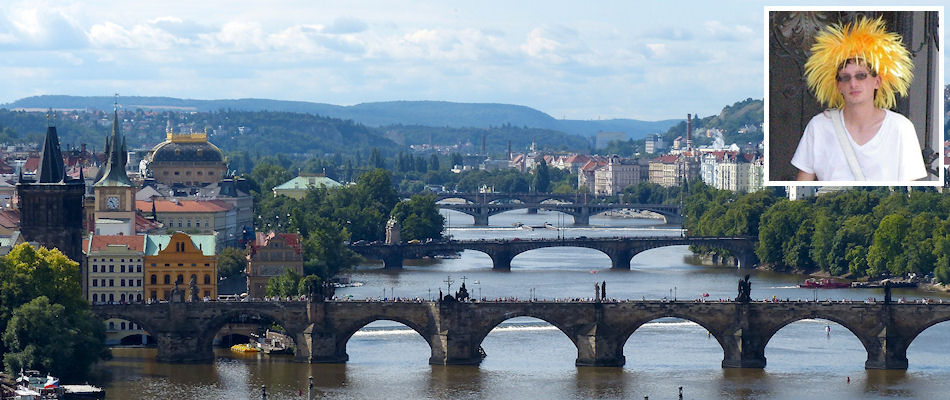 Prague's bridges and (inset) Matt Starr (Photo by
Roman Boed
)
Leader interview: Matt Starr - Vienna to Budapest
Matt always planned to make travel a way of life. After finishing his degree in International Tourism Management he travelled around Africa, Australia and Asia with this tour company - and eventually made the transition from traveler to group leader.
He leads this tour from spring to autumn each year, and while he is keen to emphasise that the life of a tour leader is far from glamourous, he is happy to admit he's living the travel dream.
Matt is best known for the bright yellow wig he likes to wear when he's leading groups around Prague - it's a comical alternative to the guide's umbrella. It certainly helps his passengers keep track of him!
As a tour leader we like having moments where it's quiet, so one of my hidden gems is in Cesky Krumlov [in the Czech Republic]
Cesky Krumlov can be very busy with tourists, but the castle gardens are quiet and it's nice when it's sunny or on a spring day. It's a little hidden gem at the back of the castle.
My favourite view is in Cesky Krumlov where we sit by the river. I love to have a drink with the group just watching the castle, it's quiet at night.
On a more scenic level, we go to the Tatra Mountains and Teplice National Park in the northern Czech Republic, and those two have stunning, spectacular scenery. They're slightly different. In the Tatra Mountains the forest is new, there was a big storm there so the forest is still growing, whereas in Teplice the forest is already there. You can look over the rocks at Teplice and see people free climbing which is quite cool, they're sheer cliffs so that's quite an interesting sight.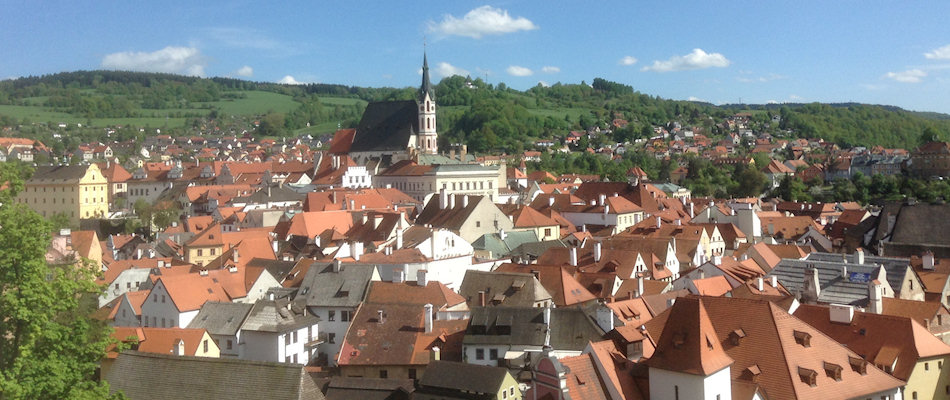 Cesky Krumlov (Photo courtesy of Matthew Starr)
There was one incident which does make me laugh - and cry.
We visit Auschwitz and one of my passengers decided to ask me what they could buy at Auschwitz. I said probably books - and their response was "well how about souvenirs or postcards?" - Auschwitz isn't really the place where you get souvenirs and postcards.
My favourite souvenir is Zubrówka - Polish vodka, made from bison grass.
It's a really nice, soothing drink. Not that we're alcoholics!
The word "cheers" in Hungary is very complicated to say. It's egészségedre! I just say to my groups it's "iggidy shiggidy" - which makes them laugh.
There's always basic words that I teach them in all the languages, like
dzien dobry
, which is "hello" in Polish. But I find the names of some of the alcohols always work well as well. Slivovitz [Damson plum brandy], Becherovka [herbal bitters from the Czech Republic] - they're always good words that I get out straight away!
Na zdraví
> [cheers] always works in Czech.
One of the places I like to turn off is in the thermal baths in Budapest. I just sit there for a couple of hours, and it's one place where I can zone out.
Nature is very relaxing as well, for me, and for a lot of us leaders. Nature and just being out in the middle of nowhere. I've been on tours to Africa and the Okavango Delta where there's nothing around, and that's heaven to me. That's my moment.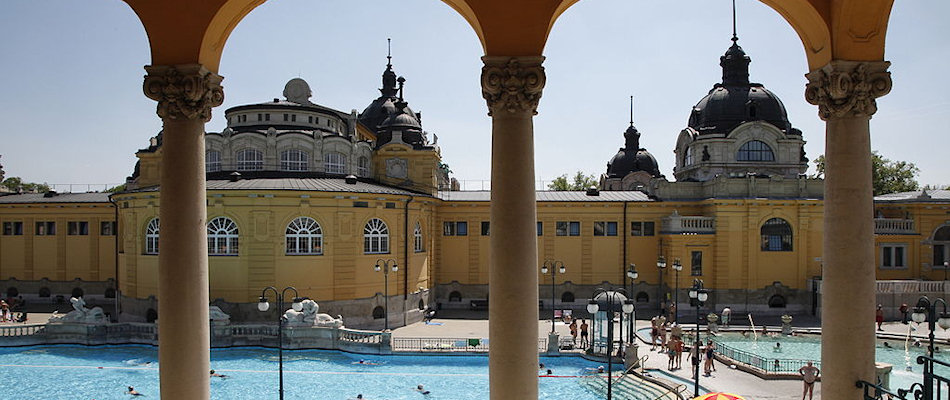 Thermal baths in Budapest (Photo by
Andorka
)
Some people expect a guide, not a leader. The leader is not there to guide you around the city; the leader is not there to hold your hand.
We arrange every detail of the trip, we organise all our own private and public transport, restaurants, optional and scheduled activities - so we have plenty of things to arrange. We can't actually guide, as in a lot of places, guides have to have a licence that they pay for, and we can get in trouble if we are perceived to be guiding. So we give "orientation walks" around some of the big cities - but we don't know everything about everywhere.
The local community that was born in Cesky Krumlov and actually live there is not that big, so they get to know us and when we're walking round with our groups we'll be chatting with them.
We try to encourage the group to meet local people as much as possible. There's a guy in a restaurant there who is just one of the most out there and crazy people. When I see him he runs up and gives me a massive hug. It's the way they are over there - they're just friendly and bubbly and welcoming personalities. And we feel like locals. I know I do when I'm guiding through there because it's so small. In Teplice we stay in a locally owned chalet, and it's a really, really small village with two hotels and a couple of restaurants and that's it. Some of us are like family to the owners. She's like a sister! The people we stay with in any of the small hotels we get on really well with as leaders, and we make sure the passengers feel that as well.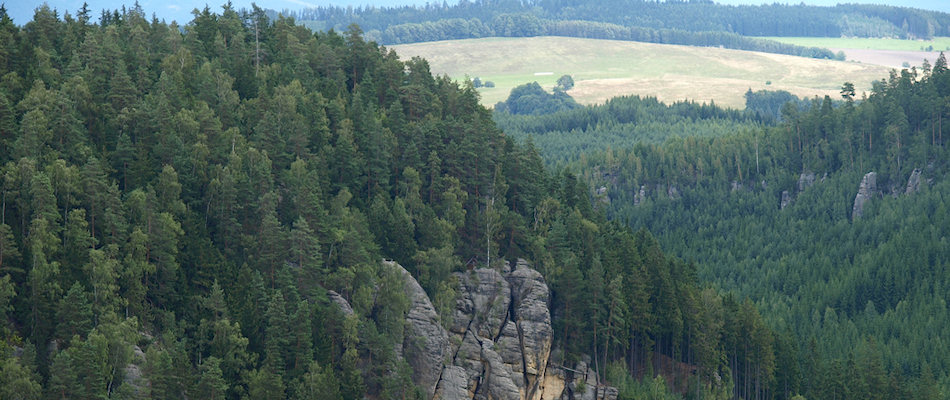 In Prague we have apartments, and we get the group together and cook with them in the apartment, which is quite a nice bonding opportunity.
I've made things like tortillas and pasta, other people make desserts - it's just quite a nice opportunity to get to know each other. Then when it comes to Teplice, we stay in a chalet, a b&b kind of place but it's locally owned, and it's usually just us as night. We have a few drinks in the local called Che Guevara, it's amazing what a few drinks do bring the group together. It's not about getting drunk it's just having one or two drinks and just chatting.
We have a lot of honeymoon couples which can be interesting.
Some of them are fine, but you don't come on a group tour if you're not really comfortable in a group and you want your own time. It's not how a group tour works - it's about the group, and not you. It's all about being relaxed. I've had people trying to be the Alpha male - and that's not how it works! You just go with it.
The toughest part of this trip for me, emotionally, it's Auschwitz, as I'm Jewish.
I have personally been there now a dozen times; twice I've done the whole tour and the rest of the time I sit outside while the passengers go round. That can be very challenging for a tour leader because people don't realise how hard it is to gauge other people's emotions. Some people are sombre, other people want to talk about it. So you have to be very careful. Emotionally, that's one of the most difficult things for passengers - and for leaders. It does affect me every time.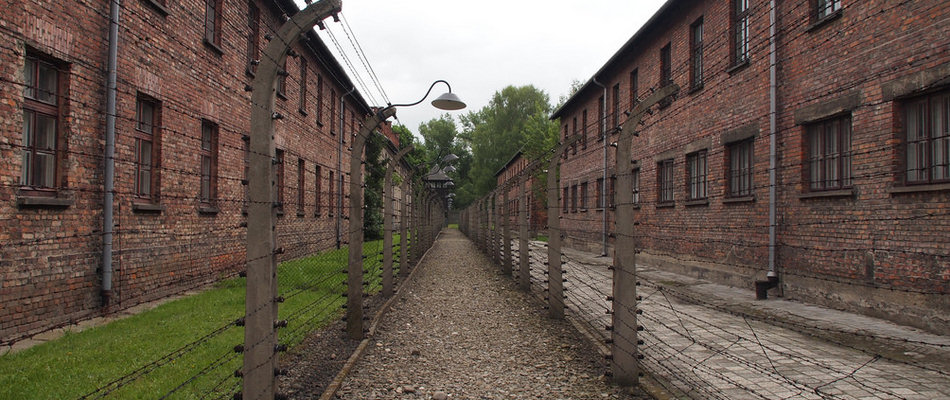 The first time I visited Auschwitz was actually not on a tour; I did it with some other Jewish students and that was interesting because I learned a lot.
The second time I had to do it when I was training, and it was horrific because I knew it all, so I just stood there wanting to leave. Now most of the time I just stand there with the drivers just waiting for people to come out. It's very, very tough. I tell passengers right at the off - at any stage, if you don't want to continue, just come out. You don't have to do it. It's an included activity but don't feel pressured into doing it - it is emotionally draining. With my Jewish knowledge I can tell the story but it is very difficult for some people.
Interacting with the locals makes me want to shout "yes!" at tourists. It's a golden opportunity, this tour, to get to know people.
Some people in Eastern Europe speak English but they can be a bit shy. So they might not appear very talkative, but it's not necessarily that they don't want to talk - they're just shy when it comes to English. The locals are really nice, they're friendly, it's worth interacting with as many people as you can. And get involved with everything. I create as many optional activities for you as possible - so just go for anything. Try the food, listen to our recommendations. That's what we're there for - we want people to have these experiences.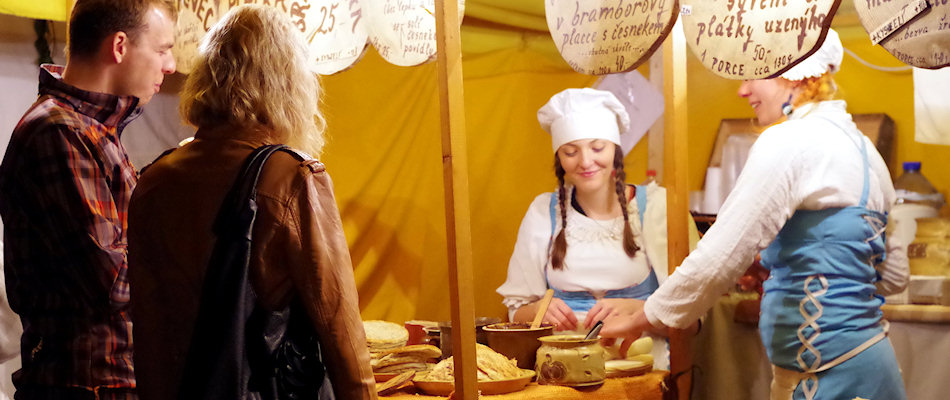 People come here and think they have to see every single attraction and every single place.
But I say to them - sit and relax for a bit! Take it easy, come and have a drink, sit and chat, don't feel that you have to run around doing absolutely everything in every single place.
Find out more about this Vienna to Budapest tour
Read more about this trip