Laos temples & museums visit - travel journal
Every time a customer books one of our vacations and opts in to our Trip for a Trip scheme, we organise a day trip for a disadvantaged young person somewhere around the world to see their local tourist sites, often for the first time.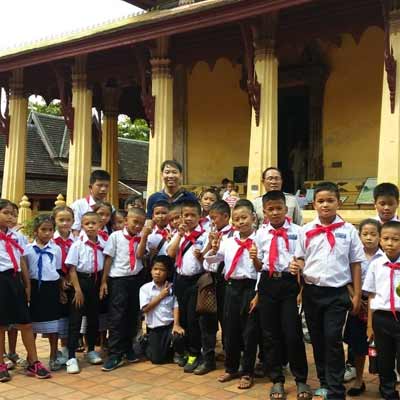 On Wednesday 26th September 2018, Peuan Mit (from Friends-International Laos) took a group of 40 children aged between 7 and 12 from Ban Doung Gnay Primary School on an excursion to visit Vat Sisaket, Vat Phakeo, Souphanouvong Museum and Kaysone Phomvihane Museum. The children were accompanied by two social workers and four public school teachers. The trip was led by a driver from Buffalo Tours, school teachers and our social workers and was funded by Responsible Travel.
Children who participated in the trip were from the Ban Doung Gnay community. Since 2014, Peuan Mit's outreach/prevention team has worked with these children and their families directly in their communities to prevent more children from resorting to street work. The outreach and prevention activities consist of advocacy against neglect and abuse, the dissemination of information about safe behaviour and support to access education and vocational training etc.
Journal:
8am:
The Buffalo Tours bus picked up Peuan Mit staff at the drop-in center. The bus arrived at the village at 8:45 to pick up the children at their school. During the bus ride, our social workers introduced themselves as well as the children. They also entertained the children by organizing games, telling stories, singing songs as well as providing some cookies and milk.
9am:
It took one hour to arrive at Kaysone Phomvihane Museum. The staff at the museum were very welcoming and supportive. The children stayed there for one hour and a half and discovered the history of former president Kaysone Phomvihane who led the fight for the Lao revolution.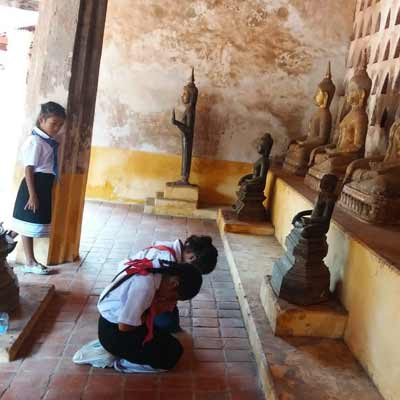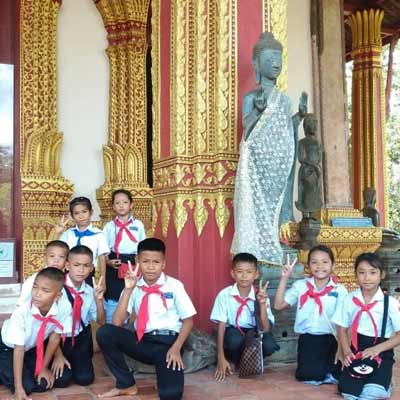 11.30am:
After visiting Kaysone museum, the group went to a local restaurant to have lunch. After lunch and some guessing games, the group moved on to visit Vat Sisaket.
1.30pm:
The bus arrived at Vat Sisaket, the historical pagoda in Vientiane well known for its impressive architecture from the 1800's. It is also famous for its walls which house more than 6,000 tiny Buddha stupas made from wood, stone and bronze. The children went on to visit Wat Phakeo, another emblematic pagoda in Vientiane. It was once a royal temple during the time when Laos was a monarchy. After visiting and learning about Lao architecture and culture they went on to visit Souphanouvong Museum.
3pm:
The group arrived at the Souphanouvong Museum. They received an introduction from one of the museum's staff and then participated in a one-hour tour learning about the history of Prince Souphanouvong, who was the figurehead President of Laos from December 1975 until August 1991.
4pm:
After visiting the museum, the group headed back to the community and the Peuan Mit social workers continued their activities on the bus with a singing competition and Q&A on life skills. The winner received some prizes, including a tooth brush, soap and shampoo.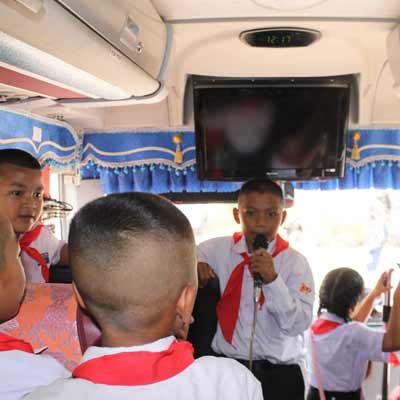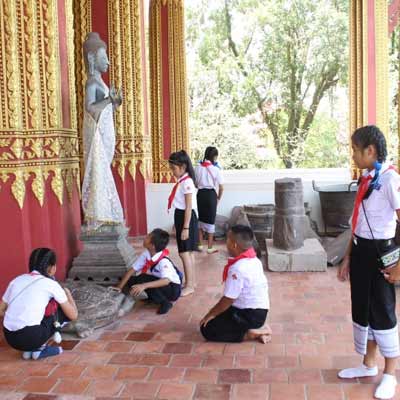 Impact:
The excursion was very successful as not everyone had visited these three locations before - especially the Kayson Phomvihan museum, an important historical place. The children understood the difficulties our leaders and ancestors had to go through to build a better future for the next generations.
All the children were happy and enjoyed the experience of learning on location. They learned about and acknowledged history by experiencing and discovering new places. Being in another environment other than their classrooms has facilitated their understanding.
Quotes from the day
"
"My favourite part today was visiting Vat Sisaket, it is impressive to see all the tiny Buddhas everywhere on the wall. I tried to count them all but it was impossible!"

"I was so excited about today's outing with my friends, when I saw the big bus picking us up at our school I felt really happy"

"I would like to thank Peuan Mit social workers today for taking us to visit beautiful places, I learnt a lot and took many pictures. I look forward to showing them to my parent when I get home. "
"
About our partner organisation:
Friends International is an award-winning social enterprise founded in 1994 that saves lives and builds futures of the most marginalized children, youth, families and communities in Southeast Asia and around the world. It works to create a future where all children are safe from all forms of abuse, and become functional, productive citizens who contribute to a more peaceful, equitable and sustainable world. Friends works in Cambodia, Indonesia, Laos and Thailand, and with 45 partners around the world, to provide comprehensive services to marginalized urban children, youth and their families. Since its inception, Friends has supported the education, well-being, and sustainable reintegration of more than 300,000 vulnerable children, youth and their families.