Overtourism in Venice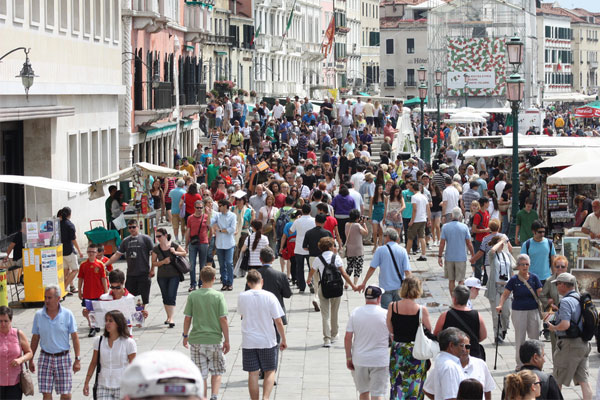 Though still proudly known as La Serenissima, 'the most serene', Venice on a typical day is anything but. Overtourism is a major issue here. Once a thriving city, home to a large and proud population of Venetians and visited by writers, intellectuals and artists hungry for culture, Venice is now swamped by day trippers, who far outnumber overnight visitors and local residents.
What's behind overtourism in Venice?
Overtourism boils down to the simple fact of too many people visiting the same place at the same time and Venice is, sadly, a prime example. Some 20 million visitors flood in each year; on its busiest days, around 120,000 people visit this city which is home to just 55,000 permanent residents [1]. Many of these tourists stick to the famous landmarks – the Rialto Bridge, St Mark's Square – further concentrating numbers into a tiny footprint. This damages Venice's fragile buildings, strains its infrastructure, inhibits local people from going about their business and, frankly, makes for a woeful visitor experience, too. Nobody benefits, not even the tourists.
The reasons behind overtourism in Venice are complex and manifold, and you can read more about the overtourism phenomenon
here.
Many of the same issues crop up in Venice as in Barcelona, Reykjavik or Dubrovnik – the rapid growth of low cost aviation, cruise ships and peer-to-peer home sharing platforms are all guilty parties. The rise of the day tripper is a huge problem, too. Ironically, no one seems to dedicate time to seeing this timeless city. Of the 20 million people who come to Venice each year, only half sleep here, which is why hotel stays have dropped by two thirds over the past 25 years. Many have poured off a cruise ship – on some days as many as 44,000 cruise passengers come to the city – or are on a whirlwind tour of Italy. Some stay for just a few hours, see little, buy a few trinkets and leave. They bring no economic benefit to the city in this way.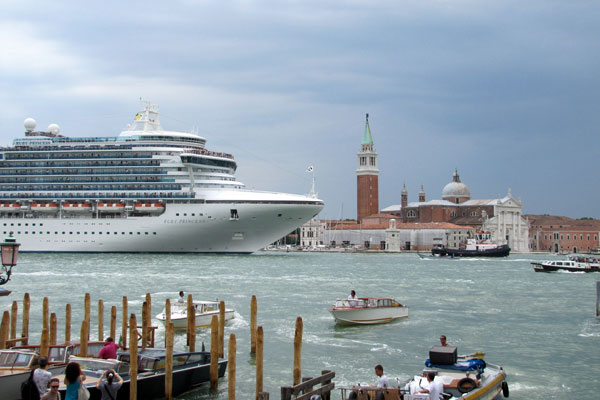 Those that do stay for a night or two may also be contributing to Venice's problems. Property prices are sky high, with owners converting what could be family homes and lower income rentals into lucrative vacation accommodation. It's driving up the cost of housing and means only the very wealthy can afford to live here.
Overtourism's impact on Venice
Obviously, life for those remaining local residents is impaired by this influx of day trippers and tourists. On any given day, they are forced to negotiate crowds and put up with noisy wheelie suitcases, selfie sticks and often disrespectful behaviour – swimming in canals, picnicking on bridges – as they try to go about their daily lives. They see the city they love being littered; they watch vast cruise ships chug up and down the Giudecca Canal four or five times a day, emitting fumes before disgorging thousands of people; and they reflect on how the artisan spirit of the city has been eroded.
Overtourism's impact stretches way beyond quality of life, though. With time, overtourism changes the balance of economic incentives for a whole range of businesses that are important in defining the character of a city. The food, the goods in shops, even the music being played in bars all lean towards the tourist taste, and increasingly fail to cater for local people.
It also becomes difficult to find work in any field outside of tourism. And what do you find when poor employment opportunities, the rising cost of living, transport and property, and a reduced quality of life combine? Depopulation. Venice has become too expensive, too impractical and just too much of a tourist theme park for most residents to be able to stay. Three decades ago, more than 120,000 people called Venice home. Today, there are 55,000. By 2030, some demographers predict, there could be no more fulltime residents [2]. According to Jonathan Keates, chairman of Venice in Peril, if the population falls below 40,000, Venice will not be a viable, living city any longer [3].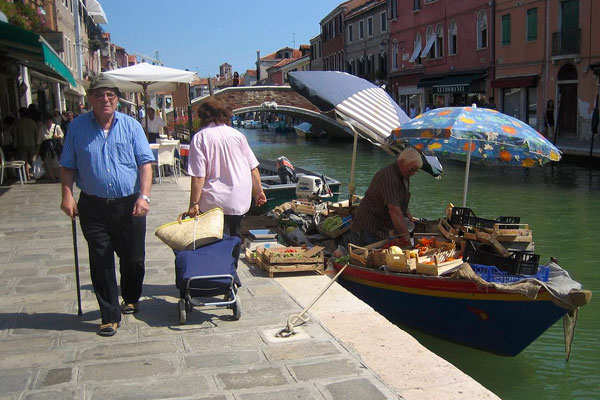 Local residents in Venice. Photo by
Sonse
What is being done?
In response to local anger, fears over pollution and damage to historical infrastructure, an Italian government committee ruled in 2017 that cruise ships over 55,000 tonnes will be banned from entering St Mark's Basin and the Giudecca Canal from 2021. Rather than docking in the historic center of the city, they will have to dock in Marghera on the mainland.
The Mayor of Venice, Luigi Brugnaro, has also introduced new and controversial plans for controlling visitor numbers. In April 2018, he announced a system of segregation, whereby access to popular sites such as the Rialto and St Mark's Square will be controlled if crowds become too great, with tourists diverted along alternative routes and only local and business people allowed to use the most popular thoroughfares. In addition, any tourists arriving by car via the Ponta della Liberta from the mainland could be turned away if they don't have pre-booked parking. The mayor authorised fines of €500 for noisy, wheeled suitcases being used in the historic center, as well as fines for littering and loitering on bridges, swimming in canals, wearing swimwear while sightseeing and picnicking in public areas.
Despite anti-tourist demonstrations in summer 2017, the mayor's announcements were not welcomed by everyone. Protesters dismantled turnstiles designed to separate locals from tourists a day after they were erected, chanting "Free Venice". Protester and activist Marco Baravalle said: "Venice is dying... The mayor putting in the turnstiles is demonstrating that he is giving up. He wants Venice to become a city with no inhabitants." [4]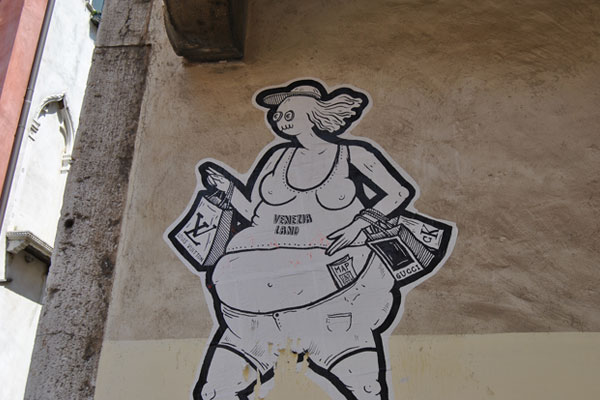 Overtourism is not a new problem in Venice. UNESCO has frequently flagged up the damage being done to this World Heritage Site. Back in 2014 it told Italy it had until 2016 to act, or plan effective action, on a list of concerns, including the absence of a sustainable tourism strategy and any kind of coordinated approach to everything that makes Venice a place of 'outstanding universal value'. In 2017 UNESCO even threatened to put Venice on its list of sites in danger, a decision it has deferred until 2018.
This failure to act exasperates many, including Responsible Travel's CEO, Justin Francis: "How has this beautiful city ended up in this position? For decades tourism has been threatening Venice. They've found it impossible to confront the growth of tourists visiting from cruise ships or as Airbnb guests. Now we end up with segregation of tourists and local people. It seems it's now official that Venice has been reduced to a theme park. Tourism is about bringing people together, residents and visitors, and when done properly, both parties should reap the benefits. It should never be about segregation."
What can you do?
At Responsible Travel, we believe travel is a privilege and not a right, and it's a privilege we should enjoy responsibly. This means traveling in ways which maximise positive impacts and minimise the negative ones. In the case of Venice, which suffers so squarely with overtourism, this may not seem straightforward, but simply boycotting a city which, rightly or wrongly, depends almost entirely on tourism is equally problematic.
Instead, travel off peak – Venice in the winter is eerily beautiful, and often cheaper. Choose to stay several nights, too, shop and eat locally, and explore off the beaten track, to avoid the popular hotspots and spread your Euros a little further. As ever, travel respectfully. Talk to local people, learn a few words of Italian, dress and behave appropriately, show your love. Traveling thoughtfully and with respect earns you respect, and that's what people clinging onto a life in this beautiful but troubled city deserve.
Sources:
[1]
The Independent
[2]
The Independent
[3]
The Guardian
[4]
Sky News