The Royal Palace, National Museum and Wat Phnom, Phnom Penh - travel journal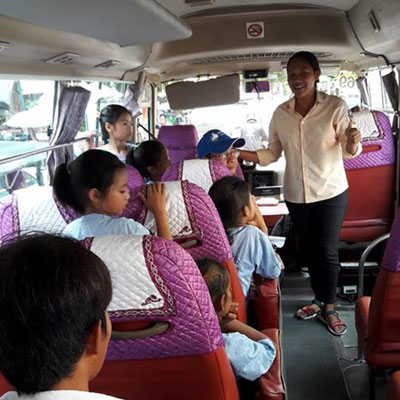 On Friday 25th May 2018, 20 young people (including 13 young women) from Mith Samlanh went on a day trip made possible by the support of Responsible Travel. The young people were aged between 11 and 24 years old and live in various marginalised communities in and around Phnom Penh. On a day to day basis, the youth attend vocational training courses and remedial education classes at the Education Centre in Mith Samlanh.
The majority of young people at Mith Samlah are extremely marginalised because they come from poor /or challenging backgrounds and lack access to education and skills training. Many are exposed to abuse, exploitation, sex work, trafficking and drugs, which further inhibits their ability to access regular education or employment.
To address these issues, Mith Samlanh runs flexible vocational training for young people and remedial education classes for school aged children, giving them the opportunity to gain knowledge and skills and secure stable employment in a safe environment.
Date:
25th May 2018
8.30am:
The children and young people had breakfast at Mith Samlanh before heading to the Royal Palace. When they approached the building, their excitement increased as they saw the nice landscape surrounding the Palace. They went into the Royal Palace and inside the Throne Hall, they saw many statues and artefacts such as glasses, plates, pots, spoons and ladles made from bronze, platinum and gold. The children and young people learned about the building and its uses which include royal ceremonies, festivals and consecrations.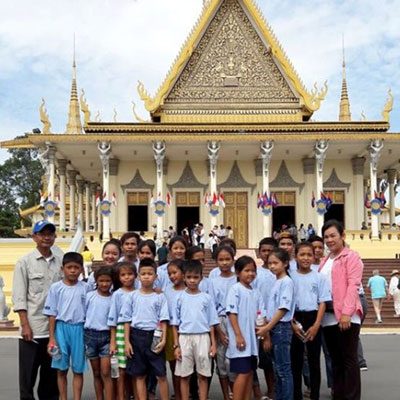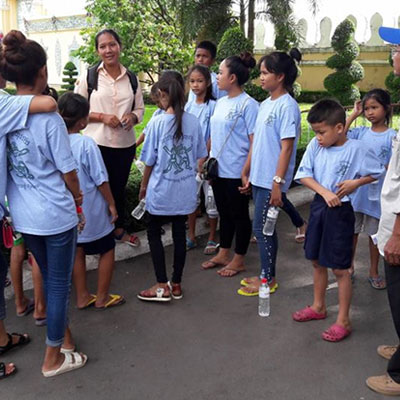 Afterwards, they visited the Silver Pagoda where King Norodom Sihanouk meets monks and where royal ceremonies are performed. Inside, the children and young people saw lots of photographs of Khmer style houses and traditional clothes. On one of the walls, there was a beautiful picture depicting the famous Cambodian poem Reamker. After the Royal Palace, the group went to the National Museum. Inside were hundreds of statues and artefacts documenting centuries of Cambodia's history.
11.15am:
The group had lunch in a local restaurant near the post office before continuing on to Wat Phnom. They saw the huge trees and a plaque on the wall which commemorates the return of three provinces from Thailand to Cambodia in the early 1900s. The children and young people played in the playground near Wat Phnom before returning to Mith Samlanh at 1:30pm.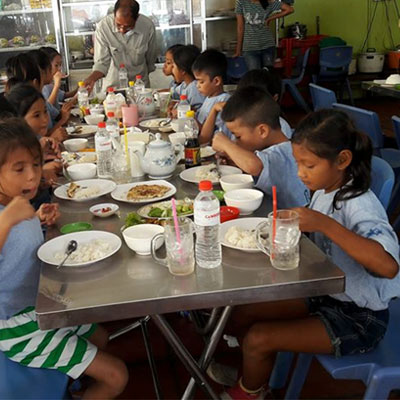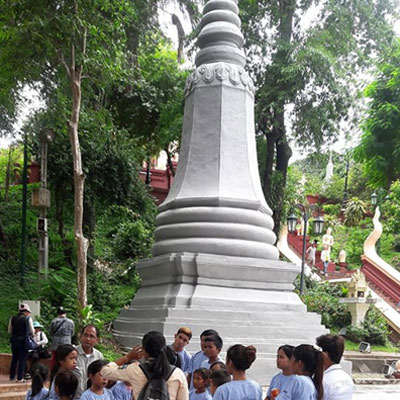 Impact:
Most of the young people had never been to the Royal Palace or National Museum, so seeing all the statues and artefacts was a new experience for them. For many, this was a very meaningful and exciting trip and they were very interested to learn about Cambodia's history. Their favorite part was the splendor of the Royal Palace. They also enjoyed the green spaces and fresh air and as soon as they returned to Mith Samlanh they asked the social workers when the next trip would be!
Quotes from the day
"
Young people:

"I was happy to see the Royal Palace because I have never been before."

"I liked seeing the artefacts and understanding their value."

"I learnt how lots of people are involved in looking after the pieces."

Social Workers:

"It was nice to see the children and youth so happy because they were going to new places."

"The children were proud to learn about their heritage and culture."

"I felt very happy that the children and youth were able to visit the Royal Palace and learn about its importance."
"
About our partner organisation:
Friends International is an award-winning social enterprise founded in 1994 that saves lives and builds futures of the most marginalized children, youth, families and communities in Southeast Asia and around the world. It works to create a future where all children are safe from all forms of abuse, and become functional, productive citizens who contribute to a more peaceful, equitable and sustainable world. Friends works in Cambodia, Indonesia, Laos and Thailand, and with 45 partners around the world, to provide comprehensive services to marginalized urban children, youth and their families. Since its inception, Friends has supported the education, well-being, and sustainable reintegration of more than 300,000 vulnerable children, youth and their families.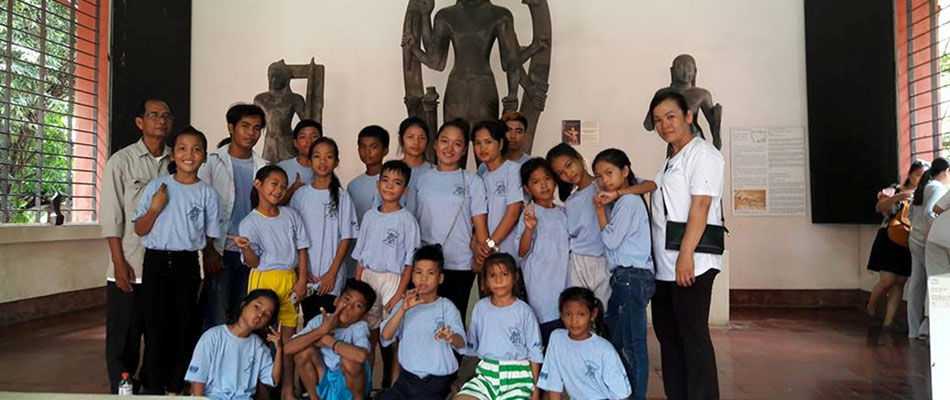 More about Trip for a Trip