Experiencing local wildlife whilst on vacation can be both a memorable and enjoyable part of our time away. We encounter many animals abroad that we wouldn't necessarily see in our home countries. However, too often there may be a world of exploitation and cruelty that exists behind the scenes for many of these animals involved in the tourism industry. These issues may go unnoticed to the traveler. Not for much longer, hopes World Animal Protection. Their campaign: 'Wildlife. Not Entertainers' aims to raise awareness around the truths of the animal entertainment industry in tourism. We speak to Alyx Elliott, Head of Campaigns at World Animal Protection to find out more.
What's the name of the campaign?
Our campaign is called Wildlife. Not Entertainers.
When did it launch?
We have been campaigning for compassionate traveling in a number of countries around the world for many years, but we launched our global Wildlife. Not Entertainers campaign in 2015. And I should add, we were delighted to win at the
World Responsible Tourism Awards in 2015
for this work which is a fantastic achievement after such a short time!
Tell us about your campaign in a nutshell?
We believe that wildlife belongs in the wild - our Wildlife Not Entertainers is designed to let people know about the cruelty that goes on behind the scenes of activities like elephant riding, tiger selfies and swimming with dolphins.
So far over 100 tour operators have committed to stop selling venues that offer elephant rides and shows, and most recently, after 560,000 people signed our petition, TripAdvisor announced it will stop selling tickets to some of the cruellest wildlife attractions that allowed direct contact with captive wild animals.
What inspired this campaign?
Many people are animal lovers and want to see animals when they go on vacation, but people do not know about the cruelty that goes on behind the scenes. We started with some local work in some Northern European countries and saw just how much the campaign resonated with the public, who were shocked to learn the truth. So we decided to expand the campaign to let people around the world know how wild animals suffer in order for people to be able to ride and have a selfie with them.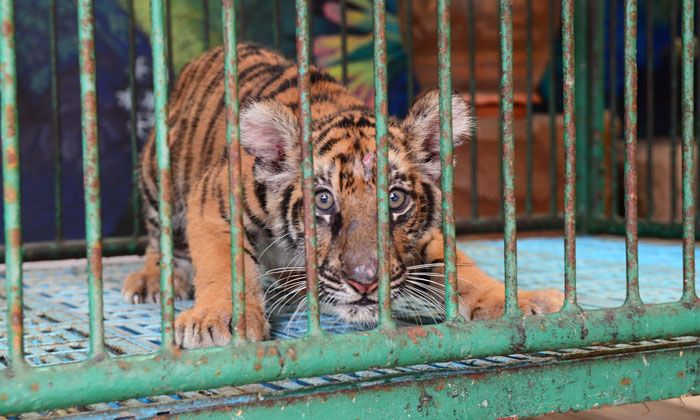 Share with us a story about a person / place / animal that's currently getting a rough ride because of these issues?
I recently visited some of the elephant camps near Chaing Mai in Thailand – my lasting memory from the trip will be the baby elephant I came across that was being kept in a tiny barren pen, chains around its foot and with absolutely no food or water. She had an injury to her trunk as well. All I could think was that her certain destiny would be to only be ridden by people on vacation, and in the meantime to be 'trained' with bull hooks until she lost her wild spirit. There are hundreds of thousands of animals just like her suffering every day because of the demand for cruel tourist attractions by unsuspecting tourists.
What change needs to happen to make things better?
More work needs to be done about letting people know about the reality of these cruel wildlife attractions and tour operators need to take responsibility, by stopping selling them and give people a more ethical alternative.
How will the world be a better place if and when you succeed?
When we succeed thousands of animals will no longer suffer in these cruel attractions and people will be able to see animals in their natural environment, out in the wild.
If you had a mega-phone for 10 seconds on a rooftop to get your message out, what would you shout?
As a general rule, if you can ride it, hug it or take a selfie with a wild animal, then the chances are it is cruel and the animal is suffering – so please don't do it!
If you had a 10 second slot on TV which image would you show to get your message out?
We have a video of a chained tiger on a podium being sharply prodded with a metal spike to make him roar for tourists so that they can have a selfie – you can see it on our Facebook page from International Tiger Day this year. This is shocking footage and illustrates why animals should be in the wild and not in entertainment.
Is there one person who figureheads this campaign? Tell us about them and their inspiration and aspirations.
Julie Middelkoop is the Global Lead of our Wildlife. Not Entertainers campaign and has campaigned to protect wild animals in the tourism industry since she started at World Animal Protection in 2012. She had success in the Netherlands with Dutch Tour Operators and this success led to it becoming a global campaign for us. Her dream is that one day she will be able to go traveling without having to witness any wildlife cruelty and that other travelers will only want to experience wild animals in the wild, where they belong.
What three things can we all do to help?
1. Remember as a general rule if you can ride it, hug it or have a selfie with a wild animal, then the chances are it is cruel and the animal is suffering. Check out our top 10 cruel wild animal attractions on our site.
2. Check with your travel operator that they only promote ethical wildlife experiences. You can find our list of elephant friendly travel companies on our site.
3. Tell your friends, family and colleagues! The more people that know about the reality behind these attractions, the fewer that will go.
What's the campaign website?
It is
www.worldanimalprotection.org.uk/wildlife-not-entertainers