Walking Holidays in Spain
24

Reviews for Walking Holidays in Spain Vacations
Read Walking Holidays in Spain independent reviews and make booking inquiries on responsible vacations.
3 vacations found
This eight day, tailor made vacation has been a firm favourite with our walking vacation aficionados for over ten years now, following a 100km circular route through the Costa Blanca Mountains. Walking on average about 15km a day, you will enjoy hiking from inn to inn through traditional white washed villages, verdant valleys, aromatic pine covered sierras and ever changing limestone terrain where wildflowers cling to mountain sides and rocky outcrops. The fusion of Mediterranean and Moorish culture in the Guadalest, Seta and Tárbena Valleys, where you stay in small locally owned 'casas' and hostels in villages that date back hundreds of years. In each spot along the way, you will feel ...
Read more >
From
€

740
excluding flights
Discover the valleys of the Marina Alta on a trekking vacation that starts in the mountains and finishes at the Mediterranean Sea. Your trek takes you through the four most beautiful and unspoilt valleys of the Marina Alta: the Vall de Gallinera, Vall de Alcalŕ, Vall d'Ebo and the Vall de Laguar and concludes on the coast in the delightful and historical port town of Dénia. Features include the outstanding accommodation, excellent local cuisine, dramatic scenery, the variety of landscapes and the area's intriguing history. We have selected the best accommodation available and that offer something special, like traditional architecture, panoramic views of the surrounding countryside, ...
Read more >
From
€

778
excluding flights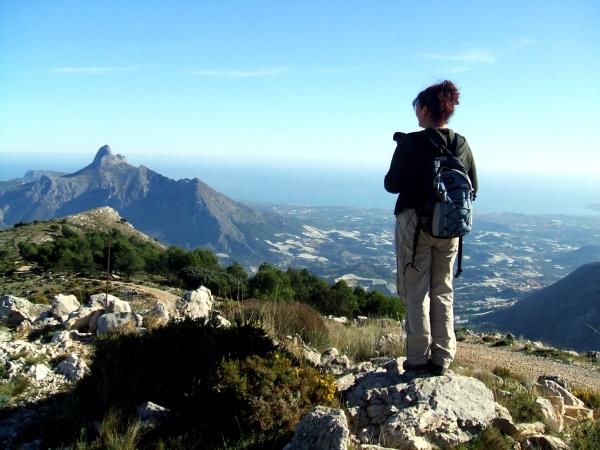 Enjoy a unique self-guided Mediterranean walking vacation; venture into the heart of the Spanish countryside with ten great walks that explore the enchanting valleys and picturesque villages around the village of Tarbena in northern Alicante. At 550m above sea level Tarbena enjoys an ideal climate for walking, rich in wildlife, steeped in history and set in rugged mountainous terrain with views out over the Mediterranean Sea. You can choose between nine walks, some easier and some more challenging, from 6 km to 16 km on footpaths, tracks and quiet country lanes. We will provide you with maps, written directions, explanatory notes of the features you will be seeing plus a handheld GPS so you ...
Read more >
From
€

340
excluding flights