"Tailor made trip full of trekking treats that only the Amalfi coast can produce. Staying in a 4* hotel right in the heart of Amalfi action overlooking the Bay of Salerno."
Highlights
Amalfi | Positano | Ravello | Pathway of the Gods walk | Island of Capri | Boat trips | 4 * hotel
Description of Amalfi Coast self guided walking vacation
Flexible walks, easy to moderate, along and above the Amalfi Coast on this self guided walking vacation. Walk far from the crowds, with unforgettable views of the coastline below. In this Italian paradise, the scenery is spectacular – vertical pastel towns and cliff top gardens tumbling into the sea against a backdrop of wild mountain scenery. Amalfi is the perfect base for walking; being at sea level you descend at the day's end rather than ascend! We offer a choice of 3 star or 4 star hotels. You can add on a night or two in Capri and/or Naples too.

Enjoy a choice of moderate or easy walks each day; mileages appear short but take into account many gradients on the moderate walks. You'll have peace of mind knowing that routes have been thoroughly researched by us and route notes written to ensure you will not get lost! We also provide phone support and a marked-up map and map case. There is a choice of recommended accommodation, some with sea views and sea bathing just a stone's throw away. You can choose the number of nights and enjoy eating out in carefully-selected local restaurants. You also have the freedom to walk at your own pace, linger over lunch, visit places of interest on the way.

Explore picturesque Amalfi, Ravello, Positano and Capri with memorable boat trips. We provide comprehensive background commentaries highlighting features of special interest to provide an insight into the area's history, culture and habitats. This is a week of peace, fresh air, relaxing exercise, scenic beauty and close contact with nature, leaving you feeling refreshed and relaxed. There are optional excursions to Pompeii, Herculaneum, Sorrento or Paestum.

With a classic Mediterranean climate you can walk on the Amalfi coast all year. However, many hotels are closed between November and April. The best times for walking are April/May and September/October. Summer months are hot, crowded and expensive. The sea temperature is a lovely 22 degrees in October when days are warm and crowds have gone home.

Routes are up to 5 miles/8km a day on easy walks; up to 8 miles/12 km on moderate, interspersed with visits to places of interest and breaks for lunch. Frequently routes can be shortened if required. You walk mainly on former mule tracks, stone steps and coastal paths used for centuries to link one village with another.

Each evening, eat out in one of our recommended restaurants. Nothing beats dining in one of Amalfi's top fish restaurants, the moon reflected in the water, waves lapping on the shore. It's fun to explore Amalfi's ancient stone passageways to visit yet another restaurant set in a medieval square. Lunch high in the mountains at an authentic family-run restaurant where ingredients are picked fresh from the garden and Mama cooks up a storm in the kitchen: unforgettable!

The Hotel Aurora and Hotel Residence are small, family-owned 4 star hotels, idyllically situated overlooking the sea, just five minutes walk from Amalfi's medieval centre, harbour and bus. Luxurious sea view rooms are available. Enjoy breakfast overlooking the sea. For budget options, the 3 star Floridiana Hotel is very popular, in the heart of Amalfi, close to the Cathedral, 100m from the sea.

Price guide: Floridiana £870 pp; Aurora £1,338 pp; Residence £2,320 pp.

Add-on: two nights in Capri for £191 pp; one night in Naples for £105 pp.



Day-by-day itinerary
| | |
| --- | --- |
| Day 1: | Flight to Naples followed by a transfer of 1-2 hours along the famous 'Amalfi Drive'. We provide details of either public or private transport to your hotel. The days described below simply list all the walks available to you on this vacation. You can, of course, follow the walks in any order. |
| Day 2: | Amalfi & Valle dei Mulini: (Easy 3-4 miles/ 5-6 km or Moderate 6 miles/10 km) Walk straight from the hotel to discover Amalfi's medieval heart with the aid of our comprehensive guide. From the duomo with its beautiful cloisters to one of Amalfi's former paper mills, you'll wind along narrow stone passageways so characteristic of Amalfi. For the easy walk follow a panoramic path above the harbour, marvelling at breathtaking vistas of an azure sea below. Choose a declicious icecream at a favourite gelateria before enjoying a swim on the beach opposite the hotel. For the moderate walk you'll journey through the magical Valle dei Mulini with cascading streams and sylvan glades. Lunch in sun-soaked Pontone at a memorable restaurant perched on the side of the mountain. A spectacular promontory walk follows on ancient mule tracks. From panoramic balcony paths the views are superb. Descend to Amalfi through terraces of figs and lemons via the picturesue fishing village of Atrani. Then finish the day with dinner at one of Amalfi's superb harbour restaurants, dining under the stars, the light of the moon glistening on the water, waves lapping on the shore. |
| Day 3: | Ravello: (Easy 3-4 miles/ 5-6 km or Moderate 6 miles/9.5 km) The bus take us high above Amalfi to Ravello - 'Where poets go to die' - favourite hideaway of D H Lawrence, E M Forster, Virginia Woolf as well as Wagner, Grieg and Verdi. At 1,000 feet above the Bay of Salerno, the sun shines faithfully and serenity reigns. Ravello arguably boasts one of the world's most celebrated landscapes with vistas amongst the most sublime in the whole of Italy. From the Belvedere of Infinity marvel at prospects across the Gulf of Salerno all the way to the Cilento mountains and the distant temples of Paestum. Spectacular villas and gardens, beautiful monuments such as the Duomo, a treasure chest of precious works of art, visit them all: Rufolo, immortalised by Wagner, and Cimbrone, Garbo's 'Shangri-la'. Lunch at The Garden for more stunning views across the Gulf. Finally, further explore this enchanting place before taking the bus down to Amalfi. Alternatively, meander around the head of the valley to make a foray into wild countryside. Walk through woods and cross streams to reach ancient Scala and Minuta. Then either walk down to Amalfi or take the bus - the choice is yours. |
| Day 4: | Capri: (Easy 3-4 miles, 5-6 km or 6 miles, 9.5 km)) Off by jet boat to picture-perfect Capri, a "must see" with breathtaking scenery at every turn. Following an exhilarating boat ride, the funicular whisks you up soaring cliffs to the famous Piazzetta overlooking turquoise coves. Breathtaking scenes await your every turn as you explore a network of narrow twisting lanes and stepped passageways, lined with pastel-stuccoed houses and gardens overflowing with luxurious plants, a riot of colour. Picnic in our 'secret hideaway' above the sea or lunch at our recommended restaurant idyllically situated, hidden away from the crowds. Our route leads you to the famous Villa Jovis, remains of Tiberius' pleasure palace where you can explore the impressive Roman remains. Not for nothing did the Roman emperor Augustus name Capri as the 'City of Sweet Idleness'! Follow the coastal path to the spectacular Faraglioni jutting out of the sea for more walking. Or simply relax, perhaps visiting some of the island's chic shops or the beautiful Gardens of Augustus. We also include notes for a second walk on the Sentiero del Fortini, of similar length but hugging the coast; this is on the other side of the island, from Anacapri. Then - one more treat - a spectacular boat ride back along the coast to Amalfi. For dinner tonight we recommend a renowned pasta restaurant. |
| Day 5: | Free Day: Today you can simply relax on your balcony or on the hotel's terrace and further explore enchanting Amalfi. There's the wonderful cathedral to visit as well as several fascinating museums. Sunlovers may like to visit the beach opposite the hotel to sunbathe and swim or you can take a boat to a tiny beach along the coast. If you prefer to walk, we suggest following one of the extra short walks included in your pack. Or you may elect to visit one of Campania's famous ancient sites such as Pompeii, Herculaneum or Paestum. You can join a coach excursion or we can recommend a private tour with an excellent guide who will bring history to life. All the sites are also accessible by public transport and you will be supplied with all the details you need to reach these destinations under your own steam. You could also visit Sorrento for shopping. This corner of Campania abounds with wonderful places to visit and the region's extensive and reliable bus system provides access to a wide variety of small villages as well as to the more well-known sites. Tonight you can try out yet another restaurant from our comprehensive recommended list. |
| Day 6: | Scala & The Valle dei Ferriere: (Easy 3-4 miles/5-6 km or Moderate 7-8 miles/11-13km) Bus to Ravello for a walk in the beautiful countryside beyond. Following coffee in the square, you're off into wild countryside, contouring in and out of the head of the valley through remote woodlands, crossing a stream, panoramic views accompanying you. You'll pass terraces of locally-grown lemons, beans, figs, carob to name but a few. Then there's a choice: gradually wind up to hill-top Minuta where you are likely to encounter the burros, still used to transport goods up and down the mountains. Or finish at historic Scala, in the heart of the Lattari mountains, visit the cathedral and sip a cappuccino before returning to Amalfi. For a more challenging walk, start at Scala high above Ravello. Here you'll enter a rugged hinterland of high pastures, remote woodlands and magnificent wild mountains rising to 3,300 feet. This is a more energetic walk, outstandingly beautiful throughout. Dramatic views, lush vegetation and woodlands line the route. Picnic beside a waterfall before contouring round the other side of the mountain to the hill-top village of Pogerola. Here either walk down to Amalfi on well-made steps or take the bus back from Pogerola's tiny piazza. |
| Day 7: | Positano & The Pathway of the Gods: (Easy 3-4 miles/5-6 km or Moderate 7-8 miles/11-13km) Another spectacular boat ride to Positano, the 'pearl' of the Amalfi Coast. For an easy day take the bus up above the coast to the heart of the Lattari Mountains for unsurpassed views as you walk along an easy section of the 'Pathway of the Gods'. Descend gently through enchanting hamlets lined with lemon groves for lunch high up above Positano. There is no menu, instead an authentic and memorable meal prepared by 'mama and papa' from ingredients picked from their vegetable and herb gardens. The dishes along with the local vino will linger long in the memory! Bus down to Positano to explore fashionable boutiques or pathways meandering past colourful patios set with statues and cascades of bougainvillea to delightful little beaches. The moderate walk takes you on the stunning 'Pathway of the Gods'. As you walk, clouds whizz along above whilst clumps of myrtle and rosemary tickle your ankles. Here, in the highest reaches of the Lattari mountains you walk between the sea and the sky, the views of the coast below unsurpassed. Lunch as above followed by an option to walk down to Positano past a scattering of houses, miniscule piazzas and a church to your final goal, the beach and the boat. |
| Day 8: | Atrani and Departure: (Easy 2 miles, 6 km) Depending on flight times, for a final short walk we recommend the walk to Amalfi's sister village of Atrani, a former fishing village with a delightful medieval square. Or you may prefer a final swim opposite the hotel or to stock up on Limoncello! |
| Day 9: | Maiori & Minore: (2 miles, 6 km or 7 miles, 10.5 km). We include extra notes for a contrasting walk to the east of Amalfi, accessed either by boat or bus. Choose either the Sentiero dei Limoni (the Pathway of the Lemons), a delightful linear walk between Maiori and Minore, followed by a visit to the Roman Villa and a bus back to Amalfi, or the longer walk to the abandoned monastery of San Nicolo and the Sambuco Valley, a quite different landscape with a remote village and farming communities. |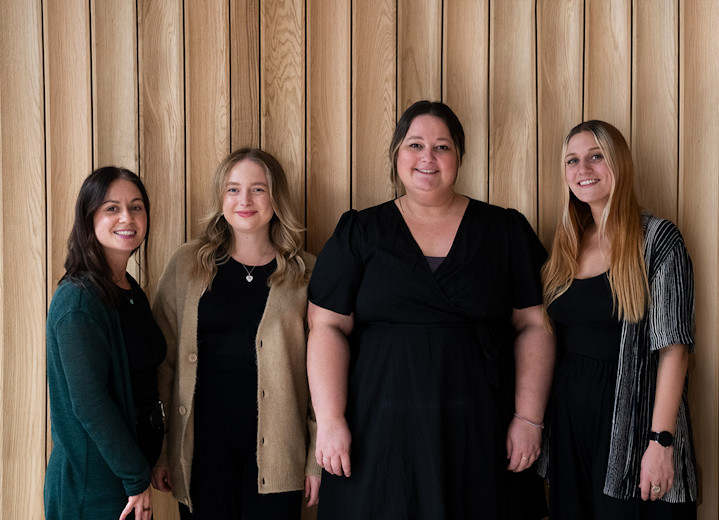 Departure information
This trip can be tailor made throughout the year to suit your requirements
Our top tip:
Take up restaurant recommendations all tried, tested and feasted upon. Proof is in the pudding.
Trip type:
Tailor made, self-guided walking.
Activity level:
Easy-moderate. With options for more advanced.
Included:
Accommodation, all breakfasts, route notes and maps.
Meals:
Lunches and dinners (£10-18) at typical rural Italian marvels.
Solos:
Solo travelers welcome. Surcharge for own room.
Responsible tourism
Responsible tourism: Amalfi Coast self guided walking vacation
Environment
We believe that by encouraging walking, the least carbon intensive way to travel, the environmental impact of travel is kept to a minimum. Where it is necessary to travel by means other than on foot, we encourage the use of public transport wherever possible and by selecting Amalfi as our base there is an excellent bus system literally on the doorstep. We aim to balance the environmental impact of traveling with the immense benefits such sustainable tourism can bring to rural destinations and to local economies. We therefore focus much of our itinerary on the Amalfi Coast in areas that are as much as possible 'off the beaten track', providing our clients with authentic experiences and, as a result, a memorable vacation very far removed from mass tourism.
The small hotel we use in Amalfi has been in the ownership of the same family for generations. The hotel shares our environmental values and has put in place various initiatives for conserving energy and for reducing waste and water consumption. Furthermore their staff are all drawn from the local community.
In our office and home we recycle diligently, in particular paper, cardboard, ink cartridges, to reduce the waste in landfill sites. We also recycle printed material by using it for message-taking, etc, being constantly alert to ways in which we can improve our recycling practices. We purchase recycled printer cartridges, paper, envelopes, labels, pens, bin liners, etc. We reduce energy use through our 'switch off' campaigns, turning off printers, photocopiers, computers, battery chargers and transformers, and personal gadgets at the end of each day. We further conserve energy by avoiding the use of 'screen savers' on our computers. We use only energy-efficient bulbs and opt for low-energy appliances at every opportunity. We are meticulous in conserving water and during winter months cut our annual CO2 emissions by maintaining heating thermostats at the lowest comfortable setting, preferring to wear extra clothing rather then turn up the thermostat. We use environmentally-sound products, eg those manufactured by Ecover. We use the lowest recommended temperatures for laundry, do not use tumble dryers at all and iron only where necessary. We discourage the use of disposable plastic bottles in the countryside, instead promoting the use of water bottles manufactured by companies such as Sigg or re-usable hydration systems.
It has been our policy for some years now to avoid printing unless it is absolutely necessary. We do not print brochures or other promotional material, preferring instead to keep our customers informed electronically via email, electronic newsletters and our website. PDF's are available for printing from our website for individuals requiring printed information. We do not send out paper invoices unless specifically requested by a customer, for example in the case of a cancellation. Instead we encourage our clients to remit their payments to us electronically via PayPal or by bank transfer. Some of our older clients do not have access to computers and in their cases we have encouraged them to use the computer facilities of local libraries.
Community
We include on our walks visits to local craftsmen and artisans; for example, on our visits to the Amalfi Coast we include a visit to a papermill to witness the process involved in the traditional manufacture of high-quality paper still made by hand. Often our clients buy the paper as gifts or souvenirs. We make a practice of introducing our clients to the local liqueurs, such as Limoncello, grown from local lemons.
On walking vacations we use only small privately-run hotels and inns, particularly those cultivating their own fruit, vegetables, oils, etc. Some of our suppliers, eg local restaurants in rural Italy, base their menus on fresh, home-grown produce harvested straight from the land they have cultivated for centuries, thus avoiding harmful transportation. Where packed lunches are occasionally required, we recommend local delicatessens, bakeries and fruiterers for supplies. Our hotel in Amalfi, family run for generations, employs only local staff.
We recommend local transport companies for airport transfers, employing local drivers, helping to increase their revenue. We also patronise local boat operators on two days of the vacation
In Amalfi we liaise with local tourist offices for knowledgeable local guides for excursions, thus ensuring our guests benefit from specialist local knowledge. On the free day, we arrange for our guests to use local transport and we have excellent contacts at Pompeii, always greatly appreciated by our clients for the extent of their knowledge and professionalism.
We believe that we have made valuable economic contributions to local rural businesses and over the years we have formed many excellent relationships with local business owners, bringing them repeat business. it is our aim to continue to do so.
Landscape
We provide carefully-researched and crafted walks in the special landscapes of Europe. We promote respect, understanding and enjoyment of the countryside, not only by example but through informative commentaries on every walk. These relate to history, rural life and traditions, flora and fauna and literature, including a poem or two.
Pre-trip literature inludes a reading list to enable clients to familiarise themselves with the history and culture of the area. We encourage people to be aware of the unique value of the natural environment through our commentaries on the countryside and rural life, its folklore, traditions and history. In this way we provide an extra dimension of meaningfulness to our clients' experiences of the countryside and an enhanced understanding and respect for the people who live and work in it, past and present. We remind people about the fragility of the countryside and how they should protect it and observe the Country Code. We also use the commentaries, an important feature of our walks, to promote an appreciation of nature, the trees, flora and fauna, food production, geology and over the years we have helped people identify plants, trees, etc. We discuss local architecture, cuisine, wines, festivals in which we participate whenever possible. We introduce literature and poetry into our walks to illustrate how the countryside and the natural objects in it has inspired some of the greatest poetry of the regions in which we walk. On the walk to Pontone for example we read extracts from Robert Browning.
16 Reviews of Amalfi Coast self guided walking vacation
---
Popular similar vacations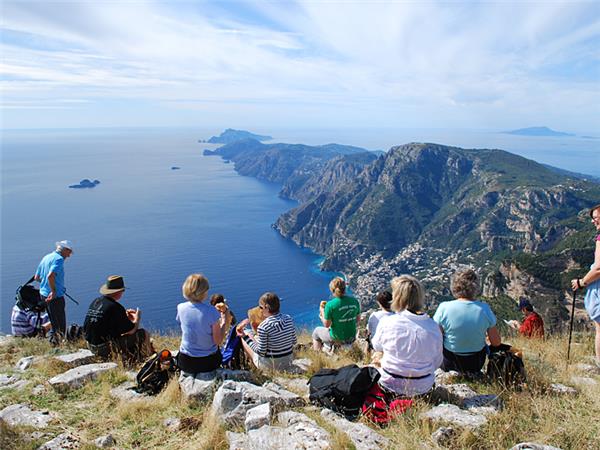 Walk in lemon groves and hillside villages
From US $1485 - US $1675 8 days excluding flights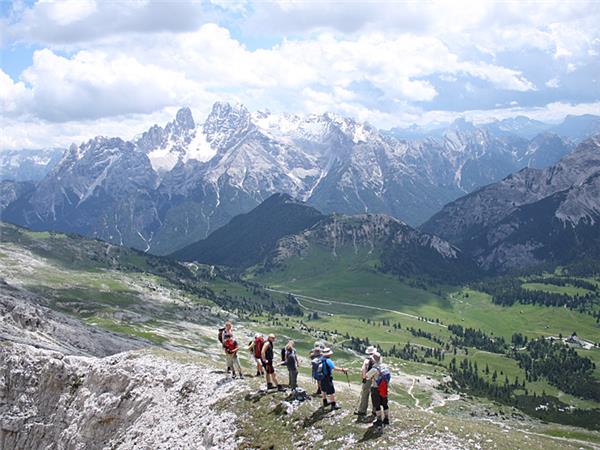 Sandwiched between the spectacular peaks of the Dolomites
From US $1765 - US $2125 8 days excluding flights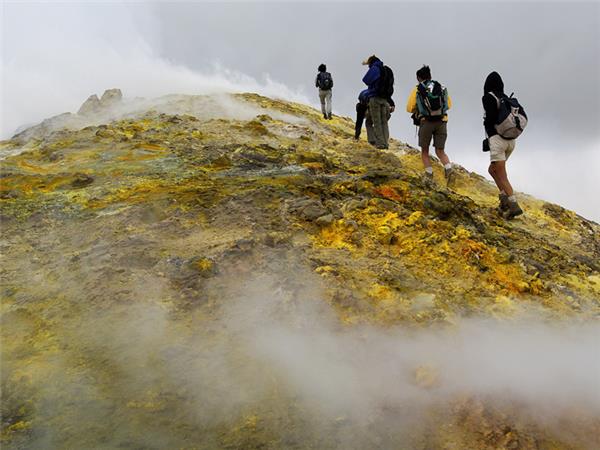 Discover Mt Etna and the beautiful volcanic achipelago
From US $1545 - US $1935 8 days excluding flights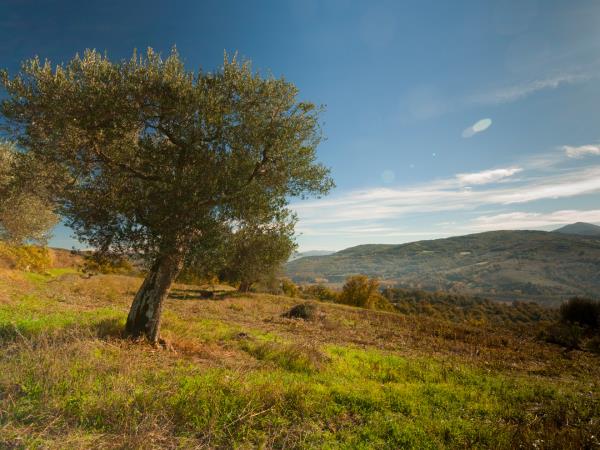 Along Saint Francis trails through the Green Heart of Italy
From €800 - €900 7 days excluding flights