"A nine-day off-the-beaten-track small group adventure through the Middle Atlas Mountains; hiking, canyoning and camping with time either side to explore Marrakech and Fez."
Highlights
Marrakech | Middle Atlas Mountains | Ouzoud Forest | Canyoning | Trekking | Bin El Oudane Lake | La Cathedrale rock formations | Auelmane Azigza National Park | Cedre Gouraud Forest | Fez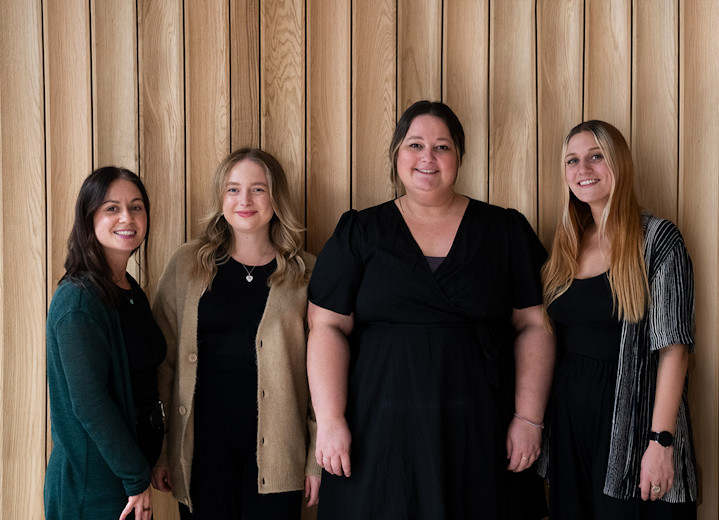 Check dates, prices & availability
Responsible tourism
Responsible tourism: Morocco Canyoning and multi-activity vacation
Environment
Since this trip is developed in an area that has not been discovered by tourism yet, the Middle Atlas region, the people and infrastructure of this area are not habituated to the impact of tourism and, of course, for us is very important to keep it this way. We have a big commitment in this sense along this tour and all the people involved are highly aware of this, providing guidance to our travelers. For example waste collection and management is absolutely essential in this tour. You won't have access to waste bins in many parts of the tour and will be advised to take with you everything. Organic waste will be collected and deposit in some parts of the trip, used for compost or animal feeding in some villages.
The tour is based in two activities developed in this area, canyoning and trekking, which are targeted to establish a specific relationship with the environment and the landscapes of the Middle Atlas. While doing canyoning, we explore the canyons and peculiar waterfalls and rivers of the Azilah province and through trekking we explore its forests. We always provide guidance alongside these activities in order to help preserve the environment and reduce as much as possible the impact of our visits, especially when it comes to canyoning, as there's an unavoidable impact on the canyons, due to the use of ropes and anchoring systems. For example, here we promote and choose to use as much as possible natural anchoring such as trees, rather than perforating the rocks, as to reduce the impact of the activity.
You will be encountering a range of wildlife during this tour, where the Barbary Ape is to be highlighted. You will be advised not to go in a big group after the monkeys taking pictures but to approach them slowly. Feeding the monkeys in small amounts and playing with them is okay but respecting their space and most importantly without approaching them in big groups with cameras. They are used to humans as for their contact with locals and this is not an issue, but we are trying to avoid making the contact with monkeys the main attraction of some areas.
Community
As this tour passes by remote areas that are not used to tourism we try to reduce the impact of our visits to the minimum. We do this in different ways and you will receive advise from your tour leader or will be able to refer to him/her if needed.
An example of this is the negative economic impact that tourism can potentially bring. If we get many travelers to visit an area and they bring huge and disproportionate amounts of money, this will completely unbalance the local system. If local communities see a radically out of proportion amount of income in tourism they will stop doing everything else (crafts, agriculture, etc) and focus uniquely on this. This is the main negative economic impact that we strongly try to avoid in our tours and that you will be advised against. How? It depends, but mainly you will be advised on the amounts that you should tip, if you wish to do so, or that you should pay for local goods. Tipping more than the local standards or paying much higher prices for things that they are worth is very negative, even if you feel they are still cheap, as this breaks the natural economic balance of the area and they gradually see travelers as enormous sources of resources. Showing you how to manage your economic relationship with the communities is one of our main purposes and one of the most efficient ways of reducing the impact on our destinations.
There's a certain etiquette regarding photos and we recommend people to enjoy their landscapes and experiences through their own eyes and leave photos as a secondary channel. Moroccan people are very reserved and, in more traditional and rural areas, photography might be seen as something negative for religious or cultural reasons. You will be always advised to ask for permission when taking photos of people.
Along your adventure, you will taste delicious home-family-made food in all your stays, sourced from the regions that you will be visiting.
The most important part of this tour regarding communities is the previous research done by which we have carefully selected the families and collaborators we work with. We don't stay in the most luxurious hotels, or the ones with highest comfort. We stay in small family-owned places which are trying to develop and at the same time provide the real authenticity and hospitality that characterises this country.
For example, in Ouzoud we stay in a small Riad, which enjoys beautiful views of the waterfalls but is an rural side of the town, and not in the more popular centre of the village, which is closer to the cascades and has fancier accommodation options.
In La Cathedrale we stay in a local mountain gite, which is used only and occasionally by locals who go trekking in the area. And in Bin El Ouidane we stay in a family-owned campsite by the lake. By choosing these accommodations we contribute to develop a specific type of tourism in the area, more focused on small groups, the environment and nature activities than on mass tourism and we help preserving the authenticity and pureness of it.
Another remarkable visit in this tour is to the locality of Zaouia d'Ifrane, a gorgeous little village surrounded by cascades but too far from the main communication roads and passing through important economic issues. You will be visiting a women's weaving cooperative, learning their craft and with the opportunity of collaborating with the community by purchasing some of their product. As mentioned above, you will be advised on how to liaise during the haggling and in terms of prices so we make sure we bring a healthy contribution to the area.
Popular similar vacations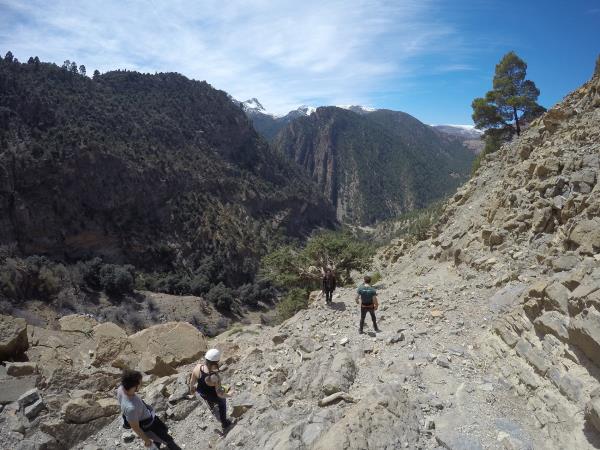 Adventure canyoning and exploring the green Atlas Mountains
From £489 5 days excluding flights
Family/friends D.I.Y. adventure - Mercantour, French Riviera
From Ä360 8 days excluding flights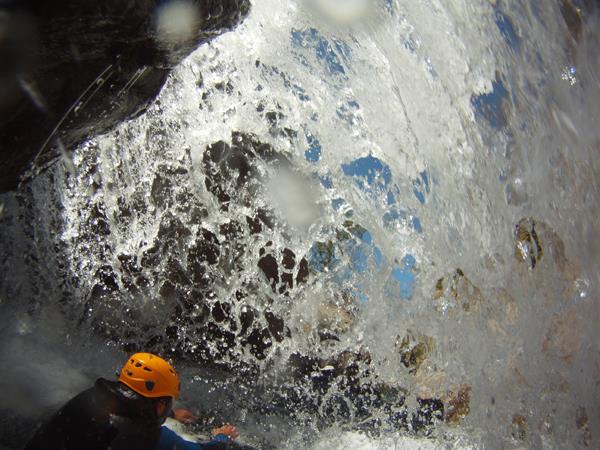 Follow the river downstream in any way possible
From £1005 8 days excluding flights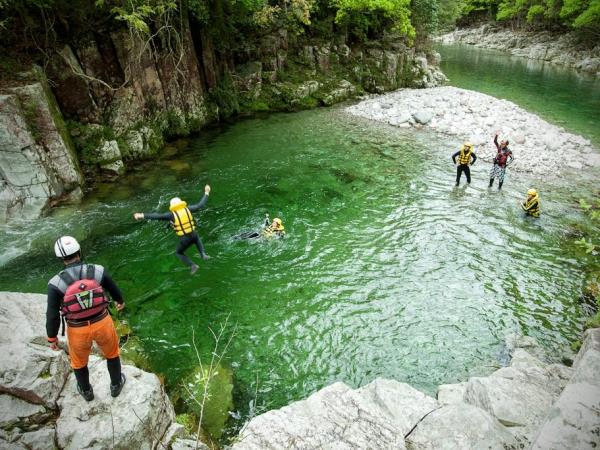 5 days of exploring one of Spainís most exciting landscapes
From £720 5 days excluding flights