"Summer in Manitoba is the time to see polar bears and beluga whales; spot the former, snorkel with the latter on this exceptional wildlife adventure."
Highlights
Winnipeg | Churchill, Manitoba | aerial tour of Hudson Bay | stay in family run lodge on western shore of Hudson Bay | marine tours | trekking and walking | wildlife watching | explore Hudson Bay coast on a Tundra Tracker | swim with beluga whales and explore by Zodiac | bird spotting | photo presentations and lectures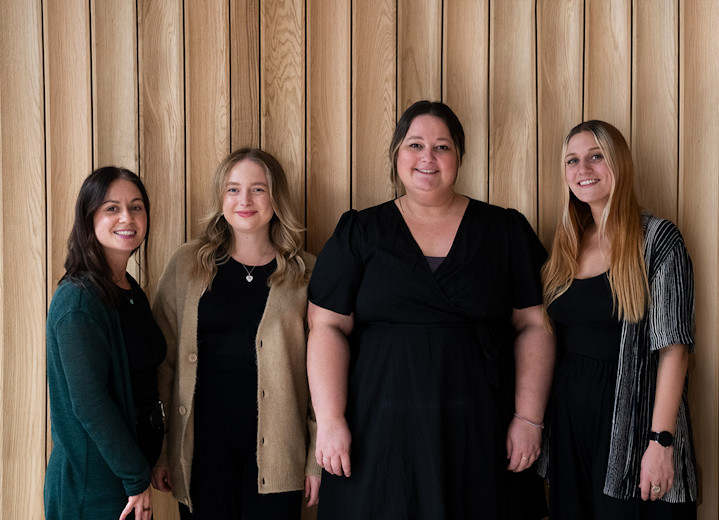 Departure information
Departures can be arranged to suit you in July and August
Responsible tourism
Responsible tourism: Polar bear and beluga whale watching tours in Canada
Environment
This itinerary includes 5 nights at the Seal River Heritage Lodge the owners of which make the following statement about their approach to responsible travel:
Environment:
Location: This is a family owned and operated ecolodge located just above the high water mark of western Hudson Bay. This location was chosen for several reasons. The surrounding area is truly wild wilderness. The beach ridge on which the Lodge is built is coarse and gravelly here, providing a very stable substrate with little vegetation to disturb. We can also minimize the efforts people need to undertake to view wildlife. The coastline is the most active area for wildlife movements – the animals come to the people, reducing the temptation to use motorized vehicles to find them.
Environmental Principals:
- We honour an ongoing commitment to enhance, rather than degrade, our natural environment
- We promote wise and sustainable use and sound conservation principles and practices for all wildlife and their habitats in our surrounding ecosystems buildings and energy sources:
- Our accommodation and infrastructure is low impact, visually and environmentally
- Buildings have been sited in harmony with the natural contours of the land
- Local craftsmen used recycled materials and woods harvested sustainably from Manitoba and Minnesota forests in construction of the lodge
- Exterior is finished with stone and driftwood gathered on site and second growth pine from more productive forests in southern Manitoba
- Sky lights & large windows for natural light
- The lodge is super insulated to reduce heating requirements
- Rooms are efficiently designed to maximize comfort and minimize wasted space
- Solar energy system reduces need for diesel consumption for power generation by 75%
- Super quiet Shindaiwa generator is highly fuel efficient and creates very little noise pollution
- Our energy consumption through generated power is kept to a minimum
- We encourage guests to turn off their lights when not in use
- No baths to conserve water
- Energy saving light bulbs throughout the lodge
- Energy saving washing machine to reduce water & energy consumption
- Grey water recycling system significantly reduces water consumption by cycling cleaned and filtered water back into the toilets
- Supplementary heat is provided by burning salvaged driftwood and standing or fallen deadwood supplemented with propane produced in Manitoba In the Kitchen
- We are proud to serve a menu of local "country foods" to minimize shipping impacts and maximize flavour and quality, including sustainably and humanely harvested local fish, game, wild berries and salad greens
- No MSG or other artificial flavour enhancers in our cooking
- We use only safe and sustainable oils and food ingredients
- We use bulk and reusable drink containers
- No plastic straws or disposable cutlery
Responsible waste management:
- Recycling and composting are a part of the way of life for the lodge
- Sewage is treated on site through vegetated leachfields
- No untreated sewage or wastewater is released into the environment
- Biodegradable cleaning items, compatible with biological wastewater treatment, are used in the guest rooms, kitchen and laundry
- We recycle glass & plastic bottles and aluminium cans
- We compost organic wastes
- All non recyclable rubbish is taken back to town for approved disposal, and given that we must fly that rubbish in the plane, there is very little of it!
- We attempt to avoid the use of any pest control measures by planning activities to minimize interactions with pests – Hiking on breezy days, out in boats on the cool bay when insects are troublesome on the land minimizing impacts on our land and water
- People power – hiking! – is our means of mobility for many of our tour activities
- We use the smallest, most economical vehicles available for tours
- All outboards on boats used for touring are 4 stroke fuel efficient engines which significantly reduce noise, gasoline consumption and chemical leakage
- All Terrain Vehicles are also driven by 4 stroke engines. Use of these land vehicles is restricted to tidal flats and beach ridges which repair any impacts every autumn during storms with high neap tides. No driving is allowed on vegetated tundra.
- Our activities aim to be as low impact as possible i.e. trekking along beach ridges and the few established trails near the Lodge
- Swimming with the belugas – we move slowly and wait for the belugas to approach us
- Bears and other wild creatures are allowed to approach on their own terms – we do not pursue or pressure them
Community
When we speak of "the local community", we mean Churchill – 50 km away, or Tadoule Lake – 180 km away!
- We promote local traditional means of harvesting and preparing all foods
- We buy our produce as locally as possible
- Most of the staff at our ecolodge is our family, plus a couple of cousins, all work at the lodge
- We train inexperienced locals and build capacity in experienced staff
- Our wages are above the recommended Government wage
- Gratuities are spontaneously offered and accepted, and shared evenly among our staff Creating employment and economic benefits for the community
- We have trained many local youths to be ecotour guides
- We support staff to complete Wilderness First Aid, Boat Operator Accredited Training and other valuable courses
- We are significant and steady purchasers of local goods and services Guest Activities
- Every day, we have entertaining and educational presentations and discussions with our exceptionally knowledgeable ecoleaders
- We provide an educational introductory booklet, and an extensive library of local and related publications Commitment to continual improvement
- We are locals – we liase regularly with our friends and neighbours in the community on environmental and social issues
- We meet daily with our staff to talk about improvements
- We constantly teach new skills to our staff – i.e. cooking, environmental management, communication skills
- Our guests are able to give feedback through feedback forms or verbally
- We strive constantly to stay up to date and do better- educating ourselves and staff to do the same.
Popular similar vacations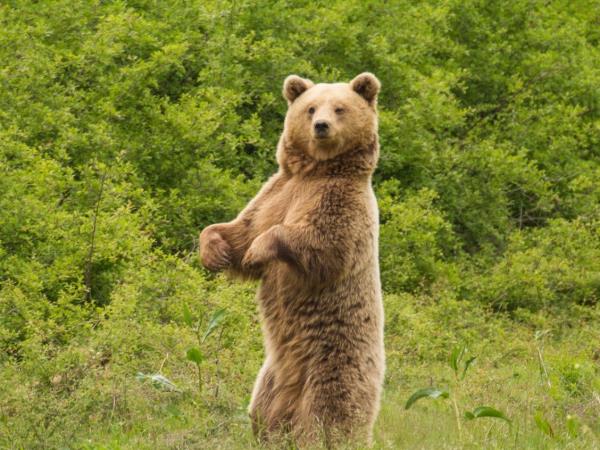 Brown bear conservation in Pindos & birds of Prespa Lake
From €800 8 days excluding flights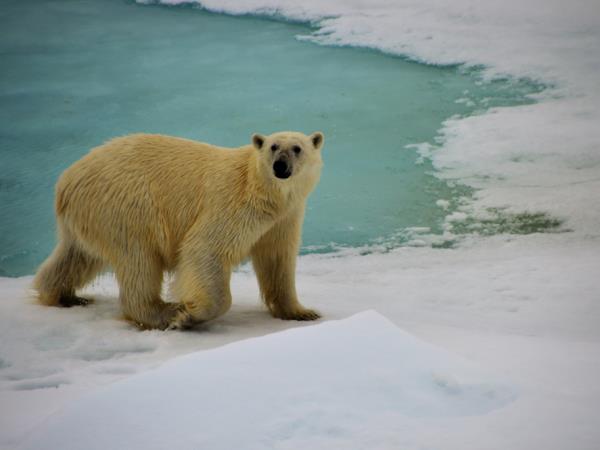 Awe-inspiring for divers & non-divers
From €3090 - €3790 8 days excluding flights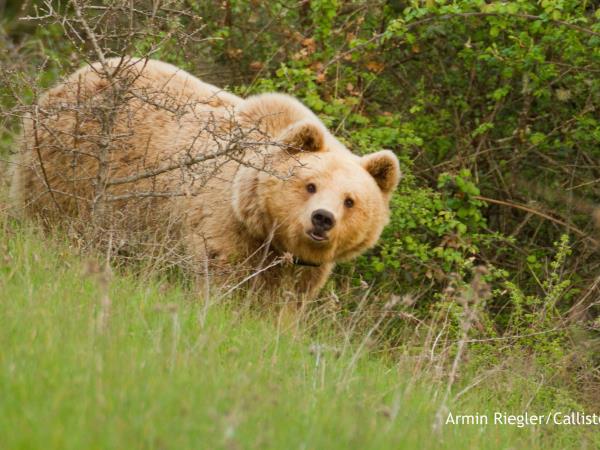 Track wild bears & explore the wilderness with park rangers
From €550 5 days excluding flights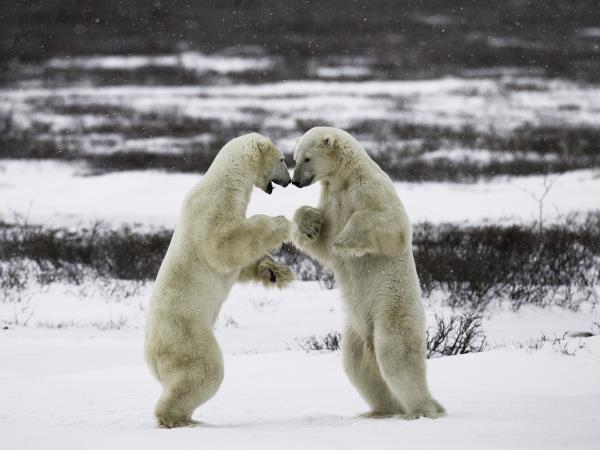 An amazing opportunity to encounter polar bears
From £5995 excluding flights