"Discover the Algarve that few see, on a week's self guided walking, supported by maps and commentaries, with a beautiful hotel as your base."
Highlights
Self guided walking | undiscovered Algarve | coastal scenery | Estoi | moderately easy walks | maps and commentaries supplied | four star hotel with pool | free day | excellent restaurants and local food
Description of Algarve self guided hiking vacation, Portugal
This Algarve self guided walking vacation in Portugal is the chance to enjoy a week of relaxed, expertly crafted self guided walks through stunning landscapes and spectacular coastal scenery. You'll be walking through areas of the Algarve unknown to most visitors.

Feel the warmth of the sun on your skin, breath pure air heavy with the scent of herbs, see landscapes filled with wild flowers and walk with complete peace of mind, knowing that routes have been thoroughly researched and tested by us, so you can be sure you will not get lost. The enhanced sense of well being that a week of peace, fresh air, relaxing exercise, scenic beauty and close contact with nature gives you, will leave you feeling refreshed and relaxed. In fact, 90 per cent of our clients return.

The walks in our programme are moderately easy and suitable for people of average fitness. A marked-up map is included in your pack, and comprehensive background commentaries highlight features of special interest, to provide an insight into the area's history, culture and habitats. As this is a self guided vacation, you have the freedom to walk at your own pace, linger as long as you like over lunch, visit places of interest on the way, which are all detailed in our notes.

The Algarve has a typical Mediterranean climate and is suitable for year round walking, although the months between June and August are uncomfortable for walking due to the heat. This vacation is based in Estoi, a small, rural hilltop village only 10km from Faro. It's worlds away from the well known tourist spots and resorts of the Algarve, with only a few shops, a bank, and a sprinkling of bars and restaurants.

Accommodation is in an elegant hilltop Pousada, a former palace, in the heart of Estoi. Unwind at the end of your walking day on the beautiful terrace, sipping a glass of something cool as you watch the sun go down. There's also the option to stay at a more modest Casa de Estoi. You'll be able to sample the region's excellent authentic cuisine, both at the Pousada and in local restaurants at lunchtime, and cool off in the hotel pool or the sea.

Day-by-day itinerary
| | |
| --- | --- |
| Day 1: | Pick up your hire car (not included in the cost) for your short drive to Estoi and your luxurious Pousada (20 minutes). Enjoy a drink on the terrace before dinner. |
| Day 2 | Tavira and Ilha de Tavira (Easy: 7 miles/11.2 km) An easy 7-mile route down to the sea to enjoy the cry of the gull and the salt-sea spray. Tavira, the 'Pearl of the Algarve', is architecturally-attractive, pictorially placed in a beautiful riverside setting complete with fishing boats and Roman bridge. Twisting cobbled streets, lined with blue-and-white tiled houses, reflect Tavira's Moorish past as you wander the streets to explore an ancient castle with beautiful gardens. Pause for coffee and a traditional pastry, the 'Pastel de Nata', in the square. You will cross by ferry to Ilha de Tavira, the largest of the barrier islands, accessible only by boat. A memorable beach walk follows where you are at one with the ocean, the wind, the wild seabirds, the only sound that of the waves gently lapping over soft, warm sand. It feels like a deserted island, totally unspoilt. Visit a tuna-fishing village in the Rio Formosa Natural Park, a so-called 'octopus capital', full of colourful boats and fishermen's huts. A seafood lunch is recommended today on the island. |
| Day 3 | Fonte de Mesquita and Sao Bras de l'Aportel (Easy: 6 miles/9.4 km) An easy, deeply rural route today, exploring the rocky countryside of the Barrocal at the foot of the great Serra do Caldeirao. This vast network of paths and tracks were all originally constructed to lead to the well or to a vegetable patch, a mill or a village. Some are very ancient and our routes actually date back to Roman times. Discover the wells and the threshing floor, cork trees and drystone walls and, everywhere you walk, an abundance of colourful flowers (depending on the season). Some of the houses you encounter in remote hamlets are very beautiful, immaculately white to reflect the heat of the sun and keep them cool inside. Some have saddle roofs for collecting the rain water; others, the more modern ones, are embellished with floral or geometric motifs. Following lunch at a traditional restaurant, visit Sao Bras de l'Aportel's old town with its narrow streets and fascinating buildings. Walk along a stretch of the Roman Road before finally visiting the fascinating Museo do Trajo housed in a beautiful 19th century mansion house, once the home of a wealthy cork merchant. |
| Day 4 | Monte Seco Circuit (Moderate: 6 miles/9.4 km) Set in the hills and valleys of the limestone Barrocal today's walk is a very scenic circuit in any season but particularly in spring when wild flowers carpet the ground. Paeoni and poppies populate the lower regions while the seemingly-dry hillsides abound with wild orchids. From the Ribeira de Algibre make your way up to the tiny hamlet of Monte Seco for a coffee at an authentic little bar. As you ascend further the views over the Algibre Valley will become increasingly extensive until finally you'll reach Monte Seco's summit at 1,000 feet. Here you may see buzzards circling above and most certainly you will find more wild flowers among the almond and olive groves. Lunch today is late, at the Monte da Eira restaurant, near Loule where you can sit out on the terrace soaking up the sun and enjoying some excellent Algarvian cuisine. Return to the Pousada where you can spend the rest of the afternoon simply relaxing or, if you still have energy left, visit the important Roman remains at Milreu at Estoi. |
| Day 5 | Today no walks are offered, allowing you to explore the village of Estoi and the locality. Or you may like simply to relax in the hotel, a wonderful location for sunbathing, reading under arbours and lunching under a large umbrella on the terrace with stunning views across the hills to the coast. There are also the Roman ruins at Estoi, just a short walk away. Alternatively, you may wish to visit Faro for the day, with its unhurried, historic charm and jumble of narrow residential streets and pedestrianised shopping area. You can either travel by bus, taxi or car. We recommend a visit to the excellent Archeological Museum. Or, if you love the sea, you can take a boat trip to the Parque Natural da Ria Formosa with its wonderful bird and marine life, flowers and islands. Faro is easily accessible, being only 10 kilometres from Estoi. |
| Day 6 | The Two Rivers: Rio Guadiana and Ribeira de Odeleite (Moderate: 10 miles/16 km) We walk along the biggest and prettiest river of the Algarve at the Algarve's unknown eastern-most end. Here you will discover one of the Algarve's best hidden secrets, unspoilt quiet beauty, lush riverbanks, panoramic hills and unspoilt villages. The Guardiana river marks the eastern boundary of the Algarve and the border between Portugal and Spain. At times the river bank will be only a stone's throw from Spain. The river is tidal all this way and as far north as Mértola. This tranquil river valley is a very different world to much of the Algarvian coast: hidden away, silent, sparsely populated, and ever more remote the farther north you travel. After lunching in the village of Foz de Odeleite, enjoying some authentic local cuisine, your route takes you along a second river, the Ribeira de Odeleite, bordered by richly cultivated fields and vineyards where the only sounds you will hear are the hushed flow of the river and birdsong, even the nightingale if you are lucky! Finish your day in the village of Odeleite following a long but totally satisfying day's walking. |
| Day 7 | Praia do Benagil to Senhora da Rocha (Moderate: 7 miles/11.2 km). Today enjoy exploring the essence of the Algarve's famous Barlavento coastline, renowned for beautiful beaches backed by crumbling ochre cliffs and onamented with surreally eroded rocks, arches, grottoes and stacks. With the addition of a few fishing boats you'll enjoy a picture-postcard scene that couldn't be anywhere else in the world. Make sure you bring your camera! Needless to say today's walk takes you to the best of this region, from a tiny fishing village to a coastal path with a wealth of wild flowers including hyacinths and orchids, to spectacular beaches. Praia da Marinha is a superb sandy beach in a beautiful natural setting, perhaps the best in the Algarve with tall sun-trap cliffs, fishing boats and huts, everyone's favourite. Apart from a couple of restaurants and bars there are thankfully no other signs of development and, as long as these beaches remain accessible only to walkers, they are likely to remain so. The walk finishes at a tiny fishing village where a welcome icecream or cool drink amongst the fishing boats brings the walking day to a perfect conclusion. |
| Day 8 | Departure for Faro airport and return flight. |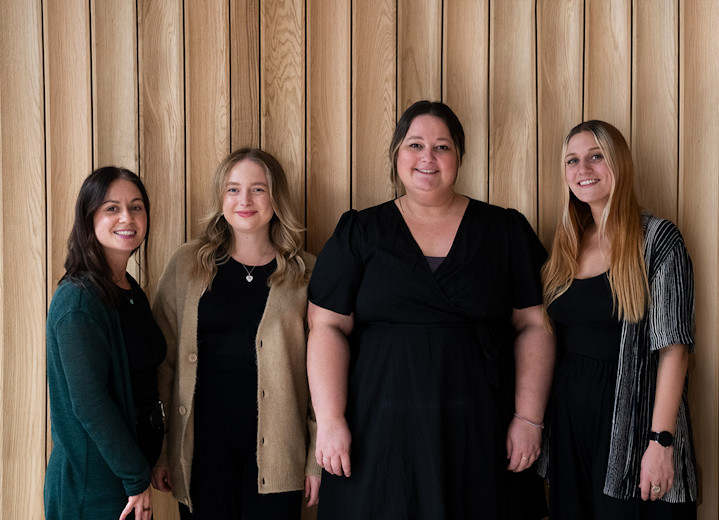 Departure information
This trip can be tailor made throughout the year to suit your requirements
Responsible tourism
Responsible tourism: Algarve self guided hiking vacation, Portugal
Environment
Walking is the least carbon intensive way to travel, keeping the environmental impact of our groups to a minimum. Where it is necessary to travel by means other than on foot, we use public or local transport. We selected Estoi as our base as it is closer to our walks than most other centres. This hotel, in this case a Pousada, is only 10 km from Faro airport, again reducing the need for lengthy transfers. This reduces our fuel consumption and keeps pollution to the minimum.
The Pousada where our clients stay, a former palace converted into a luxurious hotel, is part of the state-owned Portugal Pousadas Group formed to restore Portugal's national architectural heritage and aimed at guaranteeing its preservation. The income derived from our stay there helps to sustain this historic building and its renowned gardens. These beautiful hotels offer visitors a sense of history, culture and tradition together with regional hospitality and cuisine.
We include with our information pack our Environmental Policy and Responsible Travel Code of Conduct containing suggestions of how to be an ethical traveler. This includes tips on reducing damage to the environment, not only reducing water usage but also recycling, proper disposal of litter etc. This reinforces the hotel's policy which recommends using fewer towels and opting for showers rather than baths.
We focus our walks on areas that are as much as possible 'off the beaten track' to provide a walking vacation very far removed from mass tourism. We advise our clients to observe the country code at all times. We walk only on authorised and official paths, close gates behind us, respect all property, admire but never interfere with any vegetation such as flowers and trees and never harm farm stock or any local fauna. We have restricted this group to the Algarve to a maximum of 12 to minimise our impact on the countryside. The principle we observe is to enjoy the countryside but to leave it completely intact and as undisturbesd as possible. We also teach our clients through regular commentaries throughout our walks to understand the natural environment, man's relationship with it, and what he can do to help conserve it for future generations.
We care for the natural enviroment whether we are organising walking vacations from our office or leading groups abroad. In our small home office we recycle paper, cardboard, ink cartridges and printed material to reduce the waste in landfill sites. We purchase recycled printer cartridges, paper, envelopes, labels, pens, toilet tissue, bin liners. We turn off printers, photocopiers, computers, battery chargers and transformers at the end of each day and avoid 'screen savers', use energy-efficient bulbs and low-energy appliances. We cut CO2 emissions by maintaining heating thermostats at the lowest comfortable setting. We do not use tumble dryers nor take disposable plastic bottles to the countryside, instead promoting the use of water bottles manufactured by companies like Sigg. We do not print brochures, keeping customers informed electronically via email, electronic newsletters and our website. We encourage clients to remit their payments electronically via PayPal or by bank transfer.
Community
We support local projects, shop keepers, small businesses, village cafes and small restaurants, craftsmen, and artisans. For example, on each walking day, we patronise small cafes and restaurants for lunch and where available visit small souvenir shops, small art galleries and potteries, basket makers. We encourage our clients to make small purchases, thereby bringing money and encouragement to each of these concerns.
The Pousada or hotel is located in a small village which suppies the hotel with most of its staff, so in this very direct way, we play some part in sustaining the economy of a local community. Our contribution to the local economy is particularly important now that Portugal is suffering from severe unemployment problems. Tourism has never been more important to Portugal's economy than today. The hospitality and the agricultural industries are interdependent. For example, we take our groups to restaurants for dinners and lunches. Most of these establishments prepare their menus from locally grown produce purchased from local farming families who have worked the land for centuries and are now struggling to survive.
When packed lunches are required, we use local bakeries, delicatessens and fruiterers for our supplies. Our clients use the local village attached to the hotel for all knds of visits, for example to the pharmacy, the grocer and its several cafes. On the day we do not arrange a walking excursion, our clients usually take the local bus to Faro where they visit the museums, choose restaurants for lunch and do some shopping. Traditional Algarve products, such as high quality sea salt produced in local salt pans, is one of their favourite 'must buys'. This is obtained at a reasonable cost at the tourist office which is always an interestring place to visit for learning more about the region. Our clients would have had the opportunity on one of their walks with us of seeing local salt pans where the product is produced. Visiting the museum at Sao Bras d'Alportel to see the National Costume Collection and the cork museum is one of the cultural highlights of the vacation. Having walked through some of Algarve's superb cork forests led by a local specialist guide, our clients now have an opportunity to see how the cork is processed and converted into attractive products.
We use only local transport companies and their drivers for airport transfers and for shorter local journeys where necessary to and from the walks. We patronise local boat operators for trips to places like Tavira Island. We liaise with local tourist offices and employ knowledgeable local guides to take our groups on excursions to ensure our clients benefit from specialist local knowledge and local guides benefit from our prescence. For example, on their visit to Faro, our clients are taken on a tour of the old city and introduced to the history of the region.
We believe that we make a valuable economic contributions to local rural businesses, bringing repeat business, and it is our aim to continue to do so.
1 Reviews of Algarve self guided hiking vacation, Portugal
4 out of 5 stars
---
Reviewed on 18 Feb 2018 by Susan Ryde
1. What was the most memorable or exciting part of your vacation?

The pousada at Estoi was remarkable, the building, gardens and food. They made a great deal of effort to accommodate my dietary requirements.


2. What tips would you give other travelers booking this vacation?

Pre-plan the sequence of your weeks walking to avoid restrictions due to hunting, cafe closures and no buses etc.


3. Did you feel that your vacation benefited local people, reduced environmental impacts or supported conservation?

Benefited the local people but with the amount of driving to the walks questionable regarding environmental impact.


4. Finally, how would you rate your vacation overall?
---
Popular similar vacations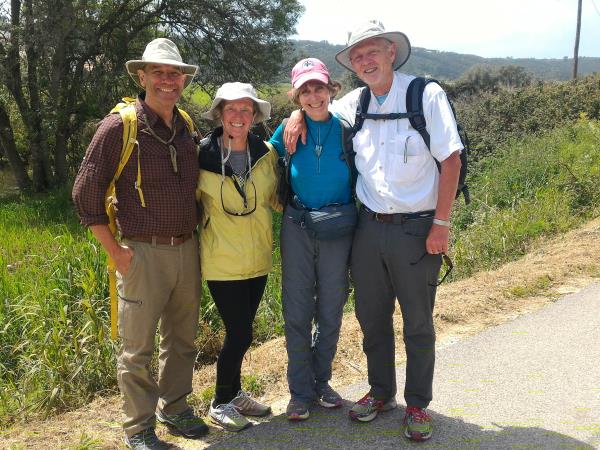 Independent coastal walking vacations in the Alentejo Coast
From €460 8 days excluding flights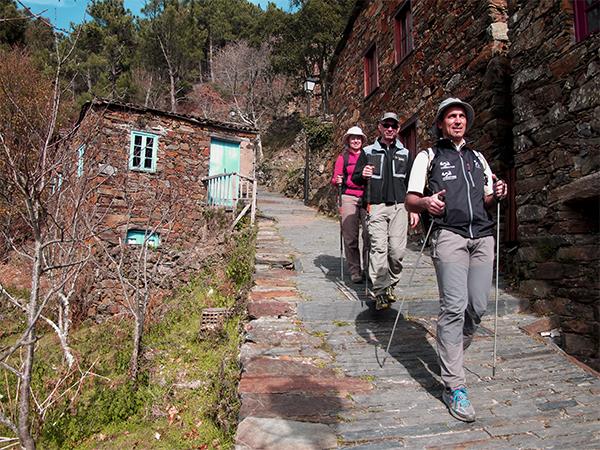 Self guided walking tour in Portuguese Schist Villages
From €750 - €1080 8 days excluding flights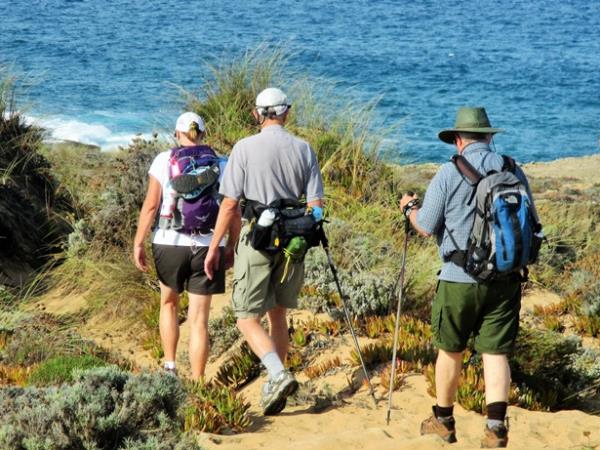 Walk the Fishermen's Trails along Rota Vicentina's landscape
From €370 6 days excluding flights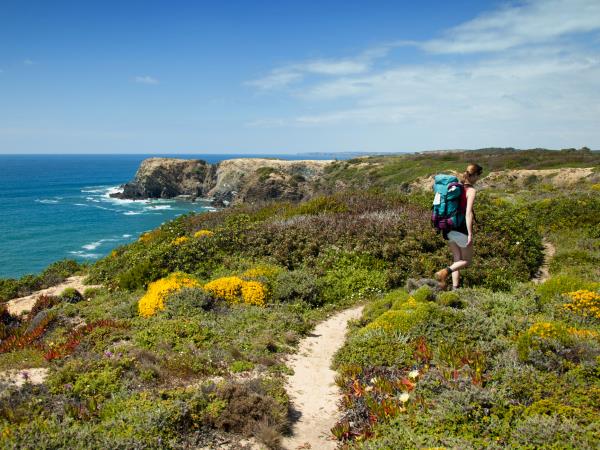 Southern Portugal self-guided walking vacation, tailor-made
From £554 - £859 8 days excluding flights