Disabled access vacations in Catalonia
---
CATALONIA FOR ALL
Catalonia has a strong streak of independence. Of pushing for what they believe in, cultivating a sense of identity and community, and so it is not really a big surprise that they come out as one of the top places in the world for putting accessible tourism on the map. And we mean all over the map, not just a business here and a business there, but all over their beautiful region. Politics aside, Catalonia is like another country within Spain, but in terms of accessible tourism, they are worlds apart from most other vacation destinations. Yes, the tourist board is sponsoring this guide. And so yes, we are likely to praise it. But we want to praise every accommodation, activity, transport organisation, park, beach and restaurant that has made disabled access vacations in Catalonia possible. Without them Catalonia's 'Tourism for All' would just be tourism for some. And we think that 'All' is awesome.
Tourism for all
---
This is Catalonia's strength. As a region it has refused to put people with access issues into a box, offering 'special' accommodation or activities, but simply ensuring that what they have on offer already caters for as many needs as possible. At the moment, their website is fully accessible, and can be linked to from the main tourist board website. Their aim is to fully integrate the two one day, but in order to ensure that the website was suitable for everyone's needs, it has to be separate at the moment, from a technical point of view. The link is
turismeperatothom.com
meaning, of course, Tourism for All.
Regions rock
---
Instead of just sticking up a list of businesses that were able to cater for people with access needs, Catalonia had so many people committed to change that they were immediately able to recognise whole regions committed to inclusive tourism. Recognising, therefore, that it is no good just having a lovely hotel if you can't negotiate the whole area easily. They started with 19 regions within Catalonia, in 2007, and now have 26. All contrasting in their landscape loveliness – such as Val d'Aran, the ski area, with "adaptive skiing lessons" and "adaptive equipment: bi-skis, mono-skis with different seat sizes, stabilisers". Or Costa Daurada where, among many things on offer, there is a scuba diving centre with qualified experts in accessible diving. The stunning Sant Llorenç del Munt i l'Obac Nature Park has a plethora of accessible accommodation, from hotels to rural cottages, and the Costa Brava has kayaking, sailing and cycle trails all ready to welcome you, whatever your needs.
Integrated internet
---
Not only is the tourist board's website packed with information, its technology is fully integrated using the AAA system, meaning that their web content conforms with accessible guidelines. If you have access issues, it is likely that you will have software on your computer which makes their website even more accessible. As well as having audio facilities, and signed videos, it has also been designed with low key colours, to make it easier for people who are visually impaired. Even the graphic on the website is cool, representing people with all sorts of needs, from babies to blind people, those on walking sticks or wheelchairs. All in all, their website is a win win.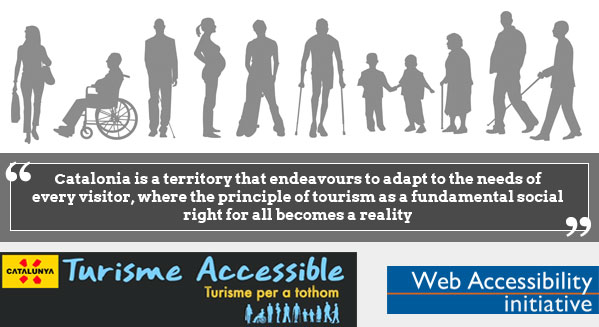 Further planning
---
The Catalonia Tourist Board does advise visitors to inquire directly with any business mentioned on the website, just to make sure that their specific needs are catered for. However, that being said, the information provided is already in much more detail than most tourist boards around the world, stretching way beyond the 'wheelchair friendly' mentality. It also incorporates not just tourism businesses, but also protected spaces, transport and other organisations, adding to the success of Catalonia's holistic approach to access in tourism.


"Catalan Tourist Board's
concept of accessible tourism must be based on the principle that tourism is a fundamental social right for all
, since for people with disabilities or reduced mobility and for everyone, the activities included under the categories of tourism and leisure are key to enjoying quality of life. This initiative is
underpinned by the fundamental principle that tourism accessibility must be conceived as a factor that is intrinsic to the "quality of tourism products"
, promoted for many years by the Catalan Tourist Board and the Directorate General for Tourism.
Accomplishing high-quality tourism is essential for achieving the full satisfaction of the tourism customer and to ensure the competitiveness of the Catalan tourism industry
. "
– Catalan Tourist Board,
tourismforall.catalunya.com
The Way of St. James (Camino de Santiago)
---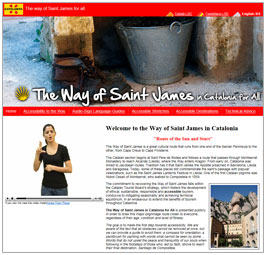 The El Camí de Sant Jaume as it is in Catalan, deserves special mention. This is the other name for the Camino de Santiago which traverses Catalonia, and the tourist board has an accessible tourism website dedicated to it. Called, of course,
The Way of St. James for All
. Like the Way itself, the website is a world leader, with pioneering accessible technology to support tourists' needs when preparing their trip. With videos throughout the website, where you can see signed versions of the site's contents, you can also download MP4 audio and sign language guides for different stages of the Way.
So while the website also highlights segments along the way that are suitable for those with mobility issues, it also recognises the needs of people who can negotiate the way by foot but who might have sensory disabilities. Now they too can enjoy the Way, and learn about the history and culture of its towns and villages, with the use of technology that not only highlights places along the Way, but also leads the way in terms of fully integrated tourism facilities.
Responsible Travel would like to thank Catalunya for their sponsorship of this guide