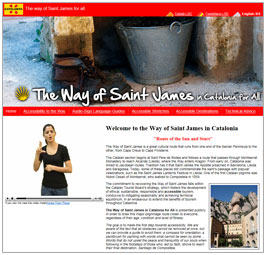 The El Camí de Sant Jaume as it is in Catalan, deserves special mention. This is the other name for the Camino de Santiago which traverses Catalonia, and the tourist board has an accessible tourism website dedicated to it. Called, of course,
The Way of St. James for All
. Like the Way itself, the website is a world leader, with pioneering accessible technology to support tourists' needs when preparing their trip. With videos throughout the website, where you can see signed versions of the site's contents, you can also download MP4 audio and sign language guides for different stages of the Way.
So while the website also highlights segments along the way that are suitable for those with mobility issues, it also recognises the needs of people who can negotiate the way by foot but who might have sensory disabilities. Now they too can enjoy the Way, and learn about the history and culture of its towns and villages, with the use of technology that not only highlights places along the Way, but also leads the way in terms of fully integrated tourism facilities.