When to go on a small ship cruise in Alaska

My father has a summer solstice birthday and he'd always wanted to celebrate it seeing whales. And we did, for his 70th. I think we saw almost as many whales as he had years.

The skipper always knows the best time to go on a small ship cruise in Alaska, and most head off into the thawing waters around May, docking up for winter around late September. Temperatures range between 12-15°C but reach 20°C in Jun. Peak season for prices is Jul-Aug. Wildlife wise, Jun-Jul are great for humpback whales and May-Jun for orcas. Bears are busy between Jul-early Sep at the mouths of rivers where salmon are taking a chance with destiny in search of spawning grounds. On land, mid Jun-end Jul is pretty bad for mossies, so be prepared.
Our Alaska cruising Vacations
Our top Alaska cruising Vacation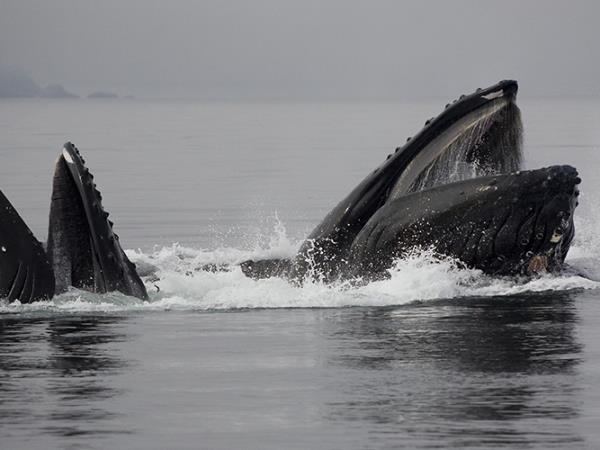 Get close up to Alaska where the big ships can't go
From
£

3999
8 days
ex flights
Small group travel:

If you'd like to chat about Alaska cruising or need help finding a vacation to suit you we're very happy to help.

Cruising in Alaska, month by month
The best time to go on a small cruise ship in Alaska is between May and September. This is when most set sail, and waters are navigable. The giant cruiser bruisers are at their most prolific in July and August, so be prepared for crowds in the Alaskan capital, Juneau. May is wonderful in Alaska because the wildflowers burst into bloom. Rain does occur all year round; the famous temperate rainforests are a feature of that. Ketchikan has the highest rainfall in the country, although the driest months are between May and September. Alaska does get mosquitoes but on the open water they won't be a problem. The worst mossie time is mid June until the end of July, so protect yourself if you are on land at dusk or dawn. A night frost kicks in by August in Alaska, so bring a warm fleece for hanging out on deck. Although Alaska's main summer solstice celebrations in June take place in Anchorage, which isn't on our small ship cruise itineraries, this splendid longest day of the year will be celebrated on board, no doubt. A ship is a spectacular place to experience it, too. Although it feels like another world, Alaska is of course a US state so the 4th July celebrations are bigly. To see bears banqueting, July and August is when migratory salmon start to arrive. This is like Christmas for grizzlies. The best time to see humpback whales in southeast Alaska is July and August. You may be lucky enough to spot moose during late August or September. These autumn months are also when the leaves start to turn. The best time to see the Northern Lights on a small ship cruise in Alaska is in September, but also in the early morning hours between midnight and about 4am.
More about Alaska cruising