Visiting Belarus, Moldova & Ukraine together
"We've been using the same homestay for about five years now," says Jim O'Brien, director at our travel specialists Native Eye. "With an older couple who have converted their house with a few rooms for travelers... who they like to ply with food." Being treated to typical Belarusian hospitality, as a guest in a traditional rural village, isn't a typical way to experience this under-explored country. "It's definitely not somewhere that would attract tourists because there's nothing there," says Jim. But that's exactly why tours go. Staying in a town that's changed very little since the fall of the Soviet Union, where people still pick berries and forage for mushrooms, offers a much more realistic feel of Belarus. "It's like the difference between London and any rural town in the UK, you know?" says Jim. "When you go to London, are you actually seeing the real UK?"

It's all part of what Jim considers 'slow travel' here; staying in lesser-visited, rural places and getting to them by public transport. On a multi-country tour, trains are another way to make up for shorter times in destinations and help you to integrate with local communities. "It's a nice way to meet people," Jim says. "Passengers tend to hang out with the corridor doors open," – it's easy to stop and chat to locals who are likely to be inquisitive about your travels.

Multi-country tours are an ideal introduction to lesser-known places. But for these trips to work, you have to travel with the right vacation company – otherwise you're bound for a whistle stop sightseeing tour where you'll come away still knowing very little about the places you've been. It's what makes homestays such an important part of cultural trips. But even more important are your guides. "We use local guides in each country," says Jim, "and our guides tend to be young, university educated, and very knowledgeable," meaning you benefit from their lifelong knowledge and experience, and can listen to tales of growing up in countries with often complex histories.
Highlights of Belarus
World War II almost wiped out the Belarusian capital, Minsk. Around 85 percent of its buildings were bombed to the ground, its infrastructure obliterated. From the 1940s, the city was rebuilt, but its historic center replaced by Stalinist structures; large public squares, imposing monuments and grand avenues. Left largely unchanged since then, it's a fascinating place for anyone interested in Soviet architecture, and a lingering insight into what life was like behind the Iron Curtain. For everyone else, it's greener, cleaner and more cosmopolitan than you might have heard.

Dominating the ruins of Brest Fortress is a fantastically cartoonish Soviet monument that will make many tourists do a double take and wonder, 'Why have I never seen or heard of this before?' The massive brutalist monument, cut from concrete of course, features the face of a furiously defiant soldier, facing off the surprise 1941 German invasion during Operation Barbarossa. Brest was titled the Soviet Union's 'Hero City' for the part a handful of soldiers played in attempting to hold back the advance of the German Army.

Belovezhskaya National Park is better known to anyone with an interest in rewilding as Bialowieza Forest – its Polish name. This immense primeval forest, one of the last and largest remaining in Europe, is split in two by the Belarusian-Polish border. Once the hunting ground of Polish princes and Russian tsars, the forest's most famous residents have only recently returned in sustainable numbers to their ancestral home. The European bison: a great success story for reintroducing native species, but one that shouldn't overshadow the other forest wildlife, from wild boar and horses to white storks and eagle owls.
Highlights of Ukraine
"Lviv is a really underrated city," says Jim O'Brien. Like other Eastern European cities once part of the Austrian Hapsburg Empire (1772-1918), Lviv has changed hands a few times, giving it a very western flavour. Its cafe-lined, pastel-coloured, little cobbled streets would look at home in France or Italy. A 'little Paris' some people call it – but without as many tourists. Spared the worst of World War II's wrath, its pretty, historic center is well preserved, and now a UNESCO World Heritage Site.

If you're taking a tour of Ukraine, there's a good chance you're interested in seeing Chernobyl. After all, the infamous explosion of the power plant's reactor, and the radioactive fallout that followed, are an important part of the country's history – one that the Soviet Union unsuccessfully tried hard to keep secret. Of course, not everyone wants to visit one of the world's worst man-made disaster zones and, if that's you, your tour likely offers an alternative option. Strict limits on how long you stay and where you can go make the site safe, but no less sinister, to visit.

Poland, Slovakia and Romania – these are the places that spring to mind when we think of the Carpathian Mountains. But take the time to visit in Ukraine, where this mammoth mountain range is home to the Hutsul. This ethnic group has kept its traditional culture alive and very visible in the more remote mountain villages, and people often wear colourful, patterned clothes. Your tour might even spend a night in a village guest house, where you can wake up to views of snow-capped peaks and forests populated by wolves and lynx.
If you'd like to chat about Belarus or need help finding a vacation to suit you we're very happy to help.

Highlights of Moldova
Could Chisinau be the least-known of Europe's capitals? It's certainly the least-visited, along with the rest of Moldova. Parts of it are very pretty; it has more green spaces than most major European cities and its center is awash with wide, tree-lined avenues and whitewashed buildings. You might spot chess being played among the trees of its leafy parks, or hear the sounds of one of Moldova's many festivals. But most interesting is Chisinau's proximity to Moldova's impressive wineries, especially the labyrinthian underground cellars – the largest in the world – just a short drive to the south.

Transnistria is a bit odd. For a start, it doesn't officially exist. Ethnically closer to Russia, its inhabitants declared their independence from Moldova at the end of the Cold War, which caused a much smaller, local war. The breakaway state now exists peacefully, albeit not on any map, with the rest of Moldova. Although, across the River Dniestr – the natural border after which Transnistria is named – things seem to be stuck in the past; it's almost as if the Soviet Union was still standing.

Orheiul Vechi monastery attracts more visitors than almost anywhere else in Moldova – mostly Eastern Orthodox pilgrims come to pay their respects. The complex of churches, passages and caves, some of which were dug out thousands of years ago by Dacian tribes, has partially been carved into a cliff above the Răut River. Its stark, natural surroundings are as impressive as its icon-packed churches. Shut down by Soviets and abandoned until the 1990s, the site has now been restored by a number of monks that once again live within the monastery.
More about Belarus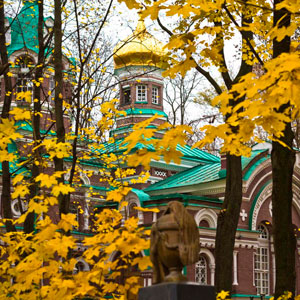 Best time to go to Belarus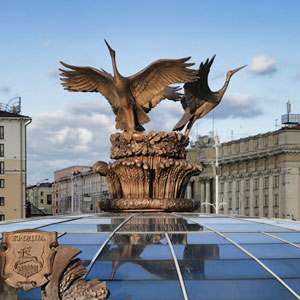 Belarus is largely overlooked by tourists, but after reading our Belarus travel guide, you might be wondering why.