Bird watching highlights in
Trinidad & Tobago
---
BIRD'S EYE VIEW OF PLACES TO GO
The fact that bird watching vacations in Trinidad and Tobago are usually about two weeks long is a good hint as to just how many wonderful experiences you can have in this dual island nation. On Tobago, the Main Ridge Forest Reserve is not only the backbone but, with all that rainforest, also the lungs. Its birdlife will get your heart racing too. The magnificent frigates on Little Tobago will steal your heart, as they did Sir David Attenborough's when he filmed here. You don't have to go far to see one of two national birds here either. The cocrico – or rufous-vented chachalaca – is omnipresent on Tobago, and the other, the scarlet ibis, is a sunset regular in Trinidad's Caroni Bird Sanctuary.
Asa Wright Nature Centre
Formed in 1967 by group of naturalists and bird watchers in the Arima Valley and Northern Range, Asa Wright's lodge accommodation is the perfect vacation base. It's an exemplary nature conservation area on a former plantation with over 1,500 acres of towering rainforest. At the last count, there were 166 species in the grounds, highlights including the colony of crested oropendola, hawk eagles and toucans.
Caroni Bird Sanctuary
Most famous for its heart stoppingly gorgeous scarlet ibis, one of the national birds. This mangrove wetland turns into a night at the ballet at sunset when thousands of these red beauties swoop in en masse to roost. Take a boat trip through the water maze with famous Nanan's Tours, named after Winston Nanan who got this magical place protected back in the 1970s. That's Trini for you.
Grande Riviere
Trinidad's famous leatherback turtle nesting beach is protected by Grande Riviere Environmental Awareness Trust: GREAT. And great it is. With locally trained guides from a community where turtle poaching was once the norm, ecotourism now rules the waves. This is a must on any nature tour, and bird watchers will also have all eyes open for the critically endangered Trinidad piping-guan, the island's only endemic bird.
Little Tobago
It's like music to a birder's ears when they hear that an island is uninhabited, and indeed, the sound of birdlife on this forested island idyll will be too. Just 20 minutes by boat from the main island, it's most famous for the red-footed booby, red-billed tropicbird and magnificent frigate. A protected wildlife sanctuary since 1924 you can explore it on foot. But do also snorkel en route in the shallow, reef rich waters.
Main Ridge Forest Reserve
This tiny island of Tobago is home to one of the oldest protected forests in the world, so designated in 1776. It is like one giant nest for over 220 bird species with myriad walking trails to spot them on. Favourite feather friends include motmots, manikins and sabrewing hummingbirds. Other wildlife includes iguanas and armadillos in this UNESCO site which forms the most beauteous backbone of the island.
Nariva Swamp
A vast freshwater swamp, habitat not only to manatees, caimans, anacondas, boa constrictors, red howler and capuchin monkeys but also more than 200 bird species. You don't associate bright and beautiful things with a swamp, but the blue-and-gold or red-bellied macaws, red breasted blackbirds, yellow-headed caracara and green-rumped parrotlet are just a few to contest that. You'll be swamped by beauty here.


Advice for bird watching in
Trinidad & Tobago
---
LITTLE BIRDIES TOLD US

Vivianne McGrath from our top supplier of bird watching vacations in Trinidad and Tobago, MotMot Travel:
What to expect
---
"This is a nature trip, so it is not for anyone who wants five star, resort-like service. You also have to be patient for this trip too. Patient for nature, but also patient for people, because that is just the way they are here. If you want slick resort service, this is absolutely not for you. If you are happy to go with the pace of life here, and just watch and wait for nature, it will be wonderful. "
Cultural tips
---
"There is music everywhere in Trinidad and Tobago. Calypso really is the sound of Tobago. But of course if you really want to chill, steel band is just great and going to pan yards before Carnival to hear them practising is one of my favourite things to do. "
"In Grande Riviere, in the north east of Trinidad, where you go to watch the turtles, they have these amazing people who live in that area called the Earth People. They live a life that is a cross between Rastafarianism and different African religions. But basically they believe in the natural world and the earth. There is a character called Jacatan, and he is a guide who works in that area."
Other island wildlife
---
"You will see every type of natural life on this tour from snakes to spiders, bats, all kind of things. And you have to love nature, because the place where you stay, Mon Plaisir, on the beach where the turtles live, bats fly in and out of the room at night. It is very comfortable and it has all the mod cons that you want, but it doesn't have glass in the windows. I don't mind them as long as they don't fly into me, and I always worry that they might, but of course they never do, because they have radar."
Packing tips
---
"Don't forget to have a shower proof jacket in your daypack on this trip, in case there is a short sharp shower, which is often the case in the rainforest. It's not a rainforest for nothing."
Best time to go
---
Newton George, expert birding guide with MotMot Travel in Trinidad and Tobago: "The best time of year for birders is from November to April. Most nesting begins in January but they start getting together in November. The red-billed tropicbird can also be seen on Little Tobago from November to March; that's when they are nesting – and they can't move from their nests. Some species nest early – especially hummingbirds. Outside of this time, from August to September, thousands of waders come in from North America."
Bird watching vacations advice
---
TIPS FROM OUR TRAVELLERS
"Take plenty of travel sickness pills with you if you suffer as the roads are windy, steep and pot holed. A few snacks might be handy as although the food is lovely there is limited access to shops. Go on the Caroni swamp trip – it was a great way to see a variety of wildlife, as well as the scarlet ibis. I was glad I invested in a new set of binoculars-there's plenty to see." – Rosie Sutcliffe

"In Trinidad: start your trip with a couple of nights at Hacienda Jacana for perfect relaxing acclimatisation. At the Asa Wright Centre be sure to visit the Caroni swamp and the oilbird caves (pretty strenuous uphill walk on the way back)… In Tobago: If you have a week split your time between Blue Waters on the east coast for bird watching trips (though snorkelling is disappointing) and Kariwak Villas on the west coast for a lovely environment and proper Caribbean beaches." – Brian McDermott

"Take bug repellent, long trousers, a variety of footwear (for when the biters get through and the one pair of sandals you'd brought rub your bites!)" – Julia Chandler

"When snorkelling, give turtles plenty of space to come up to take air, otherwise they can suffocate. A travel camera (bridge type) is sufficient for most bird photos. Be prepared to 'tip' a local unofficial 'guide' who will tag along and show you around a village, to good effect! Otherwise, a polite, but firm "no thank you" will suffice. Ask your guide/driver about politics/history – we had some great insights, but you might have to take some opinions with a pinch of salt - you will hear individual's versions." – Mike Edwards

"If possible try to visit Asa Wright on Trinidad first. We felt that doing it this way round familiarised us with many species, and also gave us a relaxing end to the vacation at the Blue Waters Inn on Tobago. We are not beach people but we loved sitting on the deck in the shade at the hotel watching the sea, enjoying the breeze and watching the birds at the hotel. By then many were familiar friends, very habituated to people and unafraid, giving us close and delightful encounters. (Such as the ruddy turnstones who wandered into our room!)" – Beverly Tabor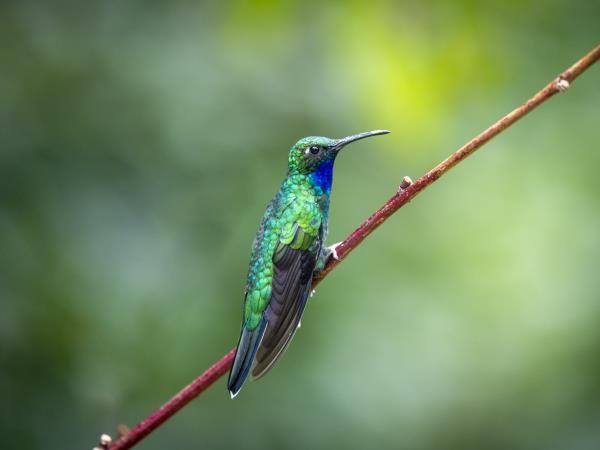 Spectacular bird watching in the Caribbean
From
£

1435
7 Days
ex flights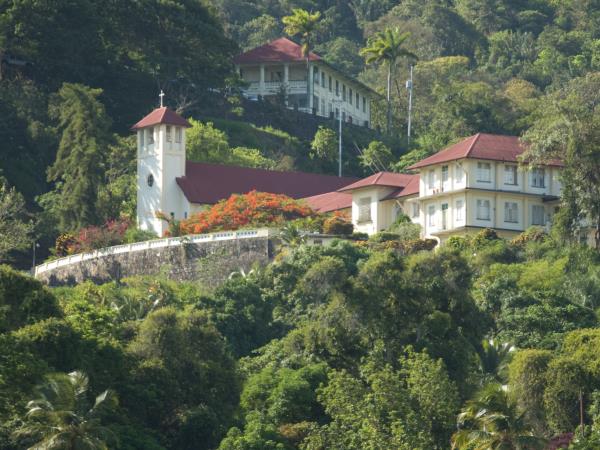 The best of Trinidad & Tobago's widlife and natural scenery
From
£

3345
15 Days
ex flights