Bolivia map & itineraries
---
Make the most of your time
Traveling around this enormous, high altitude nation is all part of the adventure. Many tailor made and small group tours use public transport – from comfy sleeper coaches to local minibuses – as well as private vehicles. As the Andes give way to the Amazon, the bus window becomes a real-life IMAX screen of sweeping jungle, soaring, snow-clad peaks and precipitous drops, the roadsides lined with terraced farmland and indigenous villagers. Flying is advisable for some of the longer stretches, especially in the wet season. Thanks to the weather, strikes, protests and general unpredictability, travel schedules rarely go to plan; always plan to arrive a day ahead in case of disruptions.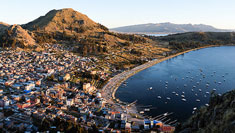 Copacabana
This picturesque town gleams on the shores of Lake Titicaca. With its whitewashed buildings, little marina and lake and mountain views, it has something of a high altitude resort feel. Climb Cerro Calvario (Calvary Hill) for awesome panoramic views, and to see the seven stations of the holy cross. You might even catch an Aymara-Catholoc ceremony, performed with incense and beer.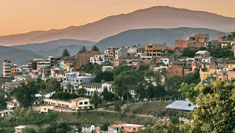 Coroico
Known as the town at the end of the Yungas 'Death Road' – the precarious route beloved of downhill mountain bikers - Coroico is actually a tranquil little pueblo, with a warm climate and subtropical vegetation hinting at the jungle that lies beyond. Single and multi day treks take you to idyllic rivers and coca and banana plantations, meeting Afro-Bolivian communities along the way.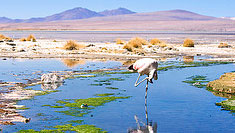 Eduardo Avaroa Andean Fauna National Reserve
This high altitude desert is one of the planet's most otherworldly landscapes. It bubbles with steam geysers and stinking mud pools, while the rocks of the Siloli 'Dali Desert' take on surreal forms. Flamingos inhabit a remote, red lagoon, while lakes change colour as they are warmed at dawn. The clear, dry air is a treat for photographers attempting to capture this strange land.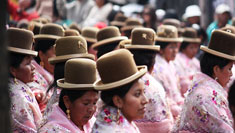 La Paz
La Paz, at a lung-busting 3,800m altitude, makes you rethink your idea of a capital city. Forget malls and offices, this indigenous stronghold is a colourful chaos of bowler-hatted Aymara ladies and witches' markets selling all manner of ancient potions, all against a vertiginous backdrop of buildings scaling the seemingly vertical Andean slopes.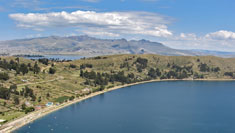 Lake Titicaca
South America's largest lake sits at over 3,800m high, straddling the Peruvian border. The islands of Sol (sun) and Luna (moon) are a jumble of Inca ruins and hardy Aymara residents. Stay overnight to witness one of the most breathtaking sunrises you'll ever see, and you'll understand why the Inca believed this to be the birthplace of the Sun God.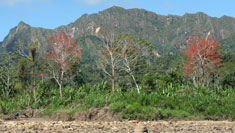 Madidi National Park
There's something about being immersed in the lungs of the world that never ceases to enchant. And you are truly immersed here; ancient trees in the virgin rainforest stand 60 or more metres high. Squeals and hoots fill the chokingly humid air, and indigenous communities along the riverbank will show you how to harvest from the natural larder.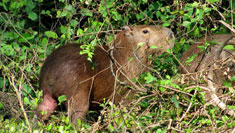 Pampas
The Amazon rainforest is as phenomenal as you'd imagine – for the experience of being in a rainforest. If you want to see wildlife, you need to move all those pesky trees, and that's where the Pampas comes in. Out in the grasslands, anacondas, capybaras and caimans are abundant, while pink dolphins and piranhas splash around your boat. Magic.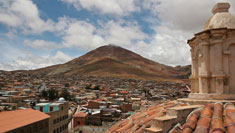 Potosí
The silver hidden beneath Cerro Rico mountain has a less than glittering past: it was a bottomless pit of wealth for the Spanish Empire, mined by indigenous and African slaves. Today, the mine still exists; take a tour to experience the darkness, altitude and heat of the 'Devil's territory'. Learn more in the local museum, and take a tour of the city, now a UNESCO site.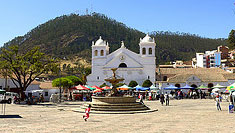 Sucre
Bolivia's constitutional capital is overshadowed by the chaos that is La Paz, yet it couldn't be more different. Whitewashed, leafy and peaceful, it's reminiscent of southern Spain, and its lower altitude (2,800m) provides the perfect, springlike climate between jungle heat and Andean freeze. Markets and indigenous culture still abound, but so do cute cafes, restaurants and pretty plazas.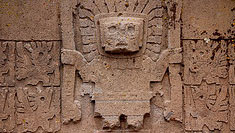 Tiwanaku
While the Inca Empire lasted barely a century, the Tiwanaku civilisation thrived for over 700 years, from around 300 AD. The ruins of their ancient city reveal an extraordinary grasp of astronomy, high altitude agriculture and even acoustics – how to address the masses without a megaphone! This is a fascinating insight into a little known, yet incredibly powerful people.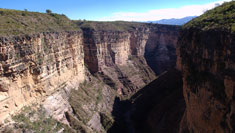 Torotoro National Park
One of Bolivia's smallest parks, Torotoro has remained off the tourist trail so far, which makes discovering it all the more wonderful. Its treasures are geological, archaeological and historical, with over 2,500 dinosaur footprints etched into its karst landscape; a cave huge enough to house waterfalls and blind fish; a lush, tropical canyon and flocks of macaws and parakeets.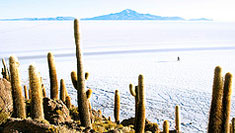 Uyuni salt flats
Bolivia's most famous landscape is a salt crust stretching over 10,000km2, distorting all perspective. At 3,656m above sea level it's also bitterly cold, with blisteringly fierce sun and blinding white glare. But this brutality makes it all the more fascinating, and you'll marvel at the communities eking out a living in the surrounding villages and the cacti-filled 'island' of Incahuasi.
Bolivia itineraries
---
Bolivia highlights (15 days):

La Paz ► Tiwanaku ► Lake Titicaca ► Isla de la Luna ► La Paz ► Sucre ► Potosi ► Uyuni ► Salt Flats ► Oruro ► La Paz ► Coroico ► La Paz

Andes & Amazon (15 days):

La Paz ► Uyuni ► Salt Flats ► Uyuni ► Potosi ► Sucre ► La Paz ► Rurrenabaque ► Madidi National Park ► Pampas ► La Paz
Travel times in Bolivia
---
The following times give you a rough idea of the travel times between the main attractions in Bolivia.
La Paz – Copacabana: 3.5hrs by road and ferry
Copacabana – Isla del Sol: 1.5hrs by ferry
La Paz – Uyuni – 1hr by plane
Uyuni – Oruro: Overnight by train
Potosi – Sucre: 3.5hrs by road
La Paz – Rurrenabaque (for Madidi NP): 40 mins by plane or 18hrs by bus
La Paz – Coroico: 2hrs by road
La Paz – Sucre: 12 hours by bus (sleeper options available)
Cochabamba – Torotoro National Park: 7hrs by gravel road