British Isles cruising highlights
---
BONNY BERTHS
Sailing around the British Isles means that you also get to moor off remote beauty spots. Forget mobile phone signals. Forget wifi. Embrace a new pace and discover secret coves and bays, where puffins rule the roost or dolphins dance at dawn. Such as the Outer Hebridean archipelago of St. Kilda. Or the cove-greedy peninsulas of Skye. Not only wildlife lovers' paradises, but also hiking havens, so don't just bring your deck shoes for these trips. Go walking along the banks of the Caledonian Canal. Or along the wonderfully named Mishnish, Mornish and Treshnish peninsulas of Mull. And never go anywhere without your binoculars.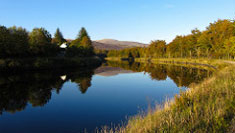 Caledonian Canal
Starting in Oban, on Scotland's west coast, and cruising across land all the way to the North coast in Inverness, you'll be astounded by what an engineering feat this was. Created by Victorians so that ships could traverse the country instead of tackling its treacherous tip, it's now one of British Isles' most sublime aquatic arteries, cutting through glens, locks and lochs, taking in Nevis, Ness and natural nirvanas.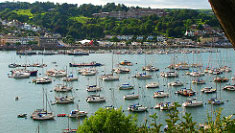 Dartmouth Royal Regatta
This regatta is so spectacular it was given a Royal Charter by Queen Victoria in 1856. And you will feel like royalty staying on board a traditional square rigger, or tall ship. Learn the skills of rigging en route from Weymouth to join the regatta in Dartmouth, Devon, bask in the beauty of this craft in one of the UK's finest ports and immerse yourself in royalty on a one off vacation.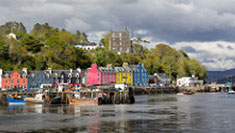 Isle of Mull
Photographers can't resist the colourful arrival into Mull, with the multi coloured sea front terrace in Tobermorey beckoning like candy in a store. Mull is a lively spot, with a great arts and food scene, but also plenty of natural to its credit too. Because, if you time it right, you can see whales off the shores here, with puffins, golden and white tailed eagles also all part of the pic 'n mix.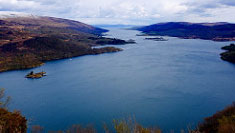 Kyles of Bute
Kyle is Scottish Gallic for 'narrow channel', these ones so called because they separate the Scottish west coast from Isle of Bute. Equally the Kyles of Beaut, not only because of their exquisite islands, such as Burnt Islands which are home to seal colonies and a bird reserve and peninsular lochs such as Striven, but also because they are so beautifully located close to the mainland. Beauty at its simplest.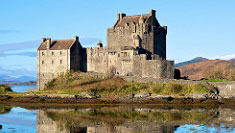 Skye
After navigating small Inner Hebrides such as Canna, Eigg and Rum, Skye feels almost like a metropolis. Arriving by boat means you can pick a peninsula depending on whether you want touristy or tranquil. Cultural heritage such as Eilean Donan Castle, or natural heritage hiking like Loch Coruisk. What many don't realise about Skye is that it feels like you can touch it here, with superb hillwalking around Cuillin peak.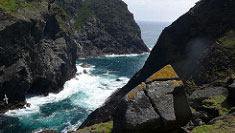 St. Kilda
Must have been a good saint with a whole archipelago to his name, the main island being Hirta. The others are unoccupied – by humans anyway. They are all habitats for wildlife living in utter tranquillity, these Outer Hebridean idylls being about as 'outer' as you can get. Hirta's main residents left 1930 leaving a warden, a UNESCO Site, and puffins, St Kilda Wrens and fulmars blissing out on sea cliffs.


British Isles cruising vacations travel advice
---
THE SHIPPING NEWS
Onboard advice
---
Marie McGhee from our from our leading British Isles cruising vacations supplier, The Majestic Line: "Take each day as it comes, there is no rigid itinerary! We have a great selection of idyllic stopovers and these are chosen according to the weather and the guests' preferences. Every cruise is different and a personal adventure."
Colette Dubois at our Scottish small cruises supplier, St. Hilda Sea Adventures: "It is important that people listen very carefully to the skipper and to myself when on deck, and if they do the boat is extremely safe. We have never had an accident because people really listen. If not, you could do things that could kill somebody, such as when you use the boom, or not lifting the right rope, or lifting a handle when you shouldn't, the boom can crash down on the deck and kill somebody. That has never happened of course, but it is very important to listen."

Packing tips
---
Marie McGhee from our supplier, The Majestic Line: "Take loose clothing! The food on board is delicious and far too tempting – our guests never lose weight while on board. There is a shop in Tobermory that stocks kaftans for guests that can't do up their zips at the end of the cruise!"
Tips on getting there
---
Colette Dubois at our supplier, St. Hilda Sea Adventures: "Do think about coming by train. A lot of people do, and they get a ticket on Scotrail that includes the ferry to Dunoon, and then we can organise a taxi to Holy Loch Marina, where we are moored, from there. We are actually only an hour from Glasgow."
Advice on when to go
---
Marie McGhee from our supplier, The Majestic Line: "Cruise off season. The months of April and October are often better for sunny weather with excellent scenery and wildlife spotting opportunities. And the price is cheaper."
British Isles cruising vacations travel advice
---
TIPS FROM OUR TRAVELLERS
At Responsible Travel, we think the best people to advise our travelers are often... other travelers. They always return from our tours with packing tips, weather reports, ideas about what to do - and opinions about what not to.

We have selected some of the most useful British Isles cruising travel tips that our guests have provided over the years to help you make the very most of your vacation - and the space inside your suitcase.
"Leave the smart clothes at home along with your mobile (signal so patchy it is frustrating, so unless essential best to forget it)! and settle into a different rhythm. Don't forget sunscreen and insect repellent for on shore - the midges can be fearsome! Read 'Para Handy' by Neil Munro for an insight into the atmosphere of the west highland ports and eccentric characters of the past." – Fiona Morrison on our Short break cruise in Scotland, Western Isles

"Bring waterproof clothing and shoes. One day the water was rough and the wind was very strong. Those of us who were not waterproof arrived at Iona soaked. We were warned beforehand in the travel information. It needs to be heeded." – Patricia Knowles on Skye and Inner Hebrides cruise

"If you have snorkel, wetsuits or other kit definitely think about bringing them." – Helen Newton on Adventure cruise in Scotland, lochs and canals vacation

"Three cooked meals a day by a Michelin trained chief, with coffee at 11:00 and high tea at 15:30. If you are not careful, it could be death by eating, but very enjoyable… I was a single passenger, I went with a certain amount of trepidation, but this was all put to one side by the first evening, all 10 of us gelled almost at once, and got on like a house on fire. I will certainly be back." – Gerald Peppiatt, on a Skye and Inner Hebrides cruise

"Be prepared to muck in and experience everything on offer. Being a working boat there are potential hazards and getting in and out of the dinghy involves good co-ordination so think carefully if you have limited mobility. Take everything that the website suggests- you will need it all!" – Roy Owen, on a wildlife sailing vacation in Scotland

"Good company, fresh air, viewing the Milky Way above with spectacular phosphorescence below, laughter – who knew tying knots could be such good fun..." – Patricia Moss, on a wildlife sailing vacation in Scotland

"Good vacation for teenagers as skipper Michael will let them sail the boat and teach them all about navigation and sailing. No hidden extras, absolutely all food provided and no opportunity to go shopping and spend extra on unwanted souvenirs. Good value for money." – Penelope Elphinstone