Budget adventure vacation highlights
---
WHERE TO GO ON A BUDGET ADVENTURE HOLIDAY
Budget adventure destinations open a window to a life less ordinary where organised tours let you travel safely and efficiently without the stress. Southeast Asia is a prime example with Vietnam, Cambodia and Thailand permanently set to an adventure spin cycle from Hanoi to Bangkok via the Mekong Delta and Angkor Wat. China, India and Nepal assure epic adventures where spiritual and cultural discoveries become just as relevant as white water rafting and jungle trekking. Latin America boasts Bolivia, Peru and Ecuador, while Cuba and other Caribbean islands conjure budget adventure combinations worth their weight in pirate plunder. Finally, don't discount Europe where Croatia, Greece and Spain are all worth a mention as Egypt and Morocco call from the sands of North Africa.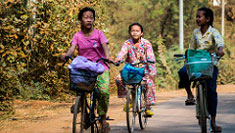 Cambodia
Aside from Angkor Wat, Cambodia offers budget adventures away from the tourists with cycle tours around Kompong Cham and village homestays in Chambok, adding authentic experiences to 'must see' sites. A combination of public and private buses aid affordable adventures in Cambodia with free time for optional activities on the beaches close to Sihanoukville, certain to suit all budgets.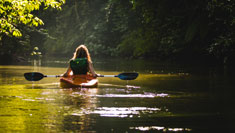 Costa Rica
Costa Rica conjures Caribbean and Pacific coastlines, as well as exciting overland options via the wildlife havens of Monteverde, La Fortuna and Tortuguero, to provide budget travelers with one affordable and exotic adventure after the next. Optional activities range from snorkelling in the Caribbean and hiking in Manzanillo, to watching turtles and cooking empanadas; so pick your pace and dive right in.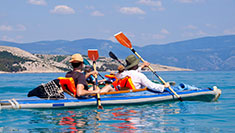 Croatia
Kayaking on the lakes, rivers and coastline of Croatia is one way to get your budget adventures off on the right foot, with cycling from Skradin to Skradinski Buk waterfall, rock climbing in Paklenica NP or sightseeing in Split, Trogir or Zagreb, just a few more. Croatia is an affordable pocket of Europe with an abundance of naturally exciting landscapes to help bring budget adventures to life.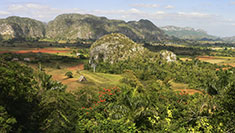 Cuba
In comparison to the rest of the Caribbean, Cuba is relatively inexpensive, and one of the best ways to embark on a budget adventure is to stay at family homestays and put yourself in the hands of a local tour operator. What better way to catch a ride on a fishing boat to an uninhabited island or find the best trail in Viñales Valley other than with someone who's lived in the area their whole life?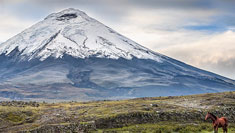 Ecuador
Budget adventures in Ecuador open up innumerate Andean and Amazonian doors with village homestays, Devil's Nose train rides and optional activities in Machalilla National Park, such as snorkelling, hiking and seasonal whale watching, all within easy reach. Traveling by public transport increases interaction with local people in readiness for overnight stays in places like San Clemente.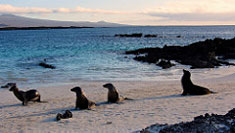 Galápagos Islands
Although the Galápagos Islands may seem out of reach for budget adventurers, savvy travelers are opting for more affordable, land based accommodation rather than pricier, liveaboard boats. San Cristóbal, Isabela and Santa Cruz all offer opportunities to island hop, explore and meet local people without strict cruising itineraries, which benefits both travelers and Galapagueños, alike.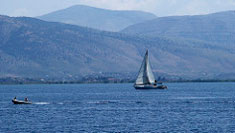 Greece
Sailing amongst the Greek islands doesn't have to be the preserve of the billowing, open shirt brigade, although you can loosen a button or two if you wish. Signing up to become part of a small group on an 11-passenger sailing boat is much less exclusive and will take you from Santorini to Mykonos on a budget adventure that sets sail on the simplicity of sun, sea and the Cyclades.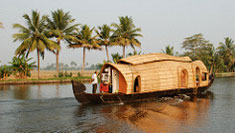 India
Clamber aboard an Indian sleeper train and let your senses click into overdrive as you travel like a local in one of Asia's most absorbing budget adventure capitals. Delhi provides a mind blowing intro to the intoxicating eccentricity of India as well as a gateway to the mountains and agricultural fields of the Punjab and the backwaters and beaches of Kerala – both ideal for budget adventurers.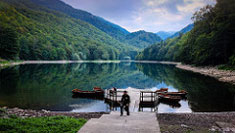 Montenegro
Montenegro is famed for its plunging river gorges, thick pine forests and clear blue lakes, with the national parks of Durmitor and Lake Skadar absolutely no exception. Inevitably, outdoor activities such as rafting, hiking and canyoning provide every excuse to make the most of the jaw dropping scenery with self guided and guided tours, with passionate local hosts, adding to the attraction.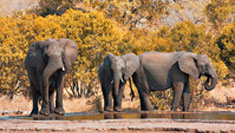 South Africa
The safari parks, townships and wild coastlines of South Africa equate to some of the most exciting budget adventure destinations imaginable with a small group overland tour from Johannesburg to Cape Town encompassing an incredible array of included and optional activities. Game drives in Kruger, hikes in the Drakensberg, camping on the Garden Route; you name it and SA's roaring to go.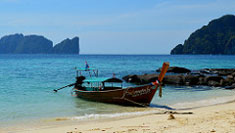 Thailand
Tailor made Thailand vacations offer budget travelers a classic Southeast Asian adventure with tuk tuk tours and long-tail boat rides in Bangkok giving way to overnight sleeper trains south to Surat Than and access to the rainforest covered mountains of Khao Sok National Park. Hammocks and deserted beaches on Koh Pha Ngan and Koh Samui await, far from the congregating Full Moon crowds.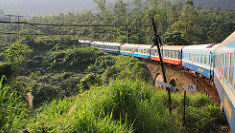 Vietnam
Head out of Hanoi and let the coast guide you south to Ho Chi Minh City via limestone karsts, rice paddies and characterful cities packed with cultural heritage. Budget adventures in Vietnam write their own script with the long distance, Reunification Express train and homestays on the Mekong Delta offering a chance to pick apart cultural threads in this affordable and exciting part of Southeast Asia.