Cuba budget adventure tours
"Traveling around Cuba is an adventure in itself," says Clarita Derwent, manager of our travel specialists Cuban Adventures. "Just trying to get on a bus and get all those things arranged is an adventure."
According to Clarita, 'those things' could be rock climbing and zip lining ("they've got a lot of ziplines in Cuba"), camping and trekking to Cuba's tallest peak, or canoeing and kite surfing. "Kite surfing is really big there," says Clarita, "Cuba is really on the map for kite surfers now". There's just so much that you can do on a
budget Cuba adventure
vacation. "Even on one of our general or cultural tours," she says, "there's always the option to do adventure activities." Since Cuba has some of the world's best-preserved coral reefs, scuba diving and snorkelling are an ever-popular addition for many travelers. "Most of our trips go to the Bay of Pigs where there are pristine reefs. You know, most of the reefs are marine reserves in Cuba, so they're relatively untouched."
Being closed off for so long has helped protect Cuba's natural environments. "It's got the charm of being a country that's not highly developed," explains Clarita. Although tourism is growing, it's still small, so as far as an adventure goes, there are still many parts of the country that remain wild and free from tourism infrastructure. "There are masses of national parks," Clarita says. "In fact, our activities don't take you on really well-trodden routes. You can still go to places in Cuba and feel like you've gone somewhere quite remote, which I think is the beauty of it not being a really developed country."
Visitors to Cuba tend to come for the culture, sometimes oblivious to the huge swathes of flourishing rainforest, unspoiled reefs and little-trodden trails. In comparison, many of its Caribbean neighbours have lost their forests to development, their beaches eroded and reefs wrecked by cruise ships. Being closed off for so long has helped protect Cuba's pristine natural environments and, although tourism is growing, it's still small. "Meaning much of Cuba is still undeveloped, untouched," explains Clarita.
Sixteen percent of Cuba's land is protected, while its numerous national parks cover swampy wetlands full of pink flamingos, pine-forested mountain ranges, caves and fern covered limestone rock formations, and mangrove-lined, white sand beaches. Many of Cuba's plants and animals are endemic to the island and, having been left alone, are thriving. It's the most biodiverse country in the Caribbean.
"The morning spent hiking and learning about local flora and fauna, before ending up at the most beautiful waterfall pool, was truly the best part of the trip."
All these landscapes lend themselves to guided cave explorations, valley hikes, biking and horse riding, or snorkelling in the pristine waters above colourful coral reefs. You can even take a leisurely walk through the tobacco fields or do some voluntary work at a local organic farm, before relaxing on the beautiful beaches nearby. Ian Matthews, who travelled on one of our Cuba tours, rated the beautiful diving at the Bay of Pigs and the stunning scenery at Viñales. "The rural villages were adventurous and the diving and snorkelling was phenomenal," agreed another of our travelers, Brechtje Philipsen.

Tourism is essential to the Cuban economy, which has taken a hit since Trump's election, and relaxations to the US-Cuba embargo have been rolled back. But it's important to maintain a balance to prevent an influx of tourists damaging the beautiful landscapes they've come to see. Traveling with a responsible company, that works with local Cuban communities and follows sustainable practices, is the best way to visit to ensure this.
If you'd like to chat about Cuba budget or need help finding a vacation to suit you we're very happy to help.

What do budget adventures in Cuba entail?
Accommodation
Accommodation could be in hotels or homestays – casas particulares, often called the original Airbnb. Homestays are run on a bed and breakfast basis, staying in family homes or guest houses owned by local families. "It's a really fantastic way to experience the real way Cubans live," says Clarita. Home cooked food is often better than state-run restaurant fare, too.
Activities
Budget tours often keep costs down by not including activities in the overall price, leaving travelers to pick from a range of available options they want while on vacation – and avoid spending money on ones they don't. The level of adventure depends on the activity you choose, ranging from guided cave walks to scuba diving.
Getting around
"Public transport is an interesting experience, it totally adds to the vacation," says Clarita, but for getting around the whole island, it's better to have private transport. "We used to jump on and off the public buses, but you waste a lot of time in bus stations." Rather than being limited to the bus route, going private lets you visit all the places in between the towns too – opening the door to more adventure.
Small groups
Group sizes tend to be limited to no more than 16 people, so the tours are more sociable, and full of like-minded travelers. It also means anyone can talk to their tour leader at any time, and they will be on hand to tell you about the places you visit and answer any questions. Keeping numbers small is logistically the only way you can stay in the casas particulares, arguably the best way to experience the local culture.
More Cuba budget articles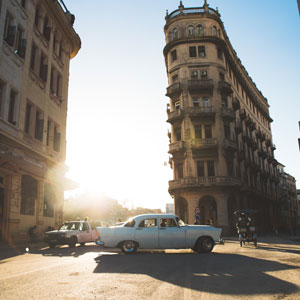 Despite being the largest island in the Caribbean and, reputedly, trapped in time, Cuba's not quite as 'cheap' as some travelers may be expecting.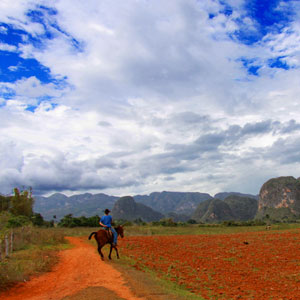 Check out our Cuba map & highlights page that provides plenty of ideas for travelers looking to make the most of the largest island in the Caribbean.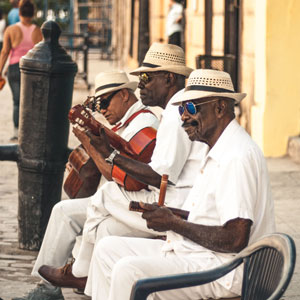 Cuba is home to the original Airbnb, casas particulares, offering visitors a unique view into typical local life; the food, music, language and history of the island.