Cuban culture on a budget
"We couldn't help but get up and dance!" says Rowena Payne, one of our travelers on our
budget Cuba cultural tour
. "We attracted quite a crowd on the pavement outside, which is down to Cuban peoples' enthusiasm and friendliness." Spontaneously dancing to a live, four-piece band in a cafe at lunchtime might not be something you can see yourself doing, but that's because you've not been to Cuba.
Music is everywhere in Cuba; it's the backing track to city life and can be heard from the beaches and blasting on taxi stereos. The soundtrack of brass, bass and plenty of percussion, maybe zesty Cuban jazz or the gentle rhythm of the Rumba beat, is all sure to get you on your feet. "They were outstanding musicians, so inviting and funny," says Rowena. "We had a wonderful afternoon dancing one Sunday in Camaguey, all locals, all ages and us two sisters dancing with two very delightful and respectful older gentlemen."

Outside Havana the nights were full of music, with live bands in the restaurants and squares.

Havana may be the pulsing heart of the island, but Camaguey citizens are particularly proud of their cultural heritage – the city is home to some of Cuba's most famous poets, artists and musicians, as well as the celebrated Camaguey ballet. Trinidad feels old-fashioned; saxophone solos float from the colourful balconies of old colonial buildings and salsa bands play to lamplit plazas. Southern Santiago de Cuba is the island at its most Caribbean – it has a different feel, inspired by its French and African influence. Its Noche Santiagüera, a city-wide Saturday night street party, is the perfect opportunity to learn some dance steps from the locals or have a toot on a trumpet.
"Outside Havana the nights were full of music, with live bands in the restaurants and squares," says Sue Pidgeon, another of our travelers, "as well as the House of Music venue in every town." The House of Music, or Casa de la Música, is a staple in many cities, where travelers can get involved in any festivities. Music is a great way to meet the islanders.
"I really enjoyed the fabulous live music at every turn, the eclectic architecture, the old American cars, and the simple, yet gorgeous food we tasted en route," says Sandy Schuler, who travelled on one of our budget Cuba cultural tours. "I also liked staying in Cuban guesthouses or 'casas particulares' because it allowed me to interact with locals, get a genuine sense of how Cubans live, and practise my rusty Spanish."

Clarita Derwent, manager at our travel specialists Cuban Adventures, explains that casas particulares came about as a government-driven solution for solving the economic crisis affecting Cuba after the fall of the Soviet Union. "They had to find a way of getting money into the country, because they didn't have a huge hotel network, so they started this system." And so, Cuban families offered their spare rooms to tourists at a time when alternatives were few and far between. "It's the original AirBnb!" says Clarita.

It's a fantastic way to experience the way Cubans live, meet local people and experience the culture in Cuban homes, an opportunity that would be missed if you only stayed at hotels. "Stopping at the roadside rest stops, talking with locals, connecting with our casa hosts... these were the things I will remember most," agrees another of our travelers, Michelle Backhurst.

Our guide on this trip, Orlen, was awesome! He spoke openly about the lives and culture of the Cuban people. He brought an understanding that only a local could give.

By booking your stay with an officially licensed tour company that employs local people, you'll also enjoy hearing tales of their own personal experiences – discovering Cuban markets, ration cards and community farms as you go. "Our guide on this trip, Orlen, was awesome! He spoke openly about the lives and culture of the Cuban people. He brought an understanding that only a local could give," says our traveler Michelle Backhurst.
"What makes our vacations unique is that all of our staff in Cuba are Cuban, all our tour leaders are Cuban, everywhere we go. We don't just go, 'our man in Havana will arrange everything,' no, we have a local person in every town." Rather than repeatedly using the same guest houses over and over again, Cuban Adventures' local coordinators collect a large number of home owners and rotate the group for each tour, to better spread the benefits or tourism throughout every community. "I know other companies that use casas, but no one has the system that we've got in place."
Our Cuba budget Vacations
If you'd like to chat about Cuba budget or need help finding a vacation to suit you we're very happy to help.

What do budget Cuban culture vacations entail?
One of our travelers, Kim Davies, on our budget Cuba cultural tour: "I still can't believe I have been to Cuba and back. I would urge everybody who is thinking of going to Cuba, go and book your vacation now, you will not regret it. We had a fantastic guide and had a lovely time out there. The weather, food, people, music and art, buildings, parks – everything is beautiful."
Activities
"There's so much that you can do in Cuba - even on one of our general tours there's always the option to do adventure activities," says Clarita. That could include scuba diving and snorkelling in the Bay of Pigs; swimming in waterfalls following a trek through the jungle; horseriding, zip lining and cycling. Less strenuous activities range from gentle walks through tobacco fields or along beautiful beaches, to dancing salsa in Havana.
Getting around
Transport will be by private bus and, if journeys are long distance, domestic flights, which are usually included in the cost of your vacation. Cuba is the biggest Caribbean island by some distance, so some days you may spend up to seven hours on the road. The changing natural scenery is spectacular, but you may also want to bring a book or something to keep you entertained.
Small groups
"Most families will have between two and four rooms", says Clarita, explaining that groups are usually split between a handful of nearby homestays. This means, logistically, traveling in small groups is essential for staying in casas particulares, which offer a fantastic insight into Cuban home life. Group sizes tend to be limited to 15 travelers, meaning you'll get to know everyone, especially your local guide.
More about Cuba budget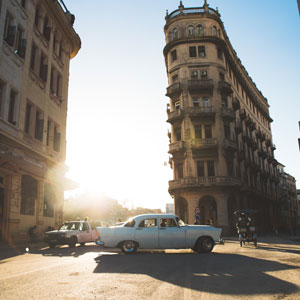 Despite being the largest island in the Caribbean and, reputedly, trapped in time, Cuba's not quite as 'cheap' as some travelers may be expecting.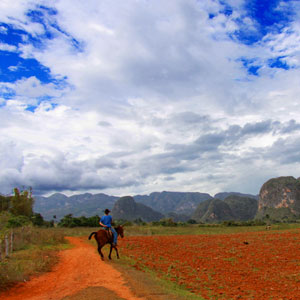 Check out our Cuba map & highlights page that provides plenty of ideas for travelers looking to make the most of the largest island in the Caribbean.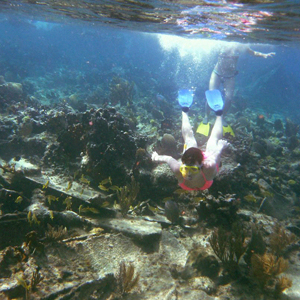 Budget adventures in Cuba are easy – the island abounds with areas untouched by tourism or development.