Myanmar (Burma) cycling vacations guide
Everything about Myanmar (also known as Burma) still seems so new, so unused to tourism, that you might wonder how you could ever connect in any way with local people. But we think we've found the secret: travel by bike. Cycling through Myanmar breaks down many cultural barriers; a bicycle is on a human scale, traveling at a human pace, passing women whose heads are piled high with baskets, men sitting atop ox carts, and racing local children, pedalling their own bikes off to school.

On a cycling vacation in Myanmar, the highlights aren't the big attractions – but all the bits in between: stopping for lunch in tiny villages, farmers wandering over for a chat, children waving on their way to school.

Many of Myanmar's main attractions are conveniently close together, in a reasonably flat region – and cycling from A to B offers the chance to stop at even smaller spots in between – mural-filled caves, stupas sheltering centuries-old Buddhas – places few tourists tread. With a tour leader to take care of the route, and local guides to take care of the translation and bike maintenance, this is about as worry-free as a vacation gets – leaving you to sit back in the saddle and admire the glorious scenery around you. Our cycling vacations in Myanmar guide will help you get started.
Is cycling in Myanmar for you?
Go on a cycling vacation in Myanmar if…
… you enjoy socialising. You'll be traveling in a small group, sharing meals, experiences and stories – so if vacations are all about "me time" this may not be the trip for you.
… you want to get away from the tourist crowds. Conversely, although you'll be with your fellow cyclists, the bike lets you get away from the main attractions and into rarely visited villages, temples, caves and markets – ideal if you love getting off the beaten track.
… you fancy blending in. Granted, no one's ever going to think you're a local, but cycling is such a common way of getting around here that you can explore the scenes in a much more authentically Myanmar way. Plus, you won't have a bus window between you and the local people – so there are plenty of opportunities to chat.
… you're not keen on traffic. Unlike other Southeast Asian destinations, a cycling vacation in Myanmar follows mostly quiet, rural roads. The traffic you'll pass will be donkey carts, women carrying hay and the odd agricultural vehicle; this is no Piccadilly Circus at rush hour.
Don't go on a cycling vacation in Myanmar if…
… you're not comfortable on two wheels. You don't need to be Bradley Wiggins by any stretch of the imagination, but this is a long time to spend in the saddle if you're not used to it. A reasonable level of fitness and a few weekend bike rides will do the trick. … your idea of a vacation is lie-ins and pampering. You'll be up and out early – and working for your fun. But if you do fancy a bit of R&R after all that exercise, some vacation companies offer an optional extension at the idyllic Ngapali Beach – you'll have earned all that scrummy seafood by then. … you mind being photographed. You're as much a curiosity to the Myanmars as they are to you, and the spread of camera phones means the tables are turned, and local people are now just as able to take pictures of tourists. You're their guest, so say 'cheese!' and amuse yourself with the thought of whose wall your sunburned face may be adorning for years to come.
If you'd like to chat about Burma cycling or need help finding a vacation to suit you we're very happy to help.

Best time to go on a
cycling vacation in Myanmar (Burma)
Truthfully, there isn't a best time to go on a cycling vacation in Myanmar. Summer may be warmer and drier – but when you're spending your vacation pedalling up humid hillsides rather than lounging on a beach, heat and sunshine aren't as essential. Most cycling itineraries take in Mandalay and Bagan; these lowland towns are the most sweltering, peaking at 40°C in April and May. The highlands provide a welcome chill, especially at night. May to Sept are monsoon months – though rain tends to fall in short morning bursts, with bright afternoons. The landscape is refreshed, and you'll encounter even fewer travelers.
More about Burma cycling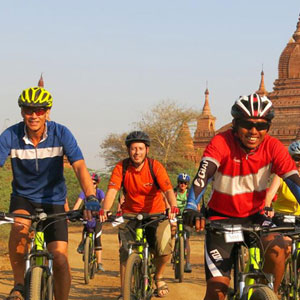 Use our interactive map to learn more about our Burma cycling vacation highlights, which are conveniently clustered between Bagan, Inle Lake and Mandaaly, making them easily accessible on two wheels.