Small ship cruising in Myanmar
Myanmar – also known as Burma – has opened up to visitors, but it's little known as a destination for small ship cruising and sailing. But taking to the water is a treat in this beautiful country. A cruise along its longest river, the Irrawaddy, reveals local village life, picturesque hill landscapes, the Sagaing temples and gold-plated stupas; while in the south, catamarans are the vessel of choice to explore the Mergui – or Myeik – Archipelago. This region boasts 800 mostly uninhabited islands, scattered across 400km of the Andaman Sea. Boarding a boat is not just the best way to explore, it's the only way! You'll come across hardly any other tourist vessels, but may meet the nomadic Moken people, who traditionally spend most of their life at sea. A long way from Yangon and even further from beautiful Bagan and Mandalay, the Mergui is a unique corner of Myanmar, currently unspoiled but definitely vulnerable. Now is a good time to go, and sailing on a small yacht with just a few other travelers is the most responsible way to access this mysterious and unique part of the world.
Our Myanmar (Burma) Vacations
What does cruising in Myanmar entail?
Water!
Sailing is just the start – splashing in waterfalls, snorkelling around reefs and kayaking up rivers is a daily highlight on a small ship cruise in the Mergui Archipelago. You'll reach unspoiled beaches via a Zodiac RIB, which makes wet landings; but at some islands, such as 115 Island, the catamaran can anchor quite close to the shore, so you can swim to and from the beach.


Few other people
In the Mergui, you'll see hardly any other tourist boats, but you will meet local fisherman and the nomadic, shy Moken seafaring community, also known as 'sea gypsies', along the way.


Cultural highlights
A cruise along the beautiful Irrawaddy River is a leisurely and pretty luxurious way to travel between some of Myanmar's most celebrated cities, including Yangon, Bagan and Mandalay. Soak up riverside life from the vantage point of a river cruiser equipped with swimming pool, 40 ensuite cabins and air-con, before hopping off for guided visits around some of the country's most celebrated and significant sights.
Extraordinary islands
All 800 islands in the Mergui Archipelago are beautiful, but some lend themselves to exploration more than others. Nga Manu, also known as Shark Island because of its shape, is one of the best spots for snorkelling. Lampi boasts a small river that you can paddleboard and kayak up, passing mangrove forests and spotting hornbills and kingfishers as you go. Bo Cho, meanwhile, is home to the village of Ma Kyone Galet where some Moken live. Traditionally, these nomadic people spent months at sea, diving for shellfish and only coming ashore during the monsoon. The government has encouraged them to settle in villages like this one, but most still practice the same ancient fishing techniques. The Moken are shy, but their children less so, following you as you visit the school, Buddhist temple and café here.
Offline time
Small ship cruising in the Mergui is a break not just from the Western world, but from WiFi too. Emails will remain unchecked…


A relaxed itinerary
Most sailing cruises around the Mergui are between nine and 15 days, with smooth sailing dependent on the weather. Itinerary changes may occur at the last minute if conditions alter for the worse, but your skipper will be able to choose another direction, destination or activity.
Our top Myanmar (Burma) Vacation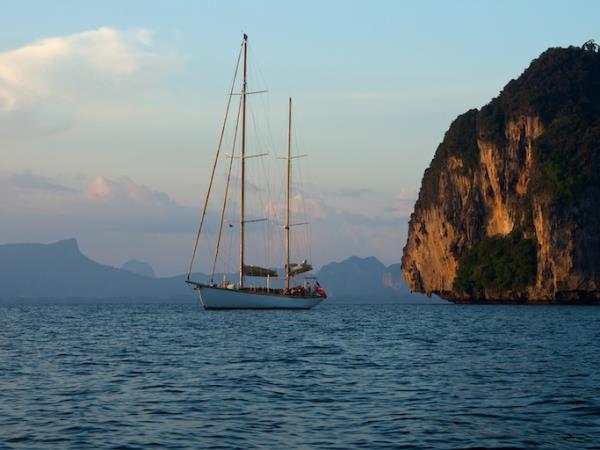 A comprehensive tour of Burma including ocean sailing
From
US $

6450
16 days
ex flights
Tailor made:
This trip can be tailor made throughout the year to suit your requirements
If you'd like to chat about Myanmar (Burma) or need help finding a vacation to suit you we're very happy to help.
In Myanmar, cruising is on a very small scale. Luxury ships with around 40 cabins cruise the Irrawaddy River, but the Mergui Archipelago is typically explored on a catamaran. These are around 16m long, with space for a maximum of eight travelers, plus the skipper, chef, a deckhand and local guide. This style of yacht is designed to keep sleeping areas to the absolute minimum, while maximising common areas, so don't go thinking you can bring your three-piece luggage set with you!
What are the cabins like?
On a catamaran, "cosy" is probably the best description – but that's the point! This isn't a classic cruise; it's an authentic adventure on board a real yacht, with twin/double cabins and a bathroom for every four guests. Don't worry about space, though – you'll be living outside mostly, cabins are just for crashing out in at the end of the day. Or sleep on deck, if you prefer! If you're a light sleeper, don't wait to find out if a fellow traveler is a snorer – pack earplugs.
Can I travel solo with kids?
Small ship sailing in Myanmar brings together people of all ages from around the world and relies on friendly, onboard camaraderie, so it's brilliant for solo travelers. You'll have a ready-made friendship circle for the whole trip, just be prepared to share a cabin. There is usually a minimum age, typically 15, which prevents all but senior teens from coming aboard.
Can I travel solo or with kids?
Small ship sailing in Myanmar brings together people of all ages from around the world and relies on friendly, onboard camaraderie, so it's brilliant for solo travelers. You'll have a ready-made friendship circle for the whole trip, just be prepared to share a cabin. There is usually a minimum age, typically 15, which prevents all but senior teens from coming aboard.
What's the deal with meals?
Food is excellent on this kind of vacation, with an onboard chef preparing three meals a day for you. Typically, they are Asian dishes, including curries, but fresh fish is on the menu every day, too. The Mergui Archipelago is undeveloped, so popping out to restaurants isn't an option; a barbecue of freshly caught fish on a white sand beach is though.
Will I get seasick?
Unlikely. The simple reason is that you sail with the coast on your right, to the east, and the winds come from the northeast across the land, so the sea doesn't get whipped up or choppy.
How is this kind of vacation responsible?
Traveling on a yacht or catamaran is, by definition, a small group trip, with typically room for just 12 people per vessel, thus reducing the environmental impact stopping off at islands can have and the waste produced. In addition, when conditions allow, you'll be harnessing the power of the wind to travel from A to B (although the motor may be used for around half the time). Ingredients are generally sourced locally before setting off, with fish caught fresh every day using a line or spear gun. The boat is equipped with solar panels, which is where most of the power on board comes from, and water makers, which turn sea water into fresh water, keeping the use of plastic bottles to pretty much zero.
The best time for a small ship cruise in Myanmar is during the drier winter months of October to March. In the Mergui Archipelago, October is the start of the cruising season, when the monsoon is over. It's warm and sunny and seas are calm and teeming with marine life. From October to January expect highs of around 29°C in the region, with temperatures becoming uncomfortably hot during March to May, sometimes hitting 33°C. June to October is the monsoon season, and sailing trips don't run then, but by September and October the rain is less intense.
Getting there
Most sailing vacations around the Mergui Archipelago begin in Kawthoung, Myanmar's southernmost town. Fly from Yangon or arrive via Thailand. From Phuket, it's a 4.5-hour transfer to the Thai border town of Ranong, then 30 minutes by boat to Kawthoung. You'll need to pay a Mergui Archipelago park fee, plus purchase a tourist visa. Once onboard, you'll sail for no more than six hours a day, with flexibility built in. Cruising on the Irrawaddy River, at the heart of the country, is another option, with trips typically taking in Mandalay, Bagan, Mount Popa and the hill station of Pyin U Lwin.
More about Myanmar (Burma)
Back to the top
Convert currencies