Beaches in California
There are many good reasons why California is called the Golden State. History buffs will argue itís because so much gold was mined here in the 1840s and 1850s; hikers will say itís because the stateís grassy hills turn a deep golden brown in the dry months of summer. Itís definitely nothing to do with the Golden Gate Bridge, which isnít gold at all, but a shade of red called international orange.

You only have to step onto a Southern Californian beach at the end of a perfect September afternoon to get an inkling Ė from the gold-flecked sand and the glow of the sun to the warm smiles and tanned bodies of chilled-out surfers, thereís a touch of gold everywhere you look.
The stateís best known beaches Ė beautifully sandy and easy to access Ė are found on the curving coast between Santa Barbara and San Diego. Some, like
Malibu
in Los Angeles, are so famous theyíve become brand names. Malibu, whose name is derived from a Native American word meaning Ďthe surf sounds loudlyí, has been a magnet for surfers since the 1950s. Itís here that the
Surfrider Foundation
, a non-profit organisation which aims to protect and preserve the marine environment, was born. Under the leadership of its current CEO, veteran Californian surfer Jim Moriarty, the foundation is currently campaigning to ban plastic bags and make beach access free for all.
Other famous Los Angeles beaches include
Santa Monica
, where amusements and boardwalk attractions guarantee a vacation atmosphere, and
Venice Beach
, famous for its impromptu, all-day circus of sand sculptors, weightlifters and rollerblade dancers.
Huntington Beach
in the Orange County city of the same name is legendary, too Ė it hosts the week-long
US Open of Surfing
each July. The surf here isnít Californiaís biggest, but itís highly reliable, with beaches facing in different directions, so surfers flock here all year round. Itís also hugely popular with kitesurfers and sunbathers. Its neighbour,
Newport Beach
, is one of the regionís swankiest stretches of sand, a favourite of the shopping-and-yachting set.
Southern California has many other long, flat, sandy shores. But not every beach on Californiaís unique coastline looks like this. In Northern California, parts of the coastline are totally inaccessible except by sea. Some beaches are dark and wild, edged with clusters of tidepools under rugged cliffs. Others are mysteriously colourful.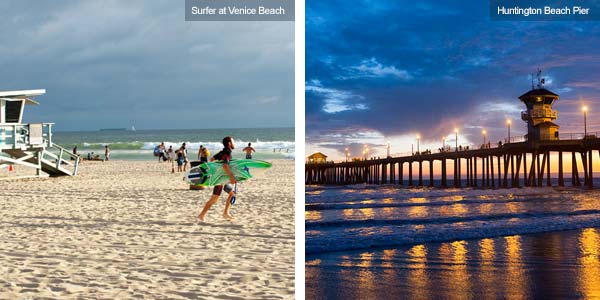 You wonít find much white sand at
Pfeiffer State Beach
, Big Sur. Here, the beach resembles a watercolour painting. Rake it with your toes and you streak it with purple, lavender and pink. The rocky bluffs which protect the beach from the wind are rich in manganese garnet deposits, which give the sand its exotic colours.
Glass Beach
on the edge of the small town of Fort Bragg in Mendocino County is one of the most unusual beaches. In the 1940s and 1950s, the locals used to dump rubbish here, but with the passing years the pounding waves have transformed it into something beautiful, its sands strewn with sea glass and tumbled porcelain in every shade of white, red, brown, green and blue. The nearby
International Sea Glass Museum
has over 3,000 pieces of sea glass on display, each one carefully identified, whether it was once a vase, an old soda bottle or a car tail-light.
Bowling Ball Beach
, about 30 miles south of Mendocino, harbours another unusual phenomenon. At low tide, the sand is dotted with hundreds of big, rounded boulders that appear strangely uniform in size and spacing. Geologists recognise these spherical rocks as concretions: hard bodies which form in sediment before it solidifies.
Watersports fans, beachcombers, hikers and sun-worshippers are all spoilt for choice on Californiaís wonderfully diverse coastline. While some beaches have safe, warm water thatís perfect for toddlers to paddle in, others have surf thatís gnarly enough to put the pros through their paces.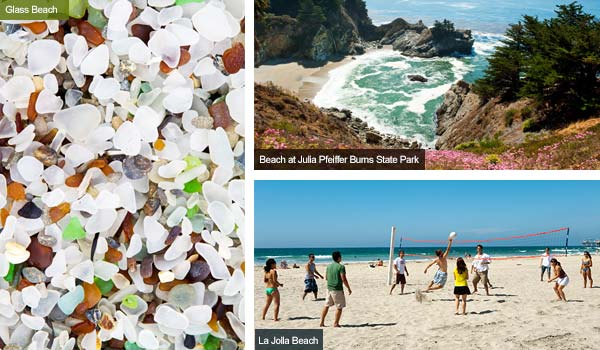 Just north of the town of Half Moon Bay in San Mateo County, the waves outside
Pillar Point Harbor
are always the center of attention. This is the home of the legendary surf break, Mavericks. The waves at Mavericks typically crest at over 25 feet. In the winter months they can reach up to 80 feet. Big wave surfers from all over the world flock to Mavericks to take up the challenge.
For calmer waters, head to
La Jolla Cove
, San Diego, which has some of the best snorkeling conditions in the state and is also popular with divers and kayakers. Small and picturesque, it has warm, protected waters and sea caves, tucked between sandstone cliffs. The cove is part of an ecological reserve which protects abundance of sea life including sea lions, leopard sharks and many species of fish.
Silver Strand State Beach
on Coronado Island, San Diego, has a special sparkle. Itís a unique combination of mica and quartz in the sand that creates this magical effect. This beach stretches for over 2.5 miles and has gentle tides, making it ideal for swimming, wading and strolling. You can also camp on the beach, if you reserve in advance. Watching the sunset and then stargazing beside the warmth of a beach bonfire has to be the perfect way to end a day on Californiaís golden shores.
Find more information on
California's geography
or
10 things to see and do
in California
Written by Emma Gregg and Katie Cook
Responsible Travel would like to thank the California Tourist Board for their sponsorship of this guide