Things to see & do in Central Valley, California
California's Central Valley is prime agricultural country. To the north is the Sacramento Valley, where almonds, walnuts and rice are major crops. To the south is the well-irrigated San Joaquin Valley, which grows more fruit and vegetables than anywhere else in the world. It's charming to visit in spring, when the apricot, peach, and plum trees are covered in blossom. As you'd expect, this is excellent territory for farmers' markets and food festivals. It also has a quiet but confident wine scene. The wineries here aren't as widely known as those of Napa, Rutherford and Sonoma, but they're productive and friendly, making this a good place to meet winemakers on their own estates.
Geography
Occupying a long, 40-60 mile wide tract of lowlands inland from the rugged Pacific coast, the Central Valley lies more or less in the center of the state. It includes the cities of Stockton, Merced, Fresno and Bakersfield and two major rivers, the Sacramento and the San Joaquin. The cities of San Francisco, Sacramento, Santa Barbara and Los Angeles all lie just outside the region.
Weather
The southern part of the Valley is considerably drier than the north. In summer, however, the entire region is dry, with manageably hot temperatures (typically around 95°F / 35°C by day in the north and 98°F / 37°C in the south) although July can be scorching. Winter can be cold, rainy and foggy, particularly in the Sacramento Valley, but the temperature normally stays above freezing.
Things to do
Tube the Sacramento River at Chico
The city of Chico is home to a California State University campus and its energetic, youthful population likes nothing better than to cool off in the Sacramento River when the temperature soars. If you'd like to join them, just rent a tube or an inflatable raft from a grocery store, and jump right in.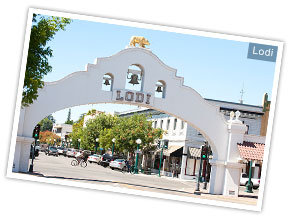 Tour the low-key wineries around Lodi
In-the-know San Francisco Bay area wine buffs have been aware for some time that Napa Valley has a quiet rival in the Central Valley. Much of the countryside around the small town of Lodi (pronounced low-dye) is given over to vineyards.
They used to specialise in Tokay grapes, but have now mostly switched to Zinfandel, and have quite a following. Lodi's wines are showcased each year at the Spring Wine Show just before Easter, Zinfest in May, Lodi Grape Festival in mid September and Taste of Lodi in late September.
Sample local produce
Agricultural to the core, the Central Valley is a superb place to sample freshly picked tomatoes and asparagus, artisan-made cheese and other gorgeous produce. There's a farmers' market somewhere in the city of Fresno every day of the week, all year round. These are always worth a browse for vegetables and flowers, as are the many roadside produce stands you may see on your travels. Every April, Stockton celebrates the asparagus harvest with a food festival (asparagusfest.com) featuring live music, a dog show and plenty of local delicacies – even asparagus ice cream.
Do you know who grows your food? Meet small scale farmers at farmers markets
Go cycling in the San Joaquin Valley
For a breath of fresh air, there's no better way to explore the Central Valley countryside than by pedalling along the San Joaquin River Parkway in Fresno or the trail beside the Stanislaus River near Modesto. The Stanislaus is also a popular spot for river rafting. The high water season lasts from May to September.
Delve into the Forestiere Underground Gardens
The fascinating Forestiere Underground Gardens (forestiere-historicalcenter.com) in Fresno are truly unique. Conceived in 1906 and taking four decades to complete, they are a labyrinth of subterranean, skylit tunnels designed to protect crops from the scorching sun. Their creator, Baldassare Forestiere, originally from Sicily, dug the tunnels out by hand using little more than a shovel and a barrow.
Try Basque cuisine in Bakersfield
The Central Valley city of Bakersfield, which has a vibrant Basque community, is said to be the best place outside Spain to try rustic Basque cuisine. Have dinner at one of its specialist restaurants and you can expect a feast of soup thickened with beans, garlicky, slow-cooked stew and fried chicken, sustaining enough to see you through a long day of shepherding. The city is also famous for the Bakersfield sound, a style of country music that sprang up in its honky-tonk bars in the 1950s and remains popular today.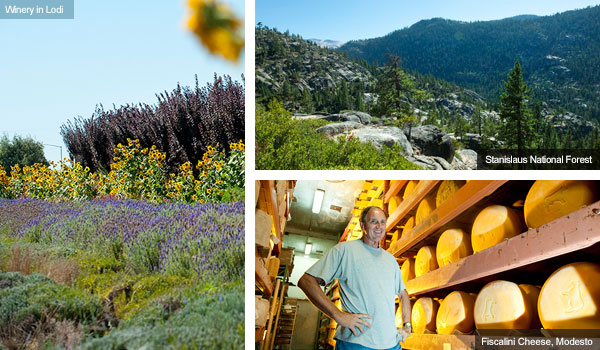 Find more information on
California geography
and
10 things to see and do
in California
Responsible Travel would like to thank the California Tourist Board for their sponsorship of this guide