Farm-to-fork in California
In 1971 Alice Waters opened her legendary restaurant,
Chez Panisse
, in Berkeley. Influenced by the time she spent in France eating food made with fresh, local ingredients, Waters aimed to create the same experience at her restaurant. In the 1970s, Alice Waters pioneered the farm-to-fork movement in the Bay Area. Now farm-to-fork is becoming the norm in California and the movement has spread across the nation.
Farm-to-fork stresses the importance of cooking with the freshest, locally and sustainably grown seasonal ingredients. Restaurants partner directly with farmers who, thanks to Californiaís mild, sunny climate, are able to supply an excellent variety of crops for seasonal menus through the year. The farm-to-fork mentality isnít limited to restaurants. The popularity of farmersí markets allows individuals to buy produce directly from farms as well. With over a quarter of Californiaís land mass used for agriculture, fresh local produce is easily accessible throughout the state, even in the most populated areas. Monterey, Santa Monica, Santa Barbara and San Francisco are home to some of the best farmersí markets in the state. In addition to locally grown produce most farmersí markets feature an assortment of artisan and carefully crafted products like cheese, fresh pressed olive oil, farm fresh eggs and fine chocolates. If you want to get a little more personal with your food that can be arranged as well: there are plenty of opportunities for farm tours, beekeeping classes and farmhouse lunches.
Located in San Diego, the
Yellow Deli
in Valley Center is only 10 miles from the nearest freeway, but this country farm stand and restaurant is surrounded by farmland and pastures and a bubbling brook runs alongside the restaurant. Everything in the small seven-table restaurant has been repurposed and hand-crafted with loving care. Old wooden fence slats have been made into chairs and booth seating, apple buckets are used as chandeliers, and twine has been interwoven and knotted to create room dividers. The restaurant features salads, hot and cold sandwiches, and fresh squeezed juice. Everything is made with the freshest local ingredients, some coming from the Yellow Deliís own Morning Star Ranch, just down the road from the restaurant. You can also bring part of the Yellow Deli home with you in the form of fresh picked produce sold from the farm stand in front of the restaurant, or visit their larger branch in Vista.
The farm to fork movement shortens the distribution and supply chain and reduces CO2 emissions.
Near Sacramento,
The Flower Farm
in Loomis is a coffeehouse and bed and breakfast in the middle of a working citrus orchard. You can walk through the nursery and flower beds and cut a bouquet of native blooms, gather fresh eggs from the chicken coup, enjoy farm fresh produce from the farm stand and indulge your sweet tooth with fresh baked snacks or lunch at the coffeehouse.
You donít need to go to a farm to eat farm-fresh food. Urban foraging is really catching on. In San Francisco,
ForageSF
goes off the farm and into Bay Area parks to forage wild food from mushrooms to native greens. Their Wild Food Walks teach the community how to forage sustainably for wild edibles, and their communal, eight-course Wild Kitchen dinners highlight sustainable ingredients from the local landscape. The ingredients, atmosphere and sense of adventure make these dinners truly unique. Every dinner is held at a different location in the Bay Area and diners must purchase tickets in advance to receive the address. There are foraging groups in Oakland, San Diego and Orange County, too.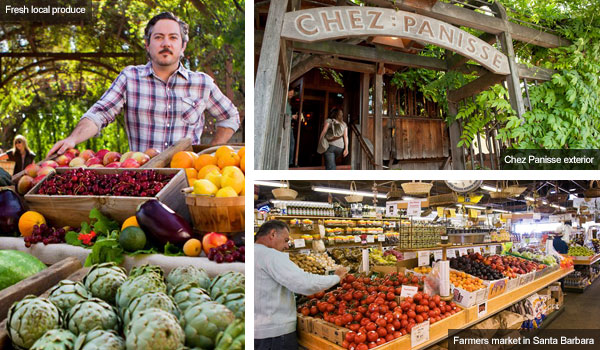 Just 50 miles north of San Francisco, the oyster farms of Tomales Bay offer a different sort of farm-to-table experience.
Tomales Bay Oyster Company
and
Hog Island Oyster Company
invite customers to dine on freshly harvested oysters. The set-up is pretty basic. From small to large, you choose the type of oysters you want and then you take your oysters and shucking knife back to a bayside picnic table. Shucking an oyster takes a bit of practice, but the fresh and briny flavour of these bay-to-table oysters are well worth the work. If you want a more educational experience you can rent a kayak or take a guided paddling tour of the narrow bay inlet that is home to several oyster farms.
Many fine dining restaurants throughout the state have embraced the farm-to-fork mentality and have even gone so far as to operate their own kitchen garden or farm. From rooftop gardens and small plots in abandoned lots to multi-acre traditional farms, there are many types and styles of restaurant-owned farms.
Like many of Californiaís greenest eateries,
Carter House Hotel
in Humboldt County,
Post Ranch Inn
in Big Sur and
Treebones Resort
in Big Sur all source much of their produce from their own organic kitchen gardens. The owners of the award-winning
Zazu Restaurant & Farm
in Santa Rosa, Sonoma County grow crops and even raise their own chickens, pigs, sheep, rabbits, and goats. The menu changes daily based on what is ripe and currently available on the farm. Just south of here, thereís a move afoot to make Marin County entirely organic, a first for the United States.
Itís not just classic Californian cuisine that has been enhanced by the grow-your-own movement. Food trucks Ė a laidback eating trend that Californian city-dwellers canít get enough of Ė have got on board. In San Francisco, Los Angeles and San Diego, you can now find mobile eateries which offer organic streetfood as an alternative to the more obvious tacos and sandwiches. Look out for
Letís Be Frank
, which has managed to make hot dogs healthy by insisting on using nothing but pasture-fed meat,
Green Truck
, a solar-powered truck which is fuelled by recycled vegetable oil from the previous dayís cooking and cooks up juicy vegan burgers, and
Organic Oasis
, another solar-powered truck which pours life-changing, lovingly blended smoothies into biodegradable cups. Then thereís
Food Farm
, which offers green, gourmet treats and
Seabirds
, which specialises in super-healthy vegan salads, tacos and cupcakes.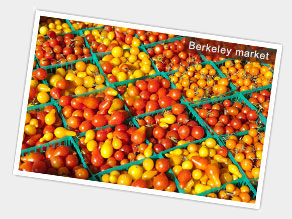 The state is also home to some superb Mexican, Japanese, Chinese and European restaurants, all of which have a big influence on tastes and trends. Many of these have joined the quest for local ingredients and have taken the Save our Seafood pledge, a bid to make fishing sustainable.
In Los Angeles,
Oliverio Restaurant
in Beverly Hills grows a lot of the ingredients used in their savory Italian dishes in the rooftop garden. The restaurant partners with local organic farms to provide the ingredients that canít be grown on the roof.
Playa Restaurant
, also in Los Angeles, planted a rooftop garden partly because the head chef was having trouble finding locally grown ingredients for his Latin-inspired dishes. The restaurant now grows the majority of the produce used in their dishes in their private garden.
There are a multitude of farm-to-fork dining options in California. Whether you are in rural California or in the city, there is always a farm nearby and a passionate chef working the local ingredients into a masterful dish.
Written by Emma Gregg and Katie Cook
Responsible Travel would like to thank the California Tourist Board for their sponsorship of this guide