Inland Empire, California
Situated right on the doorstep of California's biggest city, Los Angeles, the western sections of the SoCal counties of San Bernardino and Riverside attract more and more settlers every year. But this region is far more than just the hinterland of a major metropolis. Once a thriving agricultural region with acre after acre of orange groves and dairy farms, it now has an up-and-coming wine and gourmet food industry in the rolling hills to the south. It also has some fine mountain, forest and desert scenery with much to offer visitors.
Geography
Inland Empire is a loose term for the region lying inland from Los Angeles in California's extreme southwest, adjacent to the Deserts region. Temecula, the hub of the wine region, is around 85 miles southeast of downtown Los Angeles and around an hour's drive north of San Diego. The San Bernardino Mountains and National Forest are to the northwest of the region, immediately northeast of LA.
Weather
The region's diverse terrain creates several distinct climate zones, from desert to alpine. The sun always shines in the north, with hot, dry summers when temperatures regularly top 100°F / 38°C, and mild, dry winters. Further south, there's just enough rain to keep the crops in good shape. Winter brings snow and clear skies to the mountains, peaking in February, when average temperatures dip to 41°F / 5°C.
Naturalist guided tours provide you with unmatched insights into nature, and the guide with an income and job
Things to do
Enjoy the outdoors in the San Bernardino Mountains
The alpine splendour of the ranges north and northeast of Los Angeles are enough to inspire the outward-bound nature in anyone. Visitors can enjoy scenic drives along the Rim of the World Byway, or go hiking among the giant sandstone Mormon Rocks. For mountain bikers, there are thrills to be had on Skyline Drive in the San Bernardino National Forest. This enormous evergreen forest, over 800,000 acres in extent, covers much of the range. To explore the canopy at top speed, take a ziplining tour with Navitat Canopy Adventures.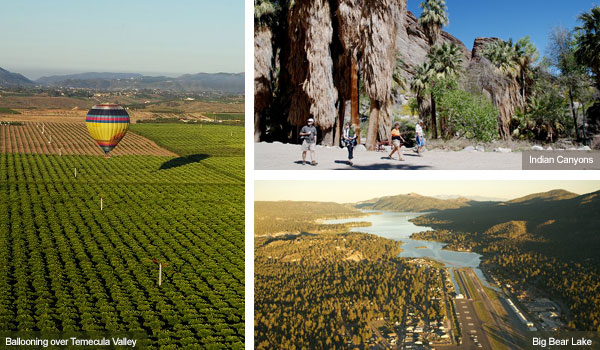 In winter, the slopes near Big Bear Lake become skiing and snowboarding central. The twin Big Bear Mountain Resorts (bigbearmountainresorts.com), Snow Summit and Bear Mountain, can't really compare to Mammoth Mountain or Tahoe, but nonetheless they're hugely popular with SoCal locals as they're a lot closer to LA, which is only a couple of hours away. The huge, glassy lake itself is excellent for boating and fishing in all seasons. And to answer the obvious question, yes, there are bears in the vicinity. It's extremely rare to see one, but nonetheless you should take care not to leave food lying around.
Visit the California Museum of Photography, Riverside
CMP is a forward-thinking university facility that's open to the general public, in a large city that's off the main tourist trail. The exhibition space hosts significant work by local and international photographers. Coffee houses and eclectic stores give Riverside's Main Street a pleasant buzz, and the beautiful Mission Inn, founded in 1902, does an excellent brunch.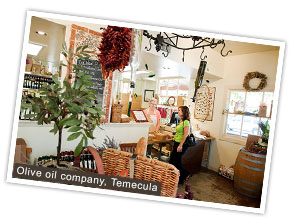 Take a gourmet tour of the Temecula Valley
Spoil yourself at the quietly superb restaurants, wineries and gourmet food stores in this hidden gem of a wine region. With 20 wineries and a shelf of awards, it's Southern California's answer to Napa or Australia's Hunter Valley – but without the crowds. You can tour by car, on horseback or even by hot air balloon. If you're lucky enough to be here for the weekend of the Temecula Valley Balloon and Wine Festival (late May / early June), you can enjoy delicious wine, beer and food pairing sessions and good music while watching a parade of dazzlingly colourful hot air balloons float over Lake Skinner. The valley's celebrated movie festival is held in September.
Explore the desert oasis of the Indian Canyons
Join a naturalist for a jeep tour and guided hike of this arid area, south of Palm Springs. You'll hike along a beautiful desert stream to discover the largest natural palm oasis in North America and learn about the area's original inhabitants, the Agua Caliente Band of Cahuilla Indians.
Find more information on
California geography
and
10 things to see and do
in California.
Responsible Travel would like to thank the California Tourist Board for their sponsorship of this guide