Orange County, California
Once planted with acres of orange groves, Orange County has left behind its agricultural past to become a plush region of beach resorts with fine restaurants, outdoor shopping malls and marinas. While Disneyland makes Orange County fabulously popular with families, this small, well-heeled region has a lot more to offer visitors of all ages than just theme park thrills. Huntington Beach, the original Surf City, is a hub for California's famous surf culture, the harbours at Dana Point and Newport Beach are great for sailing and kayaking and the Cleveland National Forest is lovely for a morning of hiking and birdwatching.
Geography
Located on the Pacific coast between San Diego County and Los Angeles, Orange County has miles of pristine, easily accessible coastline backed by flat terrain. In the east are the peaks and canyons of the Santa Ana Mountains, which mark the border with Riverside County and overlap the northern section of the Cleveland National Forest, a landscape of oak trees, vine maples and sagebrush.
Weather
Orange County is typically mild, sunny, and dry. In summer, average temperatures are in the low-80s (26-28°C) by day and the mid-70s (23-25°C) by night. August is typically the warmest month. In the winter you can expect temperatures in the high-60s (18-20°C) during the day and in the low-60s (16-18°C) at night. December is typically the coolest month and January, February, and March are the wettest months, with very little rain for the remainder of the year.
Things to do
Learn to paddle board in Dana Point Harbor
Stand-up paddleboarding (SUP) has become hugely popular in California and Dana Point is a great place to try it. This coastal town has a protected harbour that's so calm, it's ideal for beginners – it's almost as smooth as an inland lake. This is also a good place to spend an afternoon kayaking or dinghy sailing.
Go birdwatching at a California mission
Founded in 1776, Mission San Juan Capistrano was the seventh of California's 21 Spanish Catholic missions. Audio tours are available daily and from March to October you can watch the famous American cliff swallows of San Juan Capistrano as they tend to their mud nests, which cling to the walls of the Great Stone Church. The swallows have become an emblem of the local community, whose week-long festival in March, the Fiesta de las Golondrinas (Swallow Festival), features music and a parade.
Surf Huntington Beach
California's famous beach culture is alive and well in Huntington Beach, better known among boardriders as Surf City USA. Dig your toes in the sand, take a longboard lesson, watch the pro surfers in action or cook yourself some s'mores, delicious roasted marshmallow treats, at one of the many public barbecue areas on the glorious, golden beaches.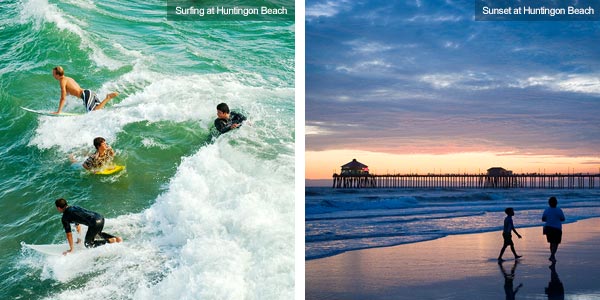 Take a hike in the Cleveland National Forest
This, the southernmost national forest in California, spreads over the Orange-Riverside county border and south into San Diego's North County. Orange County's section is lovely terrain for hiking, with canyons lined with coastal sagebrush and oak trees dappling the sunny trails with shade. The one and a half hour Holy Jim Trail in Trabuco Canyon, a beautiful creekside stroll leading to a waterfall, is a local favourite, especially in spring. Nearby, the
Tucker Wildlife Sanctuary
offers daily guided walks in the forest. It's also posible to attend nature workshops at the
National Audubon Society Starr Ranch Sanctuary
if you reserve in advance.
Escape to Crystal Cove State beach
Crystal Cove State Beach manages to feel wild and unspoilt despite being conveniently close to upmarket Newport Beach and Orange County's other busy urban areas. Backed by the grassy slopes, rugged ravines and woodland hiking trails of Crystal Cove State Park, this three-mile-long Pacific beach features soft sand and good spots for swimming, scuba diving, body surfing and surfing.
Find more information on
California geography
and
10 things to see and do
in California.
Written by Emma Gregg and Katie Cook
Responsible Travel would like to thank the California Tourist Board for their sponsorship of this guide