San Diego County, California
Put on your sunscreen and pack your bathing suit and towel: a visit to San Diego isn't complete without some time at the beach. With gorgeous weather and plenty going on, Coronado, Mission, Pacific and La Jolla Shores rank among the best beaches in the state.

San Diego, which the locals proudly call 'America's Finest City', is the second largest urban area in California. But with a population of just 1.3m, it's less than half the size of LA, with a satisfyingly compact atmosphere. It's supremely family-friendly: as well as sun-drenched beaches, other attractive open spaces and many museums. It also has a thriving microbrewery scene and a historic center with buildings dating back to the 1800s.

The region north and east of the city is bursting with day trip opportunities, with heritage sites, wildlife parks and hiking trails to discover.
Geography
San Diego County is bordered by Mexico to the south, Orange County to the north and the Palomar, Cuyamaca and Laguna Mountains to the east. The city is built on San Diego Bay, a 12-mile-long natural harbour; the surrounding Pacific coast is fringed with sandy beaches. East of the city are avocado farms and the chaparral of the southern section of the Cleveland National Forest.
Weather
San Diego's diverse terrain means that the county has a range of microclimates. You can easily travel from sunny beaches with cool coastal breezes, to hot, dry deserts, or cool, shaded mountains. However, the weather is typically Mediterranean making this an excellent year-round destination. Average daytime temperatures in the city are a pleasant 65-69°F (18-21°C) from November through to May and 71-77°F (22-25°C) from June through to October.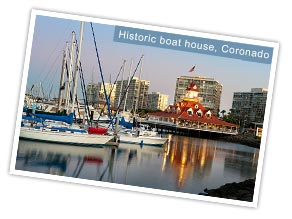 Things to do
Visit Balboa Park
With a privileged position close to Downtown San Diego, Balboa Park is home to performing arts venues, science and art museums, hidden botanical gardens and trails for hiking and biking.
Go hiking in Torrey Pines State Reserve
Set on the rugged coast north of the city with superb views of the Pacific, this beautiful reserve features 8 miles (12 km) of trails, pristine beaches, rare Torrey Pines trees and a lagoon popular with migrating sea birds. You may also see hang gliders and paragliders in the sky: just outside the reserve is the
Torrey Pines Gliderport
. If you are brave enough you can launch yourself off the seaside bluffs with a trained pilot and soar over beautiful Blacks Beach.
Explore the tide pools at Point Loma
Point Loma is the hilly spit of land on the north side of San Diego Bay. It was here, in 1542, that Juan Rodríguez Cabrillo and his crew became the first Europeans to land in California. This historic spot is marked by a small park, the Cabrillo National Monument, with a 19th century lighthouse. On the shore below is one of the best protected tidepool zones in Southern California. Wander the rocks at low tide and you may discover colourful starfish, flower-like sea anemones, and elusive octopus. Park rangers offer guided nature walks here.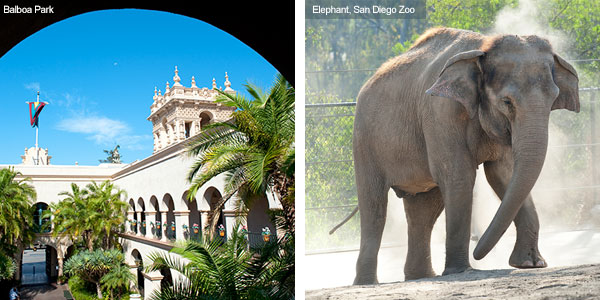 Grab a beer at a microbrewery
With a multitude of small, artisan breweries throughout the city, San Diego is known as the beer capital of the United States. While each brewery is unique, most local brews have a strong but pleasant hoppy flavour. Drop in and you'll often find the brewer on hand ready to share a pint and chat about the brewing process.
Bike along the Bay to Coronado Island, Mission Bay and San Diego's best beaches
Over 50 miles (80 km) of interconnected cycling paths hug the San Diego coastline. The Bayshore Bikeway begins downtown and follows the southern part of the coast, then connects with the Silver Strand bike path that leads to Coronado. Further north, Mission Bay's winding, mostly car-free bike paths lead around landscaped lagoons, busy with watersports fanatics. From here, you can branch off and pedal your way to some of San Diego's best beaches – Pacific, La Jolla and Ocean.
Hang out in North County
With a laidback vibe, San Diego County's northern coast really embraces the year-round beach-loving California lifestyle. A drive north along Coast Highway 101 from La Jolla via Del Mar and Carlsbad to Oceanside takes you through past one lovely beach after another. The small towns on this coastal stretch boast everything from big theme parks to quaint antique shops. Inland from here, Palomar Mountain has hiking and mountain biking trails to explore. Also in this region is the
San Diego Zoo Safari Park
, home to the famous zoo's African collection (plus tigers).
Get a taste of the Wild West in East County
Take a day trip into the Cuyamaca Mountains around 60 miles north east of the city of San Diego to visit the charming Western-style village of Julian. Here, you can learn about the Gold Rush at the Pioneer Museum, explore antique shops and tuck into the local specialities, cider and apple pie. To get there, you pass through the southern section of the Cleveland National Forest – excellent for scenic hikes in the foothills of the Laguna Mountains, where the landscape transitions from rocky desert to coastal sage, chapparal and conifers.
Find more information on
California geography
and
10 things to see and do
in California.
Written by Emma Gregg and Katie Cook
Responsible Travel would like to thank the California Tourist Board for their sponsorship of this guide