San Francisco Bay Area, California
Northern California's cultural epicenter, San Francisco, is a world-class city with bags of character. A striking setting, a cosmopolitan, multicultural population, iconic Victorian and modern architecture and cheerful, clanking cable cars make this a highly attractive place to visit. But there's much more to the city than this: a few steps off the beaten track are one-of-a kind restaurants, artisan-run shops and extraordinary vistas that only the locals know – such as the superb view of Mission and Twin Peaks from Twisty Hill.

In the Bay Area beyond the city, there's much to explore, including gorgeous
country for walking, cycling and appreciating nature.
Geography
The San Francisco Bay Area lies on the Pacific in the heart of coastal Northern California. Dominating the region are San Francisco Bay and San Pablo Bay, which together make up the long, shallow estuary of the Sacramento and San Joaquin rivers. Downtown San Francisco, which locals often simply call The City (but never Frisco!), stands at the tip of The Peninsula, with the Pacific to the west, San Francisco Bay to the east and Golden Gate Bridge leading north across the mouth of the bay to the Marin Headlands. The region north of the bridge is called the North Bay: Marin County, Point Reyes National Seashore, San Rafael and Napa. East of the North Bay is the East Bay, which includes Berkeley and Oakland. South of here is the South Bay, which includes the cities of San José and Santa Clara.

North Beach, San Francisco
Lisa, who runs Genius Loci Tours, talks about beat poets and the literary history of the North Beach neighbourhood in San Francisco. [01:30]
Weather
The Bay Area is famous for its many microclimates. The locals have perfected the art of layering their clothing to help deal with this curious state of affairs. The best months to visit San Francisco are September and October, when the fog blows away leaving clear skies and warm temperatures. As it's surrounded by water, San Francisco can be cold and foggy in June, July and August, even on days when it's sunny and warm in Marin and Oakland, just a short drive away. At this time, temperatures outside San Francisco sometimes top 100°F / 38°C, while in downtown San Francisco anything over 75°F / 24°C is classed as a heatwave. On the upside, winters are mild bar a few frosty mornings.
Things to do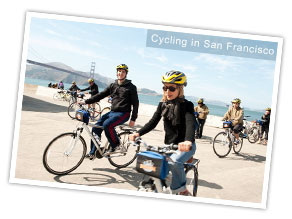 Cycle across the Golden Gate Bridge
Follow the waterfront path that leads from Fisherman's Wharf and the Embarcadero through the flat coastal wetlands and beaches of Crissy Field, then you climb the hill and cross over the Golden Gate Bridge. If you have the energy, carry on to Battery Spenser in the Marin Headlands to check out the view. The hill is a challenge, but this vantage point is one of the best in California. After crossing the bridge Sausalito is only a short ride away. Take time to enjoy the view of San Francisco from the patio of a waterfront restaurant in this quaint little town. On the return voyage you can give your legs a rest by riding the ferry back to San Francisco.
Go organic at Point Reyes Farmers' Market, Marin County
Marin County, immediately north of San Francisco, is aiming to become the first all-organic county in the United States. Head for
Point Reyes Farmers' Market
, open on Saturdays from late June to early November, to stock up on delicious, fresh-picked goodies. It's the only Bay Area market to feature nothing but local organic produce – gleaming vegetables, sparkling salads, juicy strawberries and delicious pumpkins.
Taste award-winning wines in the Napa Valley
A ride aboard the historic
Napa Valley Wine Train
is a great introduction to this famous and ever-popular wine area, famous for its award-winning Cabernet Sauvignon. It's essentially a moving restaurant offering good food and hard-to-find local wines. Follow it up with a winery tour led by a Napa Valley vintner, to learn more about the area and the winemaking process.
Zipline through the redwoods near Sonoma
With Somona Canopy Tours at the Alliance Redwoods conference grounds near Sonoma, you can zip through an ancient evergreen forest to admire the redwoods from on high. You'll whizz along at speeds of up to 25 miles an hour, then cruise over a yawning, fern-lined ravine.
Take a volcanic ash mud bath in Calistoga
The unpretentious town of Calistoga sits at the foot of a volcano, Mount St Helena, in a region of natural hot springs and geysers. It has several spas which use a blend of local volcanic ash, spring water and peat to make a therapeutic mud bath. After dunking your body in the hot mud, you're cleansed with fresh mineral water and steam, leaving you supple and detoxified.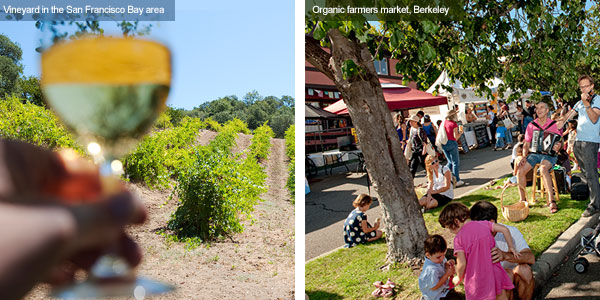 Go tidepooling on the Sonoma Coast State Beach
A favourite weekend retreat of Bay Area city dwellers, the Sonoma Coast State Beach near Bodega Bay is dotted with pretty, sandy coves. At the foot of the dark cliffs which fringe the sands are tidepools, bejewelled with sea anemones, starfish, sponges and limpets.
Eat out in the East Bay
San Francisco's restaurants are second to none – except, perhaps, to those of its sister cities, Berkeley and Oakland. Tempting new culinary ideas pop up here all the time. The places to head in Berkeley is the Gourmet Ghetto, the section of Shattuck Avenue bordered by Rose Street and Hearst which includes Chez Panisse, run by celebrity chef Alice Waters, and a host of other superb restaurants. Oakland used to lag behind but is now surging forward: highlights include Bocanova, Camino, Adesso and a host of artisan food stores.
Explore the Golden Gate National Recreation Area
The coastal wilderness just over the Golden Gate Bridge from San Francisco contains some splendid places to walk, hike or ride. Muir Woods is a beautiful redwood forest named in honour of John Muir, who successfully campaigned for the preservation of the Californian wilderness in the 19th century. Mount Tamalpais, Marin County's highest peak, is a favourite place for mountain biking. For a relaxing picnic lunch with a deck of cards, head for the
Tourist Club
, a chalet-like lodge which is open to non-members two weekends a month.

The spirit of San Francisco
Lisa, who runs Genius Loci Tours, talks about the spirit of San Francisco and its innovators and natural beauty. [00:39]
Watch elk and birds on the Point Reyes National Seashore
For coastal hiking and wildlife-watching, you can't beat the Point Reyes National Seashore. Part of the reserve is a haven for tule elk, which are always easy to spot, and the Point Reyes Lighthouse is a good vantage point for whale-watching in winter.
Relax in Golden Gate Park
Larger than New York's Central Park, Golden Gate Park has museums, open spaces, a lake where you can rent paddleboats and canoes, and of course the famous herd of bison. In March, when the cherry blossom is in bloom, it's particularly lovely. It's easy to rent a bike and pedal around the park's network of trails.
Treat yourself to beer, wine and cheese in San Mateo County
When in San Mateo, join surfers fresh from the gnarly waves at nearby Mavericks as they repair to the Half Moon Bay Brewing Company for a restoring Mavericks beer. It's piped directly to the bar from the on-site brewery. This region also features long-established wineries and a goat farm which produces scrumptious artisan-made cheese.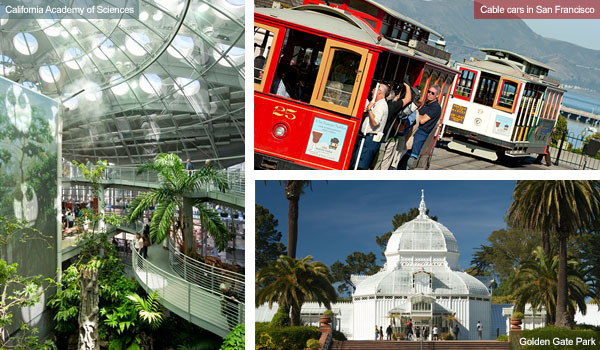 Take a literary and arts walking tour of San Francisco
A perennial haven for artists, adventurers, activists and visionaries, from 1920s anarchists and Beat Generation poets to present-day bloggers, San Francisco has a rich literary and artistic history. To explore the city's creative counter-culture, take a customized walking tour which takes in highlights such as Grant Avenue, Washington Square and the celebrated City Light bookstore.

Mission District & murals
Patricia, a muralist with Precita Eyes walking tours, talks about this artistic and historic area of San Francisco. [03:29]
Visit the Mystery Spot, Santa Cruz
One of the quirkiest attractions in the Bay Area is this
amusingly designed attraction
where nothing is quite as it seems – balls roll uphill, angles look wrong and your ability to judge relative size flies out the window. It's high kitsch but a lot of fun.
Expand your knowledge at the California Academy of Sciences
Think you know all there is to know about earthquakes, coral reefs and human evolution? This world-leading museum, research center and educational institution may surprise you. Aiming to inspire the next generation of geological and life scientists with interactive exhibits and events, it proves that learning is a life-long occupation, with a lot of fun to be had along the way.
Find more information on
California geography
and
10 things to see and do
in California.
Responsible Travel would like to thank the California Tourist Board for their sponsorship of this guide