Spa & wellness
in California
Health-conscious Californians love nothing better than to relax and rejuvenate in style. Esalen, Big Surís legendary wellness center, pioneered the holistic spa movement and many of the stateís luxury hotels, resorts and retreats have now followed suit.

Many of the best Californian spas are, like Esalen, found on the Central Coast, within earshot of the soothing Pacific Ocean. There are also a few inland, particularly in the winelands. Between them, they offer hot tubs, steam rooms, fitness instruction and wellness treatments inspired by Californiaís ocean, deserts, forests and mountain springs.
Alisal Ranch and Resort
Santa Ynez Valley, Central Coast. The fitness center at Alisal features a weights room and gym, while signature treatments at the luxurious spa include Nojoqui mud wraps and a massage with sage-infused herbal lotions.
Bacara Resort and Spa
Goleta, Central Coast. You donít have to be a guest to enjoy a little pampering at this posh retreat, which features a eucalyptus steam room and a private sunbathing deck. Itís located on a gorgeous stretch of oceanfront, a few miles north of Santa Barbara. Bernadus Lodge (bernardus.com/lodge) Carmel Valley, Central Coast. Situated amid beautiful winelands, the spa at this lodge offers vinotherapy, lavender baths and treatments inspired by the ocean.
Bonne Vie Spa
Pismo Beach, Central Coast. At the elegant but laidback Dolphin Bay resort, this seaside spa is a gorgeous choice for a well-earned dose of me time.
Cavallo Point
Sausalito, San Francisco Bay Area. The Healing Arts Center and Spa at this family-friendly luxury hotel offers massage, aromatherapy and specialist treatments including acupuncture, hypnotherapy, herbal remedies and nutritional programming.
El Colibri
Cambria, Central Coast. The spa at this Tuscan-style hotel near Moonstone Beach is an elegant place to let a massage do its wonderful work.
La Costa
Carlsbad, San Diego County. For the ultimate indulgence, treat yourself to a caviar facial or an avocado-cilantro body masque at this Spanish colonial-style hotelís innovative luxury spa.
Esalen Institute
Big Sur, Central Coast. Esalen is a non-profit residential community and humanistic retreat center. The clothing-optional cliffside hot spring baths at this beautiful coastal retreat include a quiet area and a silent area, for maximum de-stressing. Non-residents can visit between 1am and 3am (yes, really) to take a dip in these pools.
Glen Ivy Hot Springs Spa
Corona, Inland Empire. As well as enjoying the waters of this natural hot springs, you could indulge in a Swedish or hot stone massage, or try a therapeutic red clay mud bath.
Indian Wells
Indian Wells, near Palm Springs. Come to this luxurious desert oasis for facials and body treatments in a beautiful setting with a lush garden, pools and cascades.
The Meritage
Napa Valley, San Francisco Bay Area. Spa Terra at The Meritage is built into an old wine cave, 40 feet (12m) underground, for a hushed, cocooning atmosphere. The luxury offerings include whirlpool baths, a steam room and massages using indigenous Northern Californian herbal essences.
Mission Inn
Riverside, Inland Empire. This serenely beautiful historic hotel has entertained stars, politicians and royalty. Itís home to Kellyís Spa, which offers yoga and pilates classes as well as a eucalyptus steam room and a tempting menu of treatments.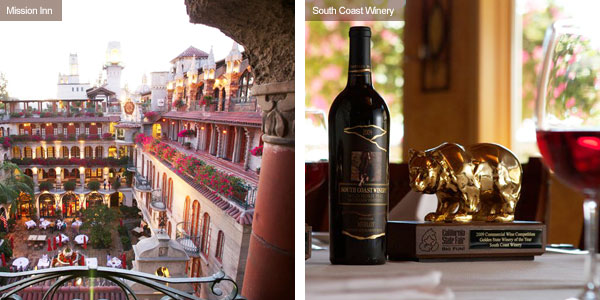 Montage Laguna Beach
Laguna Beach, Orange County. A favourite of the rich and famous, this oceanfront resort has a plush spa which offers yoga, thalassotherapy and deep-cleansing wraps and scrubs.
Ojai Valley Inn and Spa
Ventura, Central Coast. This family-friendly luxury hotel has a brilliant kidsí camp where your little ones can fill their day with sports, crafts and games, allowing you to enjoy the award-winning spa in peace. In the huge garden, thereís a pretty cottage with a resident artist and apothecary with whom you can take an art class or create your own aromatherapy oil.
Osmosis
Sonoma, San Francisco Bay Area. This is one of Californiaís leading green spas. After its signature treatment, a cedar enzyme bath, you can chill out in the exquisite bonsai garden.
Parker Palm Springs
Palm Springs. After a heavenly treatment at this ultra-cool boutique hotelís luxury spa, you need only wander over to the pool to relax in the sun.
Post Ranch Inn
Big Sur, Central Coast. Supremely sympathetic to its gorgeous clifftop environment, the Post Ranch Inn has won plenty of plaudits for its design and many fans for its comforts, which include a spa offering treatments using wildflower essences and hot jade stone massages Ė staff stock up on jade at the beach when they go surfing in the morning. Specialist treatments you can try include vibrational resonance, which uses tuning forks and Tibetan bowls to enhance wellbeing, and shamanic purification rituals.
River Oaks Hot Springs Spa
Paso Robles, Central Coast. To unwind after touring the Central Coastís superb wineries, retreat to River Oaks to sink into a private, naturally heated mineral water bath, either indoors or under the stars.
Sojourn Healing Arts Center
Cambria, Central Coast. This cosy spa is part of the Cambria Pines Lodge, but you donít have to be a guest to book a session. Among the wellness treatments on offer are massage sessions for couples.
Solage Calistoga
, Napa Valley, San Francisco Bay Area. Situated in a part of the Napa Valley thatís well known for its hot spring spas and unpretentious vibe, this gorgeous eco-luxury hotel has a calming spa where a three-stage mud-bath treatment called Mudslide is the speciality.
South Coast Winery
Temecula, Inland Empire. Nestled among the vines of the Temecula Valley, within easy driving distance of Los Angeles and San Diego, this resort hotel has an elegant spa with original ideas, such as rounding off its yoga classes with a wine tasting.
Spa Aiyana
Carmel Valley, Central Coast. At the wonderful, airy Carmel Valley Ranch, you can indulge in a massage or facial then try out your stretches on the outdoor yoga platform, work up an appetite on the hiking trails or just relax in a poolside cabana.
Sycamore Mineral Springs Resort
San Luis Obispo, Central Coast. You can drop in to this resort for the day to rent a naturally heated mineral water hot tub, tucked into a private hideaway on a tree-shaded hillside.
The therapists at the Spa at Pebble Beach specialise in plants, herbs and minerals indigenous to the coastal forests of Californiaís Monterey Peninsula. Ask your Spa what are they able to source locally
The Spa at Pebble Beach
Pebble Beach, Central Coast. The therapists here specialise in plants, herbs and minerals indigenous to the coastal forests of Californiaís Monterey Peninsula.
Ventana Inn
Big Sur, Central Coast. Ultra-luxurious, with gorgeous coastal views, this spa offers medicinal herbal massages, facials, a pool, a sauna and Japanese baths.
Find more information on attractions in California here:
museums
and
urban attractions
Responsible Travel would like to thank the California Tourist Board for their sponsorship of this guide