Regional tasting trails in California
Ever since the Catholic missionaries first introduced livestock and crops, California's culinary culture has been revolutionary. Today, the state's imaginative food, wine and beer scene influences the rest of the nation. From wine and cheese to olive oil and fresh-picked berries California's tasting trails give a new meaning to eating on the road. Come eat your heart out!
Central Coast - Earthbound Farms and the River Road Wine Trail
Earthbound Farms
in Monterey is an organic working farm that is open to the public and offers more than just fresh fruits and vegetables. You can follow the trail of the rock labyrinth in the back garden, cut your own herbs in the herb garden, explore the teepee and other wonders in the children's garden and feast on fresh food and cheese at the picnic area. The farm also offers a seasonal corn maze. Also in Monterey, the
River Road Wine Trail
is a group of small wineries and tasting rooms that specialize in limited release vintages. Visitors will often find the winemakers working in the tasting rooms of these charming wineries.
San Francisco Bay Area - Sonoma Marin Cheese Trail
The sinfully delicious
Sonoma Marin Cheese Trail
features over 30 artisanal creameries that offer tastings, tours, and cheese making classes. The majority of them hand-craft their cheese in small batches. You can also taste yogurt, butter, and ice cream.
Gold Country - Apple Hill Growers Association
Apple Hill
is located near Placerville. There are over 50 different ranches, farms, breweries and wineries in the association, many of which open their farms and ranches to the public all year round and offer apple picking, nature trails, berry picking and wine and beer tasting. The most popular season to visit is autumn.

Apple Hill's ranches and nature trails
Robyn, from the Apple Hill Growers Association, talks about Apple Hill's history & nature trails - an apple lover's paradise! [03:23]
Shasta Cascade - Tehama Trail
Just south of Redding in the Northern Sacramento Valley, the Tehama Trail focusses on olive oil and wine. To the south of the trail is the town of Corning, home to some of the oldest olive trees and the largest concentration of olive oil manufacturers in the state. A few miles east, at the New Clairvaux Vineyard in Vina, Trappist monks and skilled winemakers meld European traditions with California flavours to create a rich tasting Petite Sirah. There are also several wineries in Manton, around 50 miles northeast.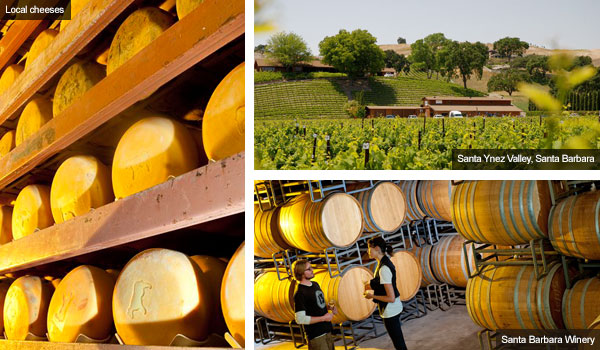 Central Valley - Fresno Farm Tours and Madera Wine Trail
Farms throughout this highly productive agricultural region offer farm tours, farm stands and tastings. Many are clustered around
Fresno
. Also near Fresno, the Madera Wine Trail connects 12 small family run wineries where the person pouring the wine in the tasting room may very well be the winemaker.
Central Coast - Ventura County Wine Trail
The Ventura County Wine Trail
features 17 wineries with tasting rooms. Its highlights include Casa Barranca, the first certified organic winery on the central coast; Herzog Wine Cellars, a Jewish owned winery that produces kosher wine; and Old Creek Ranch Winery, a cattle ranch, winery and fruit orchard. Ventura also has farms that are open to the public. You can pick your own blueberries at Underwood Family Farms or visit Limoneria, the largest lemon producer in North America. Limoneria also offers hot air balloon rides for a unique view of the lemon farm.
Support local businesses, your taste buds and help reduce CO2 emissions associated with distribution of food!!
Central Coast - Santa Barbara Urban Wine Trail
In downtown Santa Barbara's Funk Zone neighbourhood, the
Urban Wine Trail
is perfect for cyclists and pedestrians. Here, over a dozen wineries mix with artist studios and gallery spaces. Take a cue from the locals and rent a beach cruiser bike and pedal slowly from one winery to the next. To make it even easier, you could hire a pedicab for the day and have someone else do the pedaling for you.
North Coast - Lake County Farm Trails
The mix of wineries, dairies, walnut farms and produce stands on the Lake County Farm Trails offer a tempting variety of tasting options. Several farms also have riding stables so that you can cruise across the acres of farmland on horseback.
San Francisco Bay Area - Sonoma Sparkling Wine Trail
Nothing says elegance like a glass of bubbly. Follow the Sparkling Wine Trail in Sonoma to taste a variety of locally produced fizz. Korbel Winery, the largest of the six wineries on the trail, also offers a tour of the winery and production facility.
Find more information on
farm to fork
and
wine and beer
in California
Written by Emma Gregg and Katie Cook
Responsible Travel would like to thank the California Tourist Board for their sponsorship of this guide